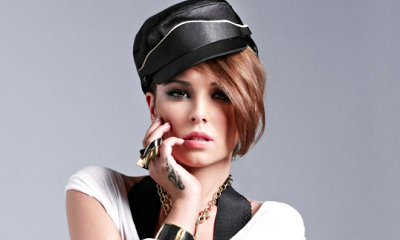 When decided to take temporary hiatus following the end of their "Out of Control" tour, launched a solo music career and entered the studio with ' . Their joint track "3 Words", which is the title track of her debut album, peaked at No. 4 on U.K. Singles chart.

will.i.am does not only lend his vocal in "3 Words" single but also made contribution to "" album. Led by chart-topping single "Fight for This Love", the effort reached the No. 1 spot on U.K. Albums chart and was certified Platinum twice for denoting shipments of more than 600,000 units.

Cheryl Cole got the offer to work with will.i.am after she appeared as a cameo in his "Heartbreaker" music video. "We became friends and he said he was interested in working with me again," so said the judge of "".

The fact that she could make a big break as a solo singer only after releasing one studio album without a boost from Girls Aloud has caught 's attention. The "Umbrella" hitmaker sang praise for her and is keen to take her on tour. Rihanna said, "Cheryl is cute and incredible. I think I could help break her in the US. She'd wow them - I'd love to have her on tour in America."

This year, Cheryl Cole will soon follow up "3 Words" single with the release of another song "Parachute" which actually was one of the options to be the lead single. Also, she is going to roll out the album internationally on an as-yet-unspecified date.

Moreover, 2010 becomes the year when Cheryl is going to make a fresh start with bandmate with whom she was involved in a rift following their plans to launch solo careers at the same time. The two musicians recently had a long-hour chat on the phone.

"It all started with a text message that Nadine sent to Cheryl wishing her a happy Christmas," a source said. "Cheryl texted her straight back and the next thing you knew they were on the phone having a real heart to heart. It has been months since the girls had any real contact apart from passing comments in a recording studio."


© AceShowbiz.com
---
Previous Week »
Three Days Grace
Cheryl Cole is one of the members of popular girl group Girls Aloud. She was interested in dancing from an early age, joining the Royal Ballet's summer school at the age of nine. She also pursued career on the runway, winning many competitions including Boots Group's bonniest baby, Mothercare Happy Faces Portrait competition, Best Looking Girl of Newcastle, The Evening Chronicle "Little Miss and Mister", and "Most Attractive Girl" at the MetroCentre. » more