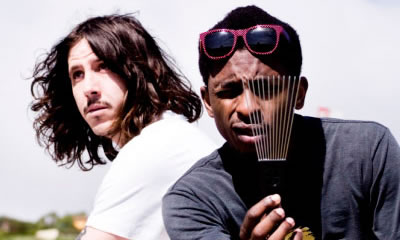 Claiming his fame after releasing only one studio album, is now gearing up to crack Billboard Hot 200 once again. Along with Cisco Adler, he will release a new studio album called "" across United States on November 3.

The first offering from the album has come out since June this year. Titled "Get U Home", it has been picked up as a soundtrack for movie "" and featured in an episode of "" season five. There will also be -featuring track "Livin' It Up", which he described as a song for the haters. Other featured guests in the record include The Knux and Tabi Bonney.

Shwayze what makes the album different from its predecessor. He said, "The first record was the first time Cisco and I ever did anything together so it was an experiment. It was then Cisco taught me about song structure and about the art of recording. When we got a chance to make the second record our focus was different and we wanted to take it to the next level in all aspects...production wise and lyrically."

When quizzed whether he feels the pressure to follow the success of the first album, he said worrying about the criticism is not his main concern. "Naw, I think excitement and nervousness are similar emotions. We'd been traveling for 8 months straight playing music we created 2 years before. When we finally got a break we wanted nothing more than to make new music! For our fans, but mostly for ourselves. For us it's about the music, so we handle that and worry about the critics later," he explained.

Shwayze has announced a bunch of dates for Party Rock Tour. Starting from November 5, he and Cisco will continue traveling across North America until December 19. More info about his forthcoming gig can be obtained on his where the new album has also been made available for free stream.

In addition to touring, Shwayze also has a movie project called "Get Jack's Tickets" under his belt.


© AceShowbiz.com
---
Kick It (Feat. Ferrari Snowday)
Shwayze's story of success is considerably short, taking in mind that gut was all he needed to achieve his dream. The rapper who shows his face in the rap scene with his tracks "Buzzin'" as well as "Corona and Lime" did have a personal struggle early in his life that brought him a greater courage in taking his life direction to a better future. He was born Aaron Smith in 1986 in Malibu, California. While the region he grew up in is closely attached to the high lifestyle and the luxury it's drenched with, Shwayze settled on the less prosperous side of the town. He lived in a trailer park, juggling his time to work at several jobs while helping his grandfather as a handyman. "Everyone else pretty-much got sick of me," he said, "and the only choice I really had was working for my grandfather, a handyman, as his assistant installing doors and windows, and fixing light bulbs for old ladies..." It was before he did the unthinkable. » more