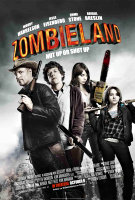 REVIEWS RATE: Critics Readers [Rate It]
Reader's Reviews
---

Awesome Movie!, Awesome Soundtrack!
posted by

Death-From-Above

on Jul 21, 2010 07:35:17

FUNNY!
posted by

tdgh

on May 20, 2010 09:54:52

wicked
posted by

biohazard

on Feb 16, 2010 09:29:00

Very much worth a try if its your cup of tea, or should I say blood and guts and lots of OMG moments Woody is great!!
posted by

Cucch

on Feb 05, 2010 03:06:04

i really really liked this movie. the ONLY thing to coomplain about is the runtime. but, a sequel is coming so there is still more to come. really funny, great characters. i laughed throughout the whole thing.
posted by

rdog

on Feb 04, 2010 10:59:43

it was funny i loved it
posted by

lily

on Nov 15, 2009 08:33:53

this movie is the best. i love the guy with the twinkie problem. he is just like me. seriously
posted by

steve

on Oct 23, 2009 07:48:04

This movie rocks and is hysterical. I saw it at hitflix(.)net for free and it was killer. I had to fill out a survey but got to watch it for free!
posted by

john morgan

on Oct 22, 2009 07:19:48

went to see it it at medowhall sheffield uk england it was better than shaun of the dead.
posted by

dwraith of barnsley

on Oct 19, 2009 06:29:54

They need to put up that photo of Woody Harrelsons face when he finally gets a TWINKIE!!!
posted by

zeeee

on Oct 05, 2009 05:00:41

Amazing, one of the funniest horror-comedies I've seen in a while.
posted by

Sipalicious

on Oct 03, 2009 12:32:01

Thought it would be so dumb. Best movie I have seen in years! Hilarious!!!
posted by

seattle09

on Oct 03, 2009 07:42:21

Amazing movie. Go in expecting nothing and you will love it. Expect lots and it will still be great! Better than fido and shaun of the dead. A MUST SEE!!!!
posted by

Yo

on Oct 03, 2009 02:42:31

I haven't seen a good zombie film like this since Romero.
posted by

Spazz

on Oct 03, 2009 01:35:10
This looks AWESOME!
posted by

UglyTuco

on Oct 02, 2009 10:08:23

Saw this movie didn't expect much.... but it was funny as hell didn't take its self to seriously. I was lucky enough to get to see a sneak preview and was amazed.
posted by

LakeBishop

on Sep 17, 2009 10:40:07

saw them filming a scene when i was in Powder Springs, Georgia. looks pretty good.
posted by

jdogg

on Aug 10, 2009 12:35:03

5xQVB8
posted by

Peolvspi

on Jul 13, 2009 05:34:35

theres no trailer!
posted by

poooooop

on May 13, 2009 11:48:21