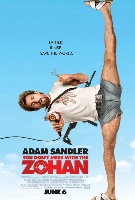 REVIEWS RATE: Critics Readers [Rate It]
Reader's Reviews
---

disappointing. unnecessary and crude. some funny stuff, but most of the big laughs were shown in the trailer.
posted by

rdog

on Oct 17, 2009 05:51:37

This shouldnt have even been a movie. The storyline sucks, and well everything else SUCKED, I advise you not to waste your money on a movie so worthless!
posted by

awesomest person

on Feb 27, 2009 06:44:53

actually it was very good but why the walbridge thing. the movie was only supposed to be about zohan developing in cutting hairs silky smooth. this movie could have been 2 times better.
posted by

g

on Feb 13, 2009 03:19:59

It was very funny!!!!
posted by

delicious92790@aol.c

on Jan 23, 2009 04:26:17

My favorite part was when he was dancing on the street
posted by

jkgfui8 gfu78gu8h9gh

on Nov 16, 2008 11:51:52

This Movie is the bmb I watched it over and over again. My favorite part was when he was giving advice to the little kid not to move when having a hair cut.
posted by

RypoGS

on Nov 16, 2008 11:50:11

There were three funny parts of the entire movie. The worst part of the movie was the propaganda regarding Zionist warmongering in the Middle East. Sandler promotes the idea that the current situation in the middle-east is from irrational Arab hatred of Jews, and not current Israeli Policies. F
posted by

JPNesh

on Jul 15, 2008 00:00:00

walked out earlt. Not very funny and so crude it should have been at least R rated.
posted by

socal_critic

on Jul 07, 2008 00:00:00

i compleatle agree with the last comment and i wanted to leave before it ended also, it had some funny jokes and i am a person who can find stupid funny, funny. but it just draged out all the jokes.
posted by

woot011

on Jul 02, 2008 00:00:00

The worst I have ever seen Adam Sandler do! I have a pretty warped sense of humour and found not only did movie drag on but it was very hard to follow at times as the scenes draged on and on to the point of it not being humourous anymore. walked out before it finished..
posted by

you dont mess with Z

on Jun 28, 2008 00:00:00

Amazingly funny, and as an Israeli, I enjoyed it a lot!
posted by

banana

on Jun 19, 2008 00:00:00

it's superb
posted by

sega

on Jun 12, 2008 00:00:00