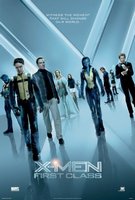 Overview
---
Genre :
Action, Sci-Fi, Drama
Release Date :
June 03, 2011
MPAA Rating :
PG-13
Director :
Matthew Vaughn
Starring :
James McAvoy
,
Michael Fassbender
,
January Jones
,
Zoe Kravitz
,
Jennifer Lawrence
,
Rose Byrne
,
Kevin Bacon
,
Lucas Till
,
Caleb Landry Jones
,
Nicholas Hoult
, Edi Gathegi, Bill Bilner,
Oliver Platt
,
Jason Flemyng
, Edi Gathegi, Bill Milner, Ray Wise, James

REVIEWS RATE: Critics Readers [Rate It]
Reader's Reviews
---

brilliant
posted by

bball

on Jun 06, 2011 09:45:09
this 1 looks very gr8 can w8 anymre 2 c it...
posted by

Taurus

on Jun 02, 2011 08:05:49
emma frost is the best
posted by

mistergaga

on Jan 14, 2011 01:17:17
Want To See The Super Star Huge Jacksman As X-Men
posted by

Ash

on Dec 16, 2010 02:11:39
I don't know if Night crawler will in this one the name of the movie says it all its the first class the first students like ciclops and the other s. The point is that the old mutants are coming back or maybe is the part 4 were gambit appers, nigth crawler, and charles xavier comes back.
posted by

Spyro

on Sep 14, 2010 09:17:14
We want to see Kristen Stewart as Jean Grey / The White Phoenix Ashley Greene as Selene Gallio / The Black Queen Michael Clarke Duncan as Apocalypse Arnold Vosloo as Proteus Kevin Bacon as Mr. Sinister Thomas Haden Church as Genesis Jack Huston as Sebastian Shaw
posted by

Australian People

on Aug 02, 2010 03:42:08
cool
posted by

bball

on Aug 01, 2010 05:11:26
i want ANNA PAQUIN in x-men 1st class,i wanna see her in action.
posted by

asia

on Jul 30, 2010 06:38:24
Excited about this "Marvel" movie being filmed here in Michigan. "Ginormous Comic Book Fan" since my childhood.
posted by

Todd

on Jun 11, 2010 10:53:09
I am so excited new movie "X-Men First Class". I cant wait for new movie "X-Men First Class" in 2011.
posted by

Anthony Gray

on Jun 08, 2010 10:45:50
The first class was cyclops, Jean grey, beast (before the blue hair)Ice man, and angel. Logan and gambit came into the story alot later
posted by

David

on May 29, 2010 08:40:10
i jus can't wait for this movie!!! i jus hope logan finally uses the yellow or brown costume on this movie.
posted by

LOGAN

on Feb 27, 2010 08:47:29
I hope new movie "X-Men First Class soon!! this next year!!.
posted by

Anthony Gray

on Dec 20, 2009 01:42:42
I think Spike should be in this. theres a british actor called Nakay Kpaka..kinda looks like him.
posted by

Brap

on Sep 30, 2009 06:06:07
i spell my name wrong but i think the same name on this is gambiy it sould be gambit if the creader is reading this the prson a made spaer to tlak about it. tell me
posted by

gambit

on May 03, 2009 02:31:37
i think that gambit sould be in this and a prson i made name spaer
posted by

gambiy

on May 03, 2009 02:27:00
wtf happened ti nightcrawler? they should bring him back in x-4
posted by

HyppY

on Nov 05, 2008 05:47:41
Make Rogue really Rogue, and make Angel, Archangel. Apocalypse would be cool :)
posted by

NeoRogue

on Jul 10, 2008 00:00:00
I think they it should be one of the alternate timelines or somthin
posted by

Al

on Jun 21, 2008 00:00:00
I think that this movie should introduce Apocalypse and Mr. Sinister. Maybe to test the newst the new X-Men.
posted by on Nov 28, 2007 00:00:00
I think angel should be in the x-4 movie and in the game as angel an as archangel...
posted by on Jul 26, 2007 00:00:00
the cajun thief , gambit should be in x-4.i don't think jubilee can cope with what the x-men are facing but i guess she should be given a try.kudos to angel , i think he should feature more in x-4
posted by on Dec 08, 2006 00:00:00