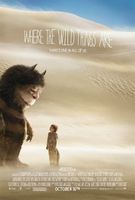 Overview
---
Genre :
Adventure, Drama, Fantasy
Release Date :
October 16, 2009
MPAA Rating :
PG
Director :
Spike Jonze
Starring :
Forest Whitaker
,
Catherine Keener
,
Mark Ruffalo
, Max Records,
Lauren Ambrose
,
Catherine O'Hara
,
Paul Dano
, Tom Noonan,
Chris Cooper
, Michael Berry Jr.,
James Gandolfini

REVIEWS RATE: Critics Readers [Rate It]
Reader's Reviews
---

Absolutely delightful fantasy for adult viewers, I believe that children should be kept to the book version. The movie is beautifully done, heartwarming--one of my favorite childrens books.
posted by

rosey

on Nov 12, 2010 08:57:02

pointless! bad bad bad movie. the things looked cool though. but still... BAD!
posted by

rdog

on Mar 10, 2010 08:35:13
This movie was great. The book was really cute too, though. I think it's one of my favorites! When it comes out, I'm deff. buying it.
posted by

aboggess15

on Jan 14, 2010 06:50:42

It's a movie that will touch everybody hearts!It is about a boy who face a lot of problems and learns a lot of problems! Where he becomes king of where the wild things are! He is beloved by them! This is a movie that never been made from a story. Some people it not a kind movie for really little kids. Cause it has a lot of violence whenever those tantrum scenes appear! But whatever! It's a kind of movie that shows when a lot of kids have those problems! This is A REALLY GOOD MOVIE!
posted by

wherethewildthingsfa

on Nov 06, 2009 07:45:10

These things are WILD enough! I adore this heartwarming story!
posted by

dreamlover

on Nov 06, 2009 07:32:05

The best family movie of all-time!
posted by

sunny

on Nov 06, 2009 07:29:20

This movie is the best! REALLY!
posted by

angel7170

on Nov 04, 2009 06:18:49

I love this movie a lot! It is a very great and sad heartwarming story! It about a boy who faces a lot of emotion problems with his mom and his sister. He gets very angry often. And he meet these 7 giant playmates on this island! He becomes king to the island and becomes friends with Carol. The two get along very well! Until he finds out that Max isn't a king that he thought he was and goes out of control! But later he tries to find him and he decides it time to go back home! He leaves something for him like a token! Which he realizes that his mom is going through! This sounds like the kind of movie I want to see! Where the Wild Things Are will touch our hearts! This one of the best movies ever! I WANT TO GO SEE IT!
posted by

angel7170

on Nov 04, 2009 06:16:32

The closing song ("Hideaway") is exceptional and is one of those rare songs that adults will connect to their past.
posted by

reader

on Oct 25, 2009 07:27:10

The movie is better than the book! The "wild things" are physical manifestations of the emotions the boy feels. He confronts them all in this very well crafted film. Kids will get it only if adults help them see what is going on.
posted by

Reader

on Oct 25, 2009 07:11:35

I thought this movie was terrible.
posted by

mjack

on Oct 20, 2009 06:27:38

this was a thoroughly fascinating movie very thought provoking and full of lessons. we loved it
posted by

roynoa

on Oct 18, 2009 10:49:36

YES!!!!!!! FINALLY THE MOVIE IS FINALLY HERE!!!!!!!
posted by

OMG

on Oct 04, 2009 08:58:33
Before I could read I would gaze into the pictures of this book and wait till the images moved to life in my mind. Now it is a movie.
posted by

Del Girl

on Sep 22, 2009 01:16:52

Uqy5xb
posted by

Kfgglror

on Jul 14, 2009 07:28:26

now since i have found out about the movie im going to tell everybody i know i will print all the picturs and hang them up in my room i think it will be a very very very sweet movie...THANK YOU FOR MAKING THE MOVIE
posted by

breanna

on Apr 07, 2009 03:00:48

i will love this movie when it comes out im going to cry and watch it everyday it just touches my heart
posted by

halo

on Apr 07, 2009 02:55:26

My all time favorite book as a child, I've never anticipated a movie release more than this. Especially after viewing the trailer. Way to go Spike!!!
posted by

endo400f

on Mar 31, 2009 08:47:40

i caNT WAIT FOR IT TO COME OUT
posted by

emily

on Nov 13, 2008 10:22:57

it will be a good movie
posted by on Jan 31, 2007 00:00:00