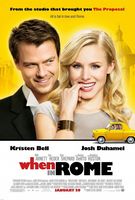 Overview
---
Genre :
Comedy, Romance
Release Date :
January 29, 2010
MPAA Rating :
PG-13
Director :
Mark Steven Johnson
Starring :
Kristen Bell
,
Josh Duhamel
,
Jon Heder
,
Alexis Dziena
,
Will Arnett
,
Anjelica Huston
,
Dax Shepard
,
Danny DeVito
,
Lee Pace
,
Don Johnson

REVIEWS RATE: Critics Readers [Rate It]
Reader's Reviews
---

it was a great movie. i just loveit
posted by

sahil

on Feb 04, 2011 01:45:09

The Friday Night Boys song Stupid Love Letter comes on when Nick meets Shaq toward the end of the movie =)
posted by

ChelsDoll

on Oct 14, 2010 03:16:13

I love When in Rome!!! It was amazing! It was romantic and funny!!! I definitally want to get this 1!! Can't wait 4 it 2 come out on DVD!
posted by

Samantha :D

on Aug 16, 2010 10:33:49

societies president extinctions running issue impact beginning
posted by

diamontina

on Jun 17, 2010 02:35:22

anyone knows the instrument music played at the fountain sceen for the first time when Beth picking up coins? Thx
posted by

kingmickey

on Apr 28, 2010 02:38:10

hey abc the song that they play is stupid love letter by firday night boys
posted by

tara agian

on Mar 25, 2010 01:52:56

same here i seen it sooo many times right lola they need to make a number two so people go see it it is the best after the movie i started claping ahah i want them to make a number two
posted by

tara

on Mar 25, 2010 01:50:54

i loved this movie i went and seen it 3 times in theaters ahhaa and they should make a number 2 and when does it come out on dvd because i want to buy it
posted by

lola

on Mar 25, 2010 01:48:36

my fav movie i ever seen its good great and the guy in the movie who like beth is hott. and i also have to say that the songs are great and goes well with the movie its cute,,i wish i can find love like that
posted by

tara

on Feb 14, 2010 05:25:52

i love, this movie i seen it 2 time this week and i got to say that the songs were great. i love it and when i comes out im going to be the first person to get it
posted by

taylor

on Feb 14, 2010 05:23:48

who knows the song played when they're dancing(1:17)in the trailer?Thanx
posted by

abc

on Feb 05, 2010 07:11:58

What's the song they play in the trailer?any help please?
posted by

!ris

on Feb 05, 2010 06:50:11

Love this show awesome job for everyone sexy people ohh yea lol :)
posted by

stef G

on Jan 31, 2010 04:09:06

A SUPER CUTE MOVIE THAT HAD ME LAUGHING AT EVERY SECOND!!!! MUSIC WAS GREAT TOO!!!!=)
posted by

jadey wadey=)

on Jan 30, 2010 10:06:07
This movie looks really good from the trailers, stills, posters... Can't wait to see this film.... Hurry!!!!!
posted by

Mandip

on Jan 22, 2010 07:50:44

Want to see this very badly! Everyone looks adorable!
posted by

StacyPayne

on Jan 08, 2010 06:12:04

Saw this at a screening, it turned out to be very adorable. very fun!
posted by

jillf6

on Jan 08, 2010 02:25:06

This movie looks so cute! I can't wait to see it, what a crazy cast!
posted by

orionstar321

on Jan 08, 2010 01:35:46

realllyyyy good movie great soundtrack really funny and romantic u gottaaa see it!!
posted by

ally

on Nov 21, 2009 10:28:21

very funny cheesy at some points but a good girlie comedy/romance
posted by

d

on Nov 19, 2009 09:11:12

FEDkdm
posted by

Tojqwxff

on Jul 13, 2009 11:55:59