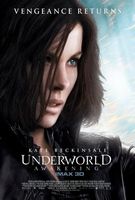 Overview
---
Genre :
Action, Fantasy, Thriller
Release Date :
January 20, 2012
MPAA Rating :
R
Director :
Mans Marlind, Bjorn Stein
Starring :
Kate Beckinsale
,
Michael Ealy
, Stephen Rea, Charles Dance, India Eisley, Sandrine Holt,
Theo James
,
Kris Holden-Ried
, Richard Cetrone, Robert Lawrenson

REVIEWS RATE: Critics Readers [Rate It]
Reader's Reviews
---

I LUV IT....
posted by

blink

on Feb 26, 2012 02:08:00

I LOVE IT
posted by

blink

on Feb 26, 2012 02:04:19

lumayan wallpaper ok........
posted by

Underworld: Awakenin

on Feb 11, 2012 10:34:58

i was not impressed at the concluding part,but great graphics
posted by

sowemimo kunmi

on Jan 20, 2012 12:51:47
INCREDIBLE,CAN'T WAIT 2 WATCH THIS.
posted by

j-mac

on Sep 07, 2011 11:05:45
will Micheal Sheen- Lucian be in Underworld 4? I really hope so. In part 2 he got some of Micheals blood and inject himself wit it in hope of Amelia blood to be injected as well. Lucian needs to be in part 4.
posted by

antinia

on Feb 04, 2011 08:34:04
chupa learn how to spell before you type something plz...
posted by

...

on Jan 31, 2011 11:49:05
i really hope that Kate will do this Underworld 4. Its not underworld without her. I am an extremly big fan of the Underworlds and not to have her would be a disgrace.
posted by

rngr75

on Jan 31, 2011 11:47:52
nice..i cant wait..it will be nice cabrones!!
posted by

como sangre

on Jan 19, 2011 07:52:34
Can't. Wait for this movie to come out. Hope it goes to next level of action and story. Be glad when we see the beginnings of the saga, namely, story which includes Amelia's story and the dads story including sons, especially William
posted by

kate beckinsale

on Nov 11, 2010 06:03:31
You are fat chupa
posted by

Booboo

on Aug 27, 2010 06:31:04
i heard some rumors that kate beckinsale don't want to do this this underworld 4,that she my be obligated to do so, in my oppinion the movie without her it's not the same, im a fan of all her movies, i thing shes great on this one to, i was not very happy whith the last one "rise of the lycans" cuz she was not on it, but listen she must have a very good reason not to have any part on the "underworld 4" i meen realy leve her alone already. there most be a lot of girls that will be happy to do this caracter ''selene'' and to my kate good lock god bless you if you ever read this! :-)
posted by

el chupacabra

on Jun 01, 2010 03:34:03
Hi name is Davon Williams Im from Baltimore,MD 25 years old I would like to play a part in this upcomming movie. My contact number is 443-447-5135
posted by

Underworld 4

on Feb 05, 2010 03:25:22