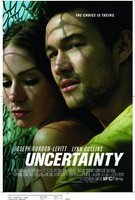 REVIEWS RATE: Critics Readers [Rate It]
Reader's Reviews
---

I shouldn't rate it five, but i really like it. Color code is awesome and there is two rythm, one surexcited with the yellow one and another calm. Scenario is simple and original in his own way. Well a really good movie, not a masterpiece, but an excellent movie. Sorry for my english
posted by

Alfy

on Nov 11, 2012 07:29:01

Impressive performances and good directing but no story. Hope to see Joseph and Lynn acting together again.
posted by

aaron

on Jun 22, 2010 11:38:52

It didn't even really come to a meaning, it was just two sides of the movie that didn't collide & really make sense. I'll give it some props, because it did put me on the edge of my seat at some times.
posted by

rosaliss

on Jun 15, 2010 08:11:03

The acting isn't bad, but it is more than obvious that this was a very lightly scripted and highly improvised dialogue film. As a result, the title "Uncertainty" seems to refer to how one feels about the storyline upon the film's completion. Definitely made for cable.
posted by

GreyStork

on Jun 30, 2009 02:51:59

I am a HUGE Joseph Gordon Levitt fan. I don't care what movie he's staring in. I just love to look at him. He is a beautiful man.
posted by

Lady C

on Nov 24, 2008 04:13:42

Stimulating and offbeat drama, unlike the usual cineplex fare. Joe Gordon-Levitt is awesome and sexy.
posted by

Toronto7

on Sep 15, 2008 04:11:28

this is courageous film-making at its best and HOT.
posted by

moviegoer

on Sep 07, 2008 00:00:00