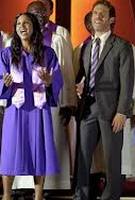 REVIEWS RATE: Critics Readers [Rate It]
Reader's Reviews
---

I forgot to add David and Toni's singing was outstanding! They both have a wonderful voice!
posted by

sbf60

on Aug 14, 2014 05:21:18

The Pastor in the movie tells Toni she is truly a christian's woman. But in her roll she is anything but! She uses fowl language and is rude to David and treats him like a criminal. Her rudeness continues on and off throughout the scenes. The movie had a good story behind it. The actors seemed confused in their lines. All in all not a bad movie.
posted by

sbf60

on Aug 14, 2014 05:15:32

This movie was the best movie I have ever seen its very sad but inspiring at the same time, I love this movie and I wanna share it with all my friends and family I really appreciate the author and the characters and the whole crew who came together to put this movie together GOD BLESS YOU ALL.
posted by

Faith

on Apr 05, 2014 03:07:49

twist of faith is a very fine drama, my faith is grown tronger. There is hope after every storm in life.
posted by

albert gimba

on Aug 25, 2013 08:06:28

Beautiful... Very good movie, so touching. Love the music. I would love to buy it for my movie collection.
posted by

Millie

on May 21, 2013 07:06:24

I loved it. Very touching!
posted by

PeggyM

on May 20, 2013 12:41:29

lOVE THIS MOVIE
posted by

Twist of Faith

on Apr 07, 2013 09:01:42

Beautiful and refreshing. Needs a sequel
posted by

joyful

on Mar 11, 2013 08:16:10

Loved loved it
posted by

Patsy

on Feb 15, 2013 09:50:45

This story touched my heart..great movie.
posted by

Stephanie

on Feb 11, 2013 09:39:18

great story from beginning to end...
posted by

Twist of Faith

on Feb 11, 2013 09:37:35

Movie is very good
posted by

Jamaal

on Feb 10, 2013 11:27:09

Who wrote the song This very moment ..God has a blessing descending my way…
posted by

twist of faith

on Feb 10, 2013 09:47:09

I simply adored this movie. I don't usually watch Lifetime, but I am so glad I saw the preview for this movie and decided to watch it. Great JOB Lifetime!
posted by

Mae

on Feb 10, 2013 08:43:10

Awesome movie! It needs a sequel!!
posted by

DJ

on Feb 10, 2013 07:07:17

LOVE IT SO SAD
posted by

DDE

on Feb 10, 2013 01:33:07