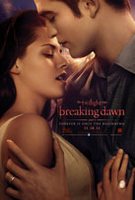 Overview
---
Genre :
Romance, Thriller, Drama
Release Date :
November 18, 2011
MPAA Rating :
PG-13
Director :
Bill Condon
Starring :
Robert Pattinson
,
Kristen Stewart
,
Taylor Lautner
,
Ashley Greene
,
Anna Kendrick
,
Peter Facinelli
,
Kellan Lutz
,
Nikki Reed
,
Jackson Rathbone
,
Elizabeth Reaser
,
Billy Burke
,
Dakota Fanning
,
Mackenzie Foy
,
Maggie Grace
,
Booboo Stewart
,
Alex Meraz

REVIEWS RATE: Critics Readers [Rate It]
Reader's Reviews
---

I love his work and he is such a good actor! I love the way he is always so nice to bella and he will love her unconditionally forever ;)
posted by

Edward Cullen

on Dec 09, 2012 08:50:04

Kirsten Stewart & co. couldn't act their way out of a paper bag... B-list actors do better work...
posted by

Squid

on Sep 09, 2012 08:57:31

wow... i love it
posted by

liberty

on Jan 28, 2012 01:09:48
OMG this is the best thing ever. I can't wait. Thanks Target. :)
posted by

Happy Day14

on Jan 24, 2012 06:18:33

OMFG thanks you target you made my day. I will tell my mom to buy more stuff @ your store. Thanks again Target. Love-Twilight Fan
posted by

Twilight Fan

on Jan 24, 2012 06:16:09

VERY GOOD MOVIE
posted by

BREAKING DAWN

on Nov 18, 2011 04:04:27
cant wait!!
posted by

<3

on Oct 27, 2011 07:59:13
i cant wait til the movie cames out
posted by

mdjofjj6

on Sep 19, 2011 10:51:59
OMG Edward (Robert)is so hot i am sure he can have any girl in the world.That's why i hate Kristan Stewart she does not know how lucky she is to actually see him. So i watched the movies 50 times each and read all the books 5 times and every day i look at Edwards face for maybe about 5 min each day (i rarely blink) anyways i love you Edward Cullen ! xoxo some chick
posted by

the best fan of twil

on Jun 02, 2011 07:59:02
U guys hve dne an exelen job,both the directr n the actors,kip up the gud job.Hope evrythng goes smoothly 4 u
posted by

Beauty

on Mar 14, 2011 01:32:20
I <3 twilight
posted by

twi-lover 23

on Mar 02, 2011 11:50:25
whoever said twilight sucks n harry potters better...why the hell are you on the website?
posted by

twilightrocks

on Feb 25, 2011 11:58:57
I love twilight sagas they r da best I really wanna see breaking dawn
posted by

Bellz

on Feb 08, 2011 09:39:41
I LOVE BREAKING DAWN . im actually reading it at this very moment :D
posted by

lolcakes

on Jan 23, 2011 04:47:08
come on we are so ready . me and my mom are BIG FANS IM 40 AND SHE IS 60 . we love these movies cant wait ....
posted by

joewanna40

on Jan 17, 2011 01:48:20
they are all good actors..i wonder what will happen?
posted by

dood202

on Jan 03, 2011 05:37:12
i need to let edward go i'm so sad.
posted by

paris123456789

on Jan 02, 2011 05:24:19
i can't wait till breaking dawn the trailer looks so good, it's o nice whenthey get married i do love him but i have to let him go
posted by

mrs. edward cullen

on Jan 02, 2011 05:22:21
rob is so cute and kristen is so hot they were perfect together what went wrong i love robert.
posted by

paris123456789

on Jan 02, 2011 05:17:47
when is the movie comin out don't tell me in 4 yrs
posted by

hey

on Dec 23, 2010 03:05:27
I am so in love with jacob. TEAM JACOB!!!!!!!!!!!
posted by

mrs. emmett cullen

on Dec 18, 2010 03:05:17
Bella is so stupd. ther is no way i wll eva marry a damn vampire wen there is a sexy wolf on my side!
posted by

mrs. emmett cullen

on Dec 18, 2010 03:01:26
All of the damn sex and this is the only pic day got. Im PO ryt now. But thinkn of da movie makes me happy. YAY! Cant wait!
posted by

mrs.emmett cullen

on Dec 18, 2010 02:58:00
Wel wat can i say robert man u jus bring 1 hell of a vibe 2 mak twilight some else magical, amaizing and totaly undscibable bella gal even if ur man is a vampire stick 2 hm til infinity and jack, stay away 4rm wats not urz
posted by

rdk

on Dec 17, 2010 06:33:29
I DONT CARE ABOUT ANY ONE BUT ILOVE YOU ROBERT PATTINSON
posted by

JAVERIA AKBER

on Dec 08, 2010 12:14:29
Robert Pattinson is only hot as Edward... Taylor Lautner is SEXY all the way around! :D
posted by

Bobilicious

on Nov 09, 2010 09:26:31
I cant wait for the movie! Rob is an amazingly sexy man!
posted by

Minnie Lynn

on Nov 09, 2010 07:24:03
i love breaking dawn cant wate to see edward in his new look
posted by

stephine nov 66 2010

on Nov 06, 2010 05:17:18
omg robert pattison fit
posted by

geo

on Nov 04, 2010 05:46:27
ohhhhhhhhh!!!!!!!!!! my god robert pattinson is the most sexiest man in the universe
posted by

lisa

on Nov 01, 2010 08:35:22
i love edward very much.... bella is very lucky
posted by

natasha

on Oct 20, 2010 04:26:30
i love edward very much..bella is lucky get him in the story.i cant wait to c breaking dawn. i hope edwadr and bella 4ever
posted by

ekas

on Oct 20, 2010 03:52:59
its good patterson is with kristen because they have a lot in common .... but i tell you something jacob is UGLY ..... i could also say the same for edward but "hes the hero!!!!.....aint he"
posted by

twilightfan

on Oct 20, 2010 02:51:03
Anybody else think Pattinson is gay? he doesn't "date" except Kristen,how handy. he use to let his older sisters dress him up in girl's clothes and put makeup on him. His own words. No old girl friends have come forward to be interviewed by any tabloids.
posted by

gaydar1

on Oct 15, 2010 03:59:48
I loves the original endings of the breaking dawn where Bella n Edward lives together for eternity. Do not try to change the story please.
posted by

BJ

on Oct 13, 2010 03:21:22
I loved the books But I would have rather Had Bella and Jacob end up together because 1. they knew each other since they were little 2. because they loved each other and 3. Because all she wanted from Edward was she loved him but she just wanted to be changed into a vampire so she would not age anymore and if Stephanie Myers wanted better reveiws she would write more books and end it with Bella and Jacob ending up together
posted by

Snow Wolf

on Oct 12, 2010 12:45:35
OMG i can't wait am so happy that they are making it a 2 part moive.
posted by

beliver

on Oct 12, 2010 01:09:36
Ok Let me explain why i think riley is still alive! point 1 in the book seth kills riley and drags "torso" in fire in movie never saw rileys body or seth drag into fire. point 2 jacobs dad says " our spirit warriors tore the cold to shreads" " but the only true way too kill a cold one is bye fire" and in eclipse we all know riley was never dragged into the fire
posted by

paul

on Sep 23, 2010 03:02:16
OMG can't wait until Breaking Dawn comes out in theaters. Team Edward all the way. I am so in love with Robert, Kristen is so lucky that she has him in her life.
posted by

12blinds

on Sep 06, 2010 04:39:50
I am so in love with Robert, that the site of him sends chills down my spine.. i would enjoy being bitten by him!!!
posted by

Edward

on Aug 29, 2010 01:30:18
i cant what in til breaking dawn comes out i read it 20 times already it is so awesome sooooooo go team Edward sooo hot?
posted by

year

on Aug 21, 2010 03:15:29
ok who ever says that Harry Potter is messed up in the head.Or you just havent opened your eyes yet,READ THE BOOKS!!!twilight haters suck.:p
posted by

vampire_fairy90

on Aug 16, 2010 03:36:24
OMG!!and i usally dont say those girly girl terms.but,WOW!!i just cant wait till Breaking Dawn comes out i read the book 7 times already,7 is my unlucky number so uh oh, guess i gotta re-read it.:).well kristian luv ya! yea yea you to pattison.:). TEAM EDWARD!!!
posted by

vampire_fairy90

on Aug 16, 2010 03:33:43
BY THE WAY TWILIGHT IS SOOOOOOOO MUCH BETTER THAN HARRY POTTER!!
posted by

jessica

on Aug 13, 2010 11:10:45
i can't wait to see breaking dawn i just hate that i have to wait another year to see and since making it into 2 movies the other one wonn't come out until the year after they finish the first one
posted by

jessica

on Aug 13, 2010 11:07:58
twilight sucks harry potter is way better
posted by

hi

on Aug 12, 2010 02:53:16
i love the twilight series i just hate that i have to wait another stinkin year to watch part 1!!!
posted by

sierra

on Aug 09, 2010 03:48:19
twilight is so cool. I watched eclipse at the cinames twice now. Ana i want to be a actress and be in a movie similar to twilight
posted by

anna

on Jul 18, 2010 11:49:24
ive read all the books like 7 imes in 5 months and i adore them and the movies so i cant wait for the movie breaking dawn to come out
posted by

bella swan

on Jul 17, 2010 04:40:18
i am a fan of the books, and i know in the last three movies they have made changes..i just really hope since they are making breaking dawn two movies, then maybe they will stay true to the book. it is perfect..no changes would do it justice.
posted by

wishfully

on Jul 13, 2010 09:20:25
what is taking soo log with braking dawn???? it will not be sooo popular if it takes forever to come out. people will get bored of the whole thing. Should bring them out about 6months apart.
posted by

aussie

on Jul 12, 2010 11:28:19
i went to see eclips it was brillant, i hope it don't take that lond for braking dawn to come out, it already hard wait for eclips to come on dvd now that i have whatch it it was well good!
posted by

big fan

on Jul 11, 2010 01:33:01
WHOS PLAYING NESSIE???
posted by

hubbadado

on Jul 09, 2010 04:55:49
One Word: FEATHERS!!!
posted by

Edward is my Romeo

on Jul 07, 2010 04:29:43
WHAT R THEY GONNA DO ABOUT NESSIE?????
posted by

lsnkittie83

on Jul 02, 2010 09:10:31
i really love twilight can't wait to see eclipse got all the book there great can't wait for breaking dawn. love love lllooovvveee it!!!
posted by

Tammy

on Jun 27, 2010 06:12:47
loves twilight and new moon hope to love eclipse too.
posted by

dark angel princess

on Jun 18, 2010 12:48:09
i cnt wait 2 watch breaking dawn.plz make it soon and dnt change anything.keep as it is in book.i hav read d whole series it is awesome n my fav.i wnt 2 see renesmee.i m sooooooooooooo eagerly waiting 2 watch it
posted by

annie cullen

on Jun 16, 2010 02:02:09
i like it so much.Robert is so cool--i love his beatiful eyes and sad smile but i just can not wait so long?/god
posted by

bella

on May 19, 2010 05:02:13
I really wanna see this movie; I love the Twilight movies ; all of them, oh I really need to see the breaking down :) :(((((((((
posted by

Mahsa

on May 07, 2010 02:40:23
iagree stick with book its just too good to do it any other way
posted by

bella

on Apr 27, 2010 09:56:26
stick with the book it might be a little longer but its hard to make people that has read the book not so disapointed
posted by

kalenia13

on Apr 23, 2010 03:18:47
This is gonna be cool :P
posted by

Meeeeeeeooooooww

on Mar 31, 2010 03:21:29
Harry Potter is soooo better Jacob Black rulesss!!!!!!!!!!!!
posted by

77HP

on Feb 25, 2010 10:27:36
they have already finished filming eclipse, when are thye bringing brakinging dawn to our screens ?
posted by

Twi-hard Twilighter

on Jan 31, 2010 01:11:30
i agree stick to the book. make renesmee how she is describe in the book and try to involve as much detail from the wedding and honey moon. i have read this 4 times now n will be really dissapointed if its nothing like the book!!! and also the stages up to renesmee birth
posted by

lucy

on Jan 28, 2010 04:40:24
stick to the book please! do not change the story, plot everything! keep the original story!
posted by

mae

on Jan 27, 2010 07:34:21
I do agree,if it takes very long b-4 the next movie,people WILL lose interest!STICK 2 the BOOKS!Make Renesmee the way she is in the book. Everyone has already read the books and invisioned how it is supposed to be!!
posted by

Melissa

on Jan 25, 2010 10:33:04
if they want to keep their fans then they'll stick to the story as much as possible and they'll keep the original actors for breaking dawn to b a success
posted by

charmed2313

on Jan 22, 2010 09:07:17
I heard the producers were suggesting not making a Breaking Dawn movie because of Renesmee. They weren't going to make a crappy CGI baby/infant/child so maybe they're going to use the same girl and just periodically film her growing up.
posted by

Sara

on Jan 11, 2010 06:04:51

I'm really interested in this movie! If it REALLY does take 4 years, then YES; I agree, a lot of people will lose interest! AND THE WORLD IS ALREADY GOING TO END IN 2012! Can I at least watch the whole entire movie before I die??
posted by

xPiggy

on Nov 23, 2009 05:48:10

4 years???? why so long? we hardly can't breath awaiting New Moon, then thankfully eclipse will be shown a few months after it but why 4 years to wait for Breaking Dawn? why? why? why?
posted by

Pixie\'s Mom

on Nov 08, 2009 07:22:37

i just cant wait for the movie to come out. im so curious to see if it will be as good as the books. well well just see how it goes. i cant wait to see the next movie
posted by

isabellafan

on Oct 11, 2009 11:42:22

cant wait!!!!!
posted by

Jacob_Love

on Sep 25, 2009 07:34:22
i don't like waiting
posted by

Mrs Black

on Sep 17, 2009 10:47:07

i love all the movies can twait to see them all im a fan
posted by

mikayla

on Sep 08, 2009 05:50:39

i cant wait for it to come out but as if its gunna take like 4 years! i mean come on twilight hasnt even been out for a year and they are already filming eclipse. 94 days till new moon comes out and 347 day till eclipse comes out ! Yaaay
posted by

Mrs Edward Cullen

on Aug 15, 2009 07:39:31

I highly doubt it will take four years for the last movie tht is just ridiculous it's like the first won and the second won come out in the same year y can't the third and the forth come in the same year as each other to if ppl have to wait to long they will loose interest it it won't b much as a hit any more
posted by

Edwardfan09

on Aug 09, 2009 02:23:58

I love the twilight series i've read all of them 4 times im working on my fith
posted by

Team jacob!

on Jul 27, 2009 06:11:49

other sites reporting this movie is coming out in cinemas in 2011!!
posted by

bella

on Jul 27, 2009 05:14:07

summit entertainment needs to be reading these blogs because if its going to take 4 years to complete these films people may not be so interested on the last movie, for god sakes they are making the 3rd and 4th movie in just a year come production has got to be faster, its like harry potter all over again and i was 10 when they started now 16 not interested no more
posted by

sdkirby

on Jul 24, 2009 05:01:21

the book is excellent but why if they are making breaking dawn right after eclipes does it take it 3 n half years to come to theaters
posted by

gaerldsj

on Jul 24, 2009 04:56:37

sorry about that i didn't rate them they all get five stars
posted by

Rosalie Hale

on Jul 23, 2009 06:31:56
on the other hand i read all the books in a week so i will read them again to keep me ocuppied
posted by

Rosalie Hale

on Jul 23, 2009 06:28:54
how come it can't come out any earlier i am going to go crazy!!!!!!!!
posted by

Rosalie Hale

on Jul 23, 2009 06:26:49

i cant wait for breaking dawn to come out its going to be so good!!!!! to bad we have to wait soooo long.
posted by

edwardfan

on Jul 17, 2009 03:15:31

I can`t see them leaving it that long before Breaking Dawn hits the cimemas to be honest. Chances are they`ll have a riot on their hands if they do !!!!
posted by

Mrs E Cullen xxx

on Jul 12, 2009 02:22:36

r u kiddin me? it comes out in 4 years!!!!!!!!!!!
posted by

wolfluvr

on Jul 04, 2009 03:22:18

CAn't wait jacob is awesome!!!!!!!!!
posted by

Team_Jacob_kelly

on Jun 14, 2009 10:23:00

woohoo im the first to comment here omg im so happy they ar making all the movies they ar going to be great
posted by

nicole_cullen

on Jun 03, 2009 08:38:49