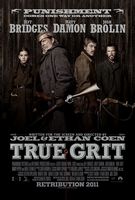 REVIEWS RATE: Critics Readers [Rate It]
Reader's Reviews
---

Waw for this brilliant story from old west OF USA
posted by

O`neal Sengally

on Mar 04, 2011 07:39:06

Great ''supporting performances'', terrible lead actress.
posted by

JJJ

on Feb 15, 2011 02:16:53

:-D
posted by

NP

on Jan 22, 2011 05:11:48

Kicked ass!!!!
posted by

gorewho

on Dec 31, 2010 03:23:13
Gonna LMAO at all you "purists" while you're crying at Bridges winning an Oscar for his Rooster. Save the whining for when someone tries to remake Liberty Valance or Gone With the Wind. Those are "perfection" from top to bottom. Wayne, Duvall, and Hopper were the only performances that even make the original noteworthy.
posted by

ZJ

on Nov 24, 2010 02:51:03
This movie is going to be geared toward the book than the 1969 movie which I think is nice. The 1969 movie focuses more on John Wayne's, Marshall Rueben (Rooster) than on Mattie Ross. The book was all about Mattie Ross even told by her in the first person. The Coen's are class acts and rarely disappoint. Looking forward to this.
posted by

Sharon

on Sep 28, 2010 09:54:55
perfection? Glen Campbell? Really?
posted by

james

on Aug 16, 2010 12:22:30
never tamper with perfection
posted by

chin lee

on Aug 14, 2010 03:58:47
who knows ,at least it doesnt have glen camble in it!!!
posted by

crazy hoss

on Jun 04, 2010 09:42:11
Cannot believe they are going to try a remake of this loved the original but there is no way this is not going to bomb...
posted by

JM

on May 09, 2010 04:51:13