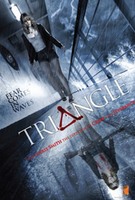 Overview
---
Genre :
Thriller, Mystery
Release Date :
October 16, 2009 (UK)
MPAA Rating :
R
Director :
Christopher Smith
Starring :
Melissa George
, Michael Dorman, Rachael Carpani, Henry Nixon,
Liam Hemsworth

REVIEWS RATE: Critics
N/A

Readers

[Rate It]
Reader's Reviews
---
Triangle terrorist Cruise Critic-Jess the Sisyphus-like happ
posted by

...

on Nov 08, 2010 09:55:32

K. I think that the storm that causes shit to happen over and over again (in my own head) is the Bermuda Triangle. And I think that the reason Jess doesn't remember at parts of what's happened/ing is because of the stress - the stress of realizing she's hurting her child, been a bad mother, that her kid died partially because of her, killed her boyfriend and others; HAS done it over and over and the main stress being that she's about to do it all over again. Wouldn't you black out in parts? Buuuuut my first and main theory is that it's all in her head. It said in the movie that she's mentally unstable (bipolar or something, I can't remember) and so, I really think that her kid did die or he was finally taken from her from protective services and somehow those people were tied into that memory (or she had a close memory of them) and this is her way of remembering what's happened. And she keeps re-living it, over and over again because she snapped.
posted by

Jenn

on May 07, 2010 01:57:07

I didn't get the end either. Memory loss or what?
posted by

rick

on Oct 16, 2009 06:20:36

Weird, wonderful and twisted. Really surprised me.
posted by

johnny

on Aug 30, 2009 06:47:58

Excellent Movie. Although I dint't understand what happened in the end, it was awesome. And B I G.
posted by

George

on May 05, 2009 06:30:01