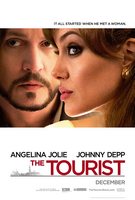 REVIEWS RATE: Critics Readers [Rate It]
Reader's Reviews
---

I loved this movie and soundtrack
posted by

Leetzb

on Nov 13, 2012 03:10:33

EXCELLENT!!!
posted by

plo

on Sep 06, 2011 01:39:59
where;s starlight by muse?
posted by

adhi

on Feb 03, 2011 12:49:20

arghhh...forgot about the star rating...it's 5..LOL.
posted by

nanoy2008

on Feb 03, 2011 05:25:31
i love this film..song by Katie Melua 'No fear of height' and soundtrack by James Newton Howard...seems to bring back good time love story..love it.LOL ..dream to be Alexander Pierce and kissing Angelina...LOL
posted by

nanoy2008

on Feb 03, 2011 05:23:24

its really enjoyable
posted by

anny009

on Jan 26, 2011 11:51:31

I really enjoyed it! Depp is just fascinating, and the music, exquisite.
posted by

Nora

on Jan 24, 2011 01:12:33

i love it!!!! excellent!!
posted by

ZIARA

on Jan 21, 2011 12:24:26

Great movie! Depp is so cute there.I saw it twice and totally enjoyed it.Angelina is like ancient Greek goddess.Music is amazing.Whole audience in theater laughed at most of the movie moments.So I guess it is mix of genres: romantic,comedy,thriller and a little action.Perfect mix! Don't believe critics!
posted by

Turik

on Jan 21, 2011 08:53:50

Simply: flat and shallow.
posted by

kas

on Jan 19, 2011 11:23:10

I just have one question, about this awesome movie! When is coming out on DVD and Blu-Ray? This is one of my favorite movies of the year!!! Another one of the best movies of the year is, "SALT".
posted by

JD5

on Jan 17, 2011 07:22:49
the best thing about this movie was hearing starlight by muse at the end. very enjoyable movie. depp never disappoints.
posted by

anonymous

on Jan 17, 2011 04:06:32
There's no map of problematique ?
posted by

guess

on Jan 16, 2011 09:22:40

what's the title of the song that goes like "I'm gonna be fine" - great movie by the way
posted by

chaz

on Jan 15, 2011 10:32:58

I absolutely loved this movie! Depp is so amazing in that role.
posted by

Jol

on Jan 14, 2011 08:12:54

I read the critics, thought it would be bad. And absolutely loved it!
posted by

anna

on Jan 14, 2011 03:06:27

its worth the wait i loved the trailer, just cant wait
posted by

Jimmy M. M.

on Jan 13, 2011 08:53:25

What brands did jolie wear? She was fvckin' gorgeous with thodse brands
posted by

waddle

on Jan 13, 2011 06:46:44
First good moview I've seen on 2011!!!
posted by

Rich

on Jan 08, 2011 10:31:31

Loved it, 'two hours of eye candy.' Can't wait to see it again.
posted by

Linda

on Jan 08, 2011 09:07:39

the worst film i saw in the last 5 years!
posted by

lyn

on Jan 07, 2011 07:47:21

Loved it!
posted by

jhpii

on Jan 06, 2011 08:34:38

nice, btw does any1 know what's the name of the song during the credits?
posted by

dy

on Jan 05, 2011 07:19:58

I liked everything about this movie, don't believe the critics!
posted by

great

on Jan 04, 2011 09:24:18

Enjoyable movie :) The song the you all heard at the end of this movie is called "Starlight" by Muse. It is NOT "Map of the Problematique" by Muse. Both songs are from the same album.
posted by

True Muse

on Jan 02, 2011 11:49:44

thoroughly enjoyable movie from start to finish! second time viewing is even better.
posted by

Jojo

on Dec 28, 2010 06:47:19

OMG it is not starlight!! it is called Map of the problematique! *From a hardcore Muse fan(:
posted by

Orange

on Dec 27, 2010 08:59:14

the music you heard viewing the credits is "Starlight" of the Muse
posted by

Ryan

on Dec 26, 2010 08:27:18

Please tell me the name of the music at the end of the movie while viewing the credits
posted by

The Tourist

on Dec 25, 2010 12:35:10

PLease tell me the name of music that is playd when jolly and depp are kissing in the hotel.. in depp's dream...
posted by

pik

on Dec 24, 2010 11:58:49

Not bad but not amazing either.
posted by

Chris

on Dec 24, 2010 10:44:55

This film is so so good. Love it! Off to see it again next week :D
posted by

I_Speak_Whale

on Dec 21, 2010 11:37:36

this is great
posted by

rhina

on Dec 20, 2010 06:11:23

there was another song, heard that while frank was dreaming..
posted by

nazli

on Dec 19, 2010 02:21:05

so theres a song in the movie, cant even remember where it is in the movie, but there lyrics are like, because you're here, i don't fear, i swim in the ocean even though it could crush me...can anyone remember the exact lyrics? i want to find that song!!
posted by

piratechik23

on Dec 18, 2010 09:45:42

No fear of heights - Katie Melua
posted by

dia

on Dec 18, 2010 03:35:00

Amazinngggg movie, loved it soo much, they work perfectly together.
posted by

loveeit

on Dec 17, 2010 01:10:14
The tourist isn't coming to any cinema near me!!! When does it come out on DVD?
posted by

Wild1

on Dec 05, 2010 02:50:19
is the tourist a remake?
posted by

patycraft

on Nov 20, 2010 11:35:04
im also really excited for this movie.. more power jolie!! youre really amazing!
posted by

nouvel

on Apr 08, 2010 04:32:05
would love to see this movie!!!!!! can't wait for it to come out.
posted by

depp fan

on Feb 19, 2010 12:28:57