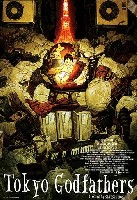 Overview
---
Genre
Animation, Drama
Release Date
January 16, 2004
MPAA Rating
PG-13
Duration
92 min.
Studio
Samuel Goldwyn Films
Official Site
click here

REVIEWS RATE: Critics Readers [Rate It]
Cast and Crew
---
Director
Satoshi Kon
Producer
Masao Maruyama
Screenwriter
Satoshi Kon, Keiko Nobumoto
Starring
Toru Emori
Aya Okamoto
Yoshiaki Umegaki
Story
---
Christmas. Snow is turning Tokyo into a white city. Somewhere in Shinjuku, there are three energetic homeless people. They are Gin (alcoholic), Hana (ex drag queen), and Miyuki (runaway girl). The holy night is about to witness a memorable encounter.
Hearing a crying noise coming from a pile of garbage bags, they discover an angelic baby. Gin insists that they go to the police since this baby clearly has been abandoned. However, Hana, who has always dreamt of having baby, has made her mind up to name the baby "Kiyoko". The three "godfathers" are to embark upon a journey to find the baby's parents.
The only clues are the business card of a bar and a few photographs. Will this baby bring happiness? The trio is about to be faced with a series of incredible adventures.
Miyuki gets on a train with the baby only to find that the father she ran away from is in the next carriage. Panicked, she runs off and accidentally spills all the milk for the baby, but when she gets to the cemetery she finds a bottle of milk that somebody has left. One lucky incident invites another lucky incident, and a chain of happiness starts to form.
The trio then helps a Yakuza mob called Ohta, who is suffering under the wheels of a luxurious car. The luck this incident brings is that Ohta was on his way to his daughter's wedding when he was involved in the accident. The daughter's fiance is Mitsuo, who happens to be the owner of the bar they have been looking for.
Of course it is not all happy events. Mitsuo turns out to be the loan shark that destroyed Gin's life in the first place. Shaken with fury, Gin is about to punch Mitsuo and then, a hitman suddenly appears and fires his gun.
The bullet hits Mitsuo trying to protect Ohta. The panicked hitman kidnaps Miyuki and Kiyoko leaving Gin and Hana in a bitter argument. Is this the end of the journey to find the baby's parents?
Gin, now alone again, is attacked by some teen school boys and gets seriously injured while trying to help a dying homeless man. Hana, in the meantime, struggles to find her only family (Miyuki and Kiyoko) and is finally reuinted with them.
They cannot let the baby spend any more nights in the street in this freezing weather. Hana, unable to find any other solutions, knocks on the door of the transvestite bar "Angel Tower" only to be faced with a happy surprise. This is where the injured Gin has been brought in and taken care of. Gin also has new clues... "I guess I'm just not an action hero. Just homeless!!"