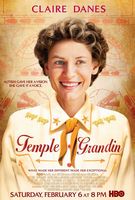 REVIEWS RATE: Critics
N/A

Readers

[Rate It]
Reader's Reviews
---

Best movie I've seen in a long while. It's very interesting to be able to understand how people with autism see the world. Amazing.
posted by

Parisa

on Apr 05, 2011 10:27:36

This was the best movie I've seen in years. Wonderful!
posted by

gj

on Jan 29, 2011 08:48:26

Clare Danes gave the performance of her career. "Temple Grandin" had me in tears several times; when she pleaded to be put into the cattle squeeze and when she sang "You'll Never Walk Alone" at her graduation.
posted by

Bob K.

on Apr 05, 2010 01:28:52

Excellent movie, I cried. My son is 3 1/2 and has autism. The best comment in the movie was "she is different, not less"
posted by

m

on Mar 30, 2010 10:30:38

One of the very best. Claire Danes and the other actors and actreeses portray their parts so well. Have watched it several times and am sorry the run on HBO is over.
posted by

gmcphoto

on Mar 14, 2010 08:24:43

WOW I watched this movie on HBO last night and I balled at it. My son is on the autism spectrum and everything in this movie is things we deal with every day. It really hit home with me. GREAT movie.
posted by

Sarah

on Mar 11, 2010 03:37:41

This was a great show to work on. The director, Mick Jackson and all of the lead and other actors did the best work I have seen in ages! This was perfect timing for a film of this calibur!
posted by

National Symposium H

on Feb 26, 2010 08:17:06

can not stop watching this movie
posted by

me

on Feb 24, 2010 07:09:48

just a good movie it helps me to understand my kid and gives hope to a recovery
posted by

olga

on Feb 10, 2010 06:45:03

the movie was excellent.i have a cousin who is 10 and has autism.it puts some light on what they go through everyday and also give hope to all parents.
posted by

jenny

on Feb 06, 2010 09:04:16