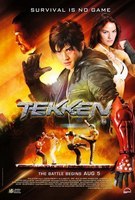 Overview
---
Genre :
Action, Adventure, Sci-Fi
Release Date :
November 05, 2009 (American Film Market)
MPAA Rating :
R
Director :
Dwight H. Little
Starring :
Jon Foo, Luke Goss,
Kelly Overton
, Marian Zapico, Candice Hillebrand, Cary-Hiroyuki Tagawa, Chiaki Kuriyama, Mircea Monroe, Cung Le, Darrin Dewitt Henson,
Ian Anthony Dale

REVIEWS RATE: Critics Readers [Rate It]
Reader's Reviews
---

movie was great way more better than the kof movie the only thing was raven & christie didn't have there other match and anna williams didn't fight in iron fist but besides that like i said the movie was great
posted by

j

on Jul 28, 2011 07:47:27

I LOVE YOU JON FOO
posted by

albertyna_97

on Jun 02, 2011 08:34:35

A fantastic film with JON FOO
posted by

albertyna_97

on Jun 02, 2011 08:32:34
ai laik zis game
posted by

dato vanishvili

on Jan 23, 2011 12:35:25
its owesome his act its amazing,,,and he verry hand some,,, i like you jin
posted by

jin kazama

on Dec 28, 2010 03:33:55
I dunno how this movie got an "R" rating. It's not that bad. It's got its flaws. But if you watch it for what it is, it's quite entertaining. No slow spots. It's wall to wall action. Great fight scenes, awesome score, and some really great costumes. Once again, if you're a fan of the video game, don't expect for this film to make sense. Just go into it with an open mind.
posted by

backflip69

on Nov 24, 2010 05:10:57
hey jon how r u i got a party can u come bring ur friends k bye cya later.
posted by

sara natalia

on Oct 27, 2010 01:33:44
actually it wasnt that bad i mean it was fun to watch it didnt have cheap stunts and flyin in the air and that kinda bullshit we had to watch before when a producer trys to turn a video game into a movie it wasnt bad at all , story is good a man revenges his mothers death its quite a good reasonable , what i didnt like there are alot of characters missing , i wish howrang was there , lee ,julia , paul, king all the tekken fighters we saw on tekken the game but it was a good movie it wasnt a disappointment
posted by

Wiwi

on Sep 09, 2010 01:38:16
you cute baby jin i love you
posted by

nikka

on Sep 08, 2010 03:49:43
Almost as bad as you'd feared. If you're the kind of guy who wants a nostalgic reminder of those long ago days of sitting alone in your pants watching the kind of straight-to-video violence porn that your girlfriend (if you had one) would never tolerate ... well then, this is the film for you. It even has Gary Daniels, a fixture in all those death-match cheapies from the 90s, as the big bad wolf at the end. As with this year's other big disappointment, Ninja Assassin,somebody's missing the point.
posted by

thoupht

on Aug 08, 2010 11:29:46