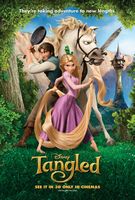 Overview
---
Genre :
Animation, Family
Release Date :
November 24, 2010
MPAA Rating :
PG
Director :
Byron Howard, Nathan Greno
Starring :
Mandy Moore
,
Zachary Levi
,
Donna Murphy
,
Ron Perlman
, M.C. Gainey, Jeffrey Tambor,
Brad Garrett
, Paul F. Tompkins

REVIEWS RATE: Critics Readers [Rate It]
Reader's Reviews
---
BEST MOVIE EVER!!!!!!!!!!!!!!!
posted by

RAY

on May 28, 2011 10:06:52

LOVE IT :) :)
posted by

RAPUZEL

on May 21, 2011 04:15:48

OHH I LIKE THIS VIDEO ITS SO VERY NICE
posted by

MARIA CLARITA LOMOSA

on Feb 20, 2011 06:44:21

I saw this with my women and this movie by far is the best I have seen. All the other animated movies do not compare with this one. Its time to remake beauty of the beast and cinderella. Honesty we enjoyed it so much I will be looking forward to it when the bluray dvd version is released.
posted by

John s.

on Jan 31, 2011 08:41:29

Dwayne Bonello this animated movie Tangled 3D Looks Awsome and Great by walt Disney and see it! this animated movie and i love it too much the story was good! and i like the Music of this animatd movie.
posted by

Dwayne Bonello

on Jan 12, 2011 08:17:18

LOVED! I am 15 and my sister is 18 and we both loved the movie! we have both made plans to come back with other friends to see it again! I can't pick my favorite character it was all so good :)
posted by

Kids at Heart

on Dec 30, 2010 07:28:05
loved it saw it three times and i want it for my bday:)
posted by

tangledizawsom

on Dec 21, 2010 05:44:38

I SIMPLY LOVED THE MOVIE THE CONCEPT,THE ANIMATION, THE THRILL AND ROMANCE. MOSTLY I LOVED MAX SO MUCH AND FLYN HAS BECOME MY FAVRT HERO :)
posted by

Seher

on Dec 18, 2010 06:30:11

i watched this movie 3 times and i enjoyed it!! awesome!
posted by

syah sydan

on Dec 07, 2010 03:02:24

Ohh man this movies was so so beautiful I just saw it yesterday. I sure wish I could see it again, this movie touched my heart but really I think this movie touched all of my heart, most than alpha and omega but this one is much beautiful, I sure wish there was a 2ND PART of this movie. Because I loved it so much but i really mean it, this movie has everything animation, advanture, love, and its for the hole family to see. I'll try to see it one more time some who, in the internet, in the thearers etc. But I sure want to see this movie again.I think tis shouldn't be the end of this movie i think there should be a 2ND PART OF TANGLED. Because if the 1ST one was beautiful so the 2ND might be even beautiuler SO EVERYONE KEEP WITH THE RUMORS WITH TANGLED 2 SO THERE CAN BE ONE I will keep writting for this movie and I'll try to find out when does it come to DVD. SO KEEP UP WITH THE RUMORS FOR TANGLED 2. I LOVE TANGLED MOVIE SO MUCH AND I MEAN IT REALLY. KEEP CHEERING FOR TANGLED AND EVEYONE SEE TANGLE MORE THAN HARY POTTER 7. AND I'LL KEEP INFORMATING YOU. I LOVE SO MUCH TANGLED REALLY ALOT, I LIKE IT AS THE BEST MOVIE OF ALLL THE UNIVERSES IN WORLD I LOVE YOU TANGLED.I WILL TYPE LATER ON.
posted by

Spyro (Jairo)

on Nov 29, 2010 10:27:30
I can't wait! The trailer indicates it's going to be a great, with-it, romance!
posted by

Osea

on Sep 16, 2010 07:23:59
you got to be kidding me.
posted by

bball

on Aug 02, 2010 08:25:52