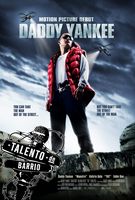 Overview
---
Genre :
Drama, Action, Crime
Release Date :
October 10, 2008
MPAA Rating :
R
Director :
Jose Ivan Santiago
Starring :
Daddy Yankee
, Maestro, Katiria Soto, Cesar Farrait, Angelica Alcaide, Norma Colon, Norman Santiago

REVIEWS RATE: Critics Readers [Rate It]
Reader's Reviews
---

what is the second last song before he get shot.
posted by

bobby

on May 06, 2011 05:04:21

Ay k pelicula tan estupida! Just glorification of violence, money and of course daddy y himself. Really poor.
posted by

Lin

on Jan 04, 2011 03:14:06

awesome movies...........but should be his true story.huhuhuhu
posted by

iboyz61

on Jul 25, 2010 10:13:04

You are proud of Daddy Yankee and this insignificant film? This film didn't make you or any Rican look like a stud or a population of heroes. You wrote a report on Puerto Rican murders like if it's something to be proud of and to the Boricua dismay you posted it on the internet. If I was a film producer, I would film a movie about Dr. Ramon Emiterio Betances, a real Puerto Rican Hero/humanitarian whom is loved by even people from other countries. I saw a statue of him in France, and he is a champion in the Dominican Republic, and in Cuba and one of the best physicians/surgeons in history. The practice of OB/GYN, PA's and Nurse Practitioners owe him major credit and contributions. But who am I to say…right? I'm just a Black Doctor razed in South Bronx projects by wonderful Ricans that despite adversities taught me (what you call) the "reality" of life. Cono despierta Boricua!
posted by

Dr. J

on Mar 22, 2010 03:50:45

Miguel my brother, waking up is something we must all do. To Cario's defense, I believe he was also talking about the quality of the film production (he even stated he liked it because it reminded him of his life in PR). I also believe that Ricans can do better not only in the art of film but in every aspect. Such as Cario I have seen it too (Puerto Rican greatness) and I'm not even Boricua. This movie in my opinion is shallow, not because it's about caserio or barrio life but because the movie was poorly shot and the plot was cheep. This film comes nothing close to In the Time of Butterflies; a film about the Dominican struggle during the time of Leonidas Trujillo, The Lost City; about the Cuban revolution, Love in the Time of Cholera: based on Nobel Prize winning novel (Columbian author), The Motorcycle Diaries; Che Guevara's journey as a medical student …and the list goes on with movies about Latinos. But with Puerto Rican's rich history, incredible talents, and abundant thinkers…
posted by

Dr. J

on Mar 22, 2010 03:50:19

I wanna start by saying,i give daddy yankee all the credit in the world 4 the creation of this film,,,& cario and nena PR,u both need to wake_up and smell the coffee,i too am from p.r,& the movie doesnt make us look bad as ricans,its reality,,,too anwser your ?,they were killing each other over money,drugs,and respect ova caserios, 4those that say "talento de barrio" wasnt real,is ignorant to P.R, a hatter or is just upset with the image that others are giving P.R now,ITS ABOUT TIME,i just finished a report on "murders in puerto rico 2009",,,be4 ANYONE take this post as an insalt, DO SOME RESEARCH youll find what im talking about,google, "murders in puerto rico 2009" the murder rates are crazy out-there,UP 2DATE THERE ARE 4-5 MURDERS EVERY 2- DAYS-of which 63% of them murders are related to drugs,money,and gangs,,, THE MOVIE IS BASED ON THE FACTS OF P.R'S STREET LIFE!GOOD JOB YANKEE
posted by

Miguel

on Jul 24, 2009 10:09:33

rrWfV7
posted by

Goovyejf

on Jul 14, 2009 03:22:56

Cario, you are so very right on that. It couldn't been said better! Boricuas like DaBoss make Ricans seem culturaless and ignorant. He even wrote "cracker from Ohio". Does any one know why they where killing eachother in the movie? This was a rediculous film. I grew up in a Caserio in PR and this is a bunch of crap. This film made us look bad and I don't appreciate when Boricuas validate anti-Puerto Rican sentiment. Cario you seem to be a very educated person, but you where generous in your rating.
posted by

Nena PR

on Jun 02, 2009 02:13:48

I LOVE DADDY YANKEE ERES LO MEJOR aaaaaaaaaaaaaaaA TE AMMMOOOOOOOOOOOOOOOOOOOOOOOO
posted by

La CanGRii

on Mar 04, 2009 03:01:50
Es interesante que esta pelicula fue impresionante para mis amistades mas ignorantes. Estoy de acuedo que es una historia "del barrio" pero la vida de barrio es mucho mas complejo e poetico de que la pelicula deja entender. Los Puertorriqueños pueden hacer mejor, you lo e visto escribir y produsir mejor. Me gusta esta pelicula solo por que me acuerda mi vida en P.R. Pero, entendiendo que esos "crackers" (grigos - vulgarmente hablando) son los que pagan los billetes grandes el cual dara la opportunidad de superarse aquel Boricua talentoso. Si eres aquel que penso que esta pelicula fue fantastica, es usted que con sus propios ojos veras como otros Latinoamericanos nos pasa por ensima.
posted by

Cario en Espańol

on Feb 25, 2009 03:21:22

Funny how it was impresive to my most ignorant friends. I agree that it's a story "del barrio" but barrio life is much more deep and poetic than that. Puerto Ricans can do better, Ive seen them write and produce better. I like this movie because it gave me memories of my upbringing however it's those "crackers" that pay the big bucks that would give talented Boricuas a chance. If you think this was fantastic, than you will be the same ones watching other Latinos pass you over (pasandote por ensima).
posted by

Cario

on Feb 25, 2009 03:06:09

eso es fantastico
posted by

angel

on Feb 10, 2009 10:01:50

estaba cabrona la pelicula y que wichi es mi hermanito por supuesto que ser boricua y duhhhh... q los puertorriqueno tienen talento de barrio como tu
posted by

michel

on Dec 19, 2008 07:55:31

MIRA SE ME OLVIDO ALGO TAMBIEN LOS PIUPIU QUEDARON CABRONES PUERTO RICO
posted by

GLENDA

on Dec 19, 2008 07:52:56

la pelicula te quedo cabrona !!!!!arriva PUERTO RICO!!!!!
posted by

GLENDA

on Dec 19, 2008 07:51:25

if you're a cracker from Ohio, don't even bother....you have to be from Puerto Rico (or somewhere similar) to understand this film. Well done.
posted by

Da Boss

on Oct 24, 2008 10:03:21

If you don't speak spanish of course your not qonna understand it. I loved it ; its crazyy && real caserio life .
posted by

l o l a s t a r

on Oct 20, 2008 02:56:35

OMG THIZ MOVI3 IZ 4W3SOM3 YOU SHOLUD S33 IT . 4ND DADDY YANK33 LOOKZ SO CUT3! WHO 3V3R DOESNT LIK3 IT GO........
posted by

3ST3FANIA

on Oct 18, 2008 10:40:25