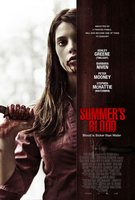 Overview
---
Genre :
Thriller
Release Date :
November 10, 2009 (DVD)
Director :
Lee Demarbre
Starring :
Ashley Greene
, Peter Mooney, Stephen McHattie, Barbara Niven, Danielle Kind, Peter Michael Dillon, Allison Graham

REVIEWS RATE: Critics
N/A

Readers

[Rate It]
Reader's Reviews
---
ashley greene is an amazing actress and even though this movie was pretty bad, ashley ddi any amazing job.
posted by

videos

on Dec 27, 2010 09:54:31
I actually loved this movie! the end was alright, but eitherwise i really loved it.
posted by

movies

on Dec 27, 2010 09:53:14
haha looks lyk a cool movie
posted by

U Suck

on Apr 08, 2010 02:49:30
Ashley Grenne was good in Twilight but other then that horrible!!!
posted by

Miss cullen

on Apr 08, 2010 02:48:24
This movie sucks balls
posted by

Us army78

on Mar 27, 2010 07:18:33
Me ha encantado esta película y me parece que tanto ashley(summer)como peter(tom)han clavado el papel y se han metido en la carne de los personajes de tal manera que hasta te lo crees.Es genial ver películas así con estos pedazo de actorazos increíbles de verdad que ya solo merece ver la película por su excelente actuación en serio.La recomiendo a todo el mundo es genial.ENORABUENA!!
posted by

sandra

on Jan 27, 2010 07:20:18

First of all,Ashley greene,awful actress.She was good in twilight!But the film would've seemed better with someone else in it.She's good...sometimes.But all in all she's terrible.Sorry fans.But that's how I feel.I do hope she and the movie does good,though.
posted by

Miss cullen

on Nov 12, 2009 06:57:03

Awesome!I loved twilight and all the books,and I was so excited when I heard about Ashley Greene's new flick 'Summer's Blood'.I saw the trailer...it was very good.I wanna see it so bad!I loved the bloody parts!The more the better!
posted by

gangsta lady

on Nov 12, 2009 06:54:08

i think this is very intresting and worth watching. i love ashley greene and hope this does well. i think this is her first lead role and i'm sure she did well in it.
posted by

mandapanda

on Aug 29, 2009 05:37:48

I think this movie is going to very intersting and i hope it premires soon cause i cant wait to see it!
posted by

hannieluvsyou022

on Aug 09, 2009 12:09:50

Plot very stupid.I hate ashley greene,so yeah this movie will suck.Honestly her acting...not well.THe only one i liked her in was twilight.I think this movie will fail,all because she's in it.If you want some awesome amazing acting,then check out selena gomez!I love her!!!
posted by

wow

on Jul 30, 2009 05:03:34
UM,this is to twilight#1fan. The more blood and gore the better.And ya,i've seen the trailer and she dose stab someone.
posted by

willi

on Jul 30, 2009 04:59:07

AWESOME!!! You know this movie will be cool.'cause ashley greene is in it!I wanna see this.When will it come out?I hope soon!I wonder if it has a poster out to own?If so i'll buy it.Sorry,i just love it!
posted by

sweetie tweetie

on Jul 30, 2009 04:56:19

Whats with all that blood?I know it's a horror,but blood in almost every scene!And in the movie dose she stab somone?
posted by

twilight#1fan

on Jul 30, 2009 02:46:08

dF8bXY
posted by

Qfejdopt

on Jul 15, 2009 12:39:51

I wanna see that movie. but it's not coming in the Netherlands =(
posted by

YasJJ

on Jun 20, 2009 02:17:31