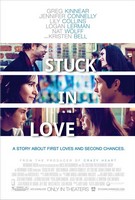 REVIEWS RATE: Critics Readers [Rate It]
Reader's Reviews
---

gb
posted by

lol

on Nov 03, 2014 11:09:51

you did a good job with all the songs. very pleased.
posted by

Noel

on May 20, 2014 12:41:24

One of the best movies i've ever seen.
posted by

Boss98

on Mar 16, 2014 06:42:49

yaya
posted by

nyanya

on Dec 25, 2013 07:55:54

Made me cry. The lines from the books where so right for each moment. Beautiful feeling at the end. Loved it!
posted by

sun

on Dec 19, 2013 11:42:54

this is now one of my favorouite movies ever. sooooooo good! really sad as well.
posted by

chloe

on Nov 27, 2013 04:37:44

this is a really great movie.in my opinion, better than silver lining playbooks and perks of being a wallflower
posted by

stuck in love

on Nov 02, 2013 04:29:09

I thought this movie was amazing!! By far my favorite film I have seen all year and definetly one of my top 5 movies ever. I just liked everything about it. I also have the biggest crush on Nat Wolff and the character he played reminded me of his personality outside of the character, hopeless romantic. It was perfect. Everything about it was just so charming to me. I watched it three times in the span of 24 hours it was that good, I am thinking about watching it again tonight. Really well done. I WANT A SEQUEL! Rusty and Kate were my favorite couple though... haha Enjoy!
posted by

annie

on Oct 20, 2013 08:54:26

Excellent.
posted by

Rebecca

on Oct 07, 2013 09:31:51