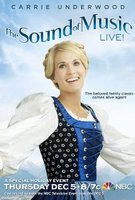 Overview
---
Genre :
Musical
Release Date :
December 05, 2013 (TV Premiere)
Director :
Beth McCarthy, Rob Ashford
Starring :
Carrie Underwood
,
Stephen Moyer
,
Audra McDonald
,
Laura Benanti
, Christian Borle, Grace Rundhaug, Joe West, Michael Nigro, Peyton Ella, Sophia Anne Caruso, Ella Watts-Gorman, Michael Campayno

REVIEWS RATE: Critics Readers [Rate It]
Reader's Reviews
---

I enjoyed it more than the original version.
posted by

Lou

on Feb 06, 2014 11:04:31

I loved the original Sound of Music. I grew up with it and have watched it many, many time. I certainly enjoyed this Live version. I think that Carrie Underwood was awesome. The entire cast did a good job. It just brought back so many memories from my childhood. Job well done!
posted by

Diane

on Dec 14, 2013 10:52:32

Carrie was amazing; the broadway people overacted for TV. Their words meant nothing, just broadway overacting. Carrie carried the show; to the end she was the driving force of the program. Others made mistakes that were obvious, even Audra. Good job, Carrie
posted by

cathrynpaulette

on Dec 07, 2013 12:15:21

Very entertaining
posted by

Lisa

on Dec 06, 2013 12:02:04

I really don't care what other people say... I love this version and especially Carrie Underwood as Maria!!!!
posted by

actgirl090

on Dec 06, 2013 10:55:11

Carrie Underwood has a beautiful voice but her acting is weak. The worst part was the script and staging. Horrible!!!
posted by

Mark L.

on Dec 06, 2013 03:57:10

Very entertaining, amazing, actually, when considering this was filmed like a Broadway play. Good job by all -- especially Underwood.
posted by

Fisherman

on Dec 06, 2013 02:48:55

Spent a little time in TV and understand the work. Spent a little time around musical talent. "Sound: was a breakthrough in modern television. Sometimes the old is just what we need. To future country singers you now have a goal to reach. Good Luck. Great job to everybody involved even Walmart for financing.
posted by

Jimlb

on Dec 06, 2013 02:31:33

Singing is amazing, but the as a whole, it cannot hold a candle to the original.
posted by

bb

on Dec 05, 2013 09:42:02

Great show. Glad nbc took a risk. Bravo!
posted by

The sound of music l

on Dec 05, 2013 09:31:45

I am enjoying this. I am a big fan of Carrie Underwood, but I have loved Sound of Music since I was a young girl. Just awesome, Carrie is stunning and the acting is great!
posted by

Huge fan

on Dec 05, 2013 08:55:49