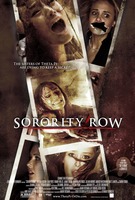 Overview
---
Genre :
Horror, Thriller
Release Date :
September 11, 2009
MPAA Rating :
R
Director :
Stewart Hendler
Starring :
Briana Evigan
,
Rumer Willis
,
Margo Harshman
,
Audrina Patridge
,
Jamie Chung
,
Julian Morris
,
Leah Pipes
,
Carrie Fisher
, Adam Berry, Matt O'Leary

REVIEWS RATE: Critics Readers [Rate It]
Reader's Reviews
---

the soundtrack was good with the movie, yet the ending was terrible. the soundtrack was the only thing that made it the movie so freakin' good.
posted by

bartschki

on Jul 12, 2010 04:31:21

was reli good but so scary hahaha
posted by

biibz1256

on May 29, 2010 12:13:16

yooooooooo dis movie was mah good no lie just finished watchinq it on netflik for the first time lol (laugh out loud) my brother said that jamie chung is hot lml he is crazii but she is pretty
posted by

mz_barbi3_in_pink

on Apr 05, 2010 09:32:36

love it lml
posted by

sorority row #1

on Apr 05, 2010 09:29:17

Movie was really good, ending was terrible, could have picked a better killer.
posted by

R0cKsTaR

on Mar 17, 2010 04:22:03

the killer was a little suck he did all this to keep cass to himself i love the girls thou and the movie was kick ass
posted by

sister cate

on Feb 28, 2010 01:36:26

um, movies don't win grammys. movies win oscars.
posted by

bobke

on Feb 24, 2010 01:19:45

this movie is should win a grammy! I was shocked when the killer was Andy.
posted by

sorority row

on Feb 15, 2010 12:40:34

it was good and intense
posted by

gir

on Nov 15, 2009 08:30:19

excellent film! May just be the number one horror/suspense of 2009!!
posted by

Hollowman

on Sep 23, 2009 09:50:24

This was actually a pretty good movie - it kept you guessing until near the end. I give it five stars
posted by

ThetaPiSaysGoodbye

on Sep 21, 2009 04:23:33

this movie was excellent i just saw it and it literally had me on the edge of my seat or crunched up screaming in fear. totally worth the money to go see it and i will be buying it when it releases.
posted by

lilkk2006101

on Sep 20, 2009 04:37:47

Best movie iv saw in aaaages ! Hot too x
posted by

Nicola

on Sep 19, 2009 10:13:34

Its a very very good movie i loved audrina, they shouldve switched her part for rumor willis' part
posted by

Kody

on Sep 19, 2009 09:08:48

love the movie. and the end song (L)
posted by

lola

on Sep 16, 2009 03:40:12

love the movie and the soundtrack is just as good
posted by

crashoveride

on Sep 13, 2009 02:42:07

super bad copy from i know what u did last summer
posted by

razzo

on Sep 13, 2009 01:56:24

first rate horror film
posted by

lisa tooks

on Sep 11, 2009 10:50:29

THIS WAS AWSOME i saw it tonight and i loved it so funny and i jumped a couple of times ... what a perfect movie haha :)
posted by

lovedit

on Sep 10, 2009 08:56:46

InRFfX
posted by

Dlixqima

on Jul 16, 2009 02:33:07

hey briana. i cant wait to see your movie. i want to watch it right now
posted by

muddyamber

on Apr 28, 2009 02:01:42

WE LOVE YOU AUDRINA CANT WAIT FOR YOUR MOVIE
posted by

Jessica

on Feb 24, 2009 02:15:57

i love you brinana evigan you one in world
posted by

wesa

on Feb 07, 2009 10:51:29