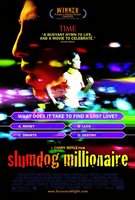 Overview
---
Genre :
Crime, Drama, Romance
Release Date :
November 12, 2008 (Limited)
MPAA Rating :
R
Director :
Danny Boyle
Starring :
Dev Patel
,
Freida Pinto
, Anil Kapoor, Irfan Khan, Madhur Mittal, Saurabh Shukla, Ayush Mahesh Khedekar, Tanay Chheda, Ashutosh Lobo Gajiwala, Azharuddin Mohammed Ismail, Rubiana Ali, Tanvi Ganesh Lonkar

REVIEWS RATE: Critics Readers [Rate It]
Reader's Reviews
---
o my god i love the movie i watch it again and again.
posted by

Firew

on Aug 27, 2010 06:22:02

OOOOOOO IT WAS A GUD MOVIE BT I DID'NT WATCH IT YAR. TRYYYYYYYY TOOOOOO WATCHHHHHHHH ITTTTTTTT.
posted by

NOTORIOUS,MY MADA FU

on Jun 15, 2010 06:50:59

AWESOME *faint*
posted by

MovieGirl63

on Jan 11, 2010 01:19:02

i love this movie
posted by

koatjean16

on Nov 27, 2009 11:28:23

perfect, prefect, perfect!
posted by

rdog

on Oct 16, 2009 07:07:52

eYv6YS
posted by

Hakugpqa

on Jul 15, 2009 01:59:49

i thought it was clever because he told the story around the questions on the show he went on but it did not really show this!
posted by

cocoleigh

on Jun 22, 2009 03:38:00
GEHDEHE
posted by

GGDE

on May 20, 2009 12:05:33

u f
posted by

mbb c

on May 16, 2009 10:14:43

good acting
posted by

slumdog millionarire

on Apr 22, 2009 12:23:27

ME ENCANTO!!
posted by

ITTO

on Apr 16, 2009 01:55:31

IT WAS AMAZING the end!
posted by

MARIA

on Apr 09, 2009 07:14:01

This was an incredible movie and I tell everyone to go see it. BUT...why would you take children under 10 to this movie? It is rated R for a reason. I am glad I wasn't sitting next to young children in the theater, because it would have ruined the experience for me.
posted by

kj

on Mar 23, 2009 04:34:01

5 Reasons to love Slumdog: -The Storyline: very original, inspiring, but also funny & also sad -The Music: AR Rahman is a genius. All the music fits in perfectly with it's scene -The Acting: It's very real and very well done -It makes you think: You cannot stop thinking about it when it ends -The way it was told: At first, the switching is confusing but after 5 minutes you get it and it's genius
posted by

cj

on Mar 22, 2009 11:34:00

excelent, fab, smashing, best movie ever - i can see why it's won all the awards. seen it several times
posted by

Raj

on Mar 21, 2009 11:00:18

LIFE IS WONDERFUL...THIS MOVIE GIVES ALL OF THE EMOTION...BEST EVER ACTORS, STORY LINE...LOVE IT AND HAVE SEEN IT TWICE...WOULD GO AGAIN...EACH ACTOR WAS AS GOOD AS THE OTHER...LOVE THE CHILDREN IN THE MOVIE...THEY WERE GREAT ALSO...SB
posted by

SB

on Mar 17, 2009 08:12:42
dev patel is so charming! :D
posted by

pearl

on Mar 16, 2009 01:38:13

I think I will remember that film for a while, unlike so many. Although we loved it, there are scenes that are a bit very hard to see for children under 10 I would think. I am saying that because (1) I took my children to see it and (2) because I only heared wonderful critics about it, which I approve of, but we, parents, should know that there are things that are quite hard for children to see. I loved the way the story was told, the various sides of life in India that were presented, and the way it ended, that showed that it was "just" a story. A WONDERFUL FILM!
posted by

slamdog millionaire

on Mar 15, 2009 05:42:14

excuse me ppl??!!this movie is the BEST of 2009
posted by

Camille

on Mar 10, 2009 06:00:21

Horrible movie.
posted by

Ella

on Mar 09, 2009 12:42:15

One of the best HOLLYWOOD films of 2009! Very well done.
posted by

Mandip

on Mar 08, 2009 03:00:38

its a very nice . and awesome music of A.R.R
posted by

aa

on Mar 03, 2009 05:55:59

it's a good one film.. bout prejudice n discrimination...
posted by

myelzz

on Mar 03, 2009 01:15:49

LIBBY IS FRICKEN AWESOME!!! :D
posted by

LIBBY:]

on Feb 25, 2009 07:51:45

I thought this movie was good all the way through. I liked the main characters and dislike salim at times. I think that it should definitely win some awards.
posted by

amazing

on Feb 22, 2009 02:36:55

what is the format of the film is it shot with super 16
posted by

light smith

on Jan 23, 2009 08:22:59

Another good Boyle's movie!!
posted by

Nena

on Jan 22, 2009 12:34:44

superb muvie
posted by

thamizh

on Jan 20, 2009 01:48:26

Long time ...such a nice movie seen ... everything was nice ... AR is the soul of the movie ,,, should watch movie
posted by

S@n :} deep

on Jan 19, 2009 05:33:23

fantastic preview so how fantastic will be the movie devpatel&frieda pinto suit each other
posted by

naazneen

on Jan 05, 2009 09:54:43