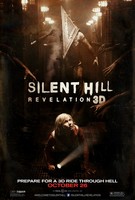 REVIEWS RATE: Critics Readers [Rate It]
Reader's Reviews
---

The people here on AceShowBiz must really like bad movies or just really stupid because this movie had shit smeared all over it. This movie is an insult to the game franchise, please Hollywood, stop making movies based on video games.
posted by

John

on Feb 17, 2013 09:13:04
I love Silant Hill, But i cant belive that a great Novel still has not been written,I would love to rean the silant hill novels, 1 to 5
posted by

BIGGER SILANT HILL F

on Mar 31, 2010 07:41:26
i havent played the games but the move was awsome!
posted by

SH fan

on Jan 23, 2010 09:24:02

I watched Silent Hill and it was the best horror movie I have ever seen!!! Can't wait for Silent Hill 2!!!
posted by

World Fantasia

on Jan 02, 2010 12:14:46

BEST MOVIE AND GAME OF ALLLLLL TIME AND MORE!!!!!
posted by

Silent Hill

on Oct 30, 2009 10:15:01