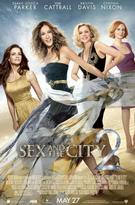 Overview
---
Genre :
Comedy, Drama
Release Date :
May 27, 2010
MPAA Rating :
R
Director :
Michael Patrick King
Starring :
Sarah Jessica Parker
,
Kim Cattrall
,
Kristin Davis
,
Cynthia Nixon
,
Chris Noth
, David Eigenberg, Evan Handler, Jason Lewis, Mario Cantone, Willie Garson, Max Ryan,
Alice Eve

REVIEWS RATE: Critics Readers [Rate It]
Reader's Reviews
---

MOHAN
posted by

mohan

on Apr 16, 2014 01:34:01

Real brain power on dipslay. Thanks for that answer!
posted by

Bubi

on May 02, 2011 01:11:21

It's soopky how clever some ppl are. Thanks!
posted by

Laquisha

on Apr 25, 2011 07:12:01

Kudos to you! I hadn't tohuhgt of that!
posted by

Finch

on Apr 24, 2011 11:44:16

fs
posted by

ashraf

on Dec 24, 2010 10:11:05

This movie was beautiful in ever way possible. Continuing the life of the 4 girls we fans fell in love with in episode one, season one back in 1998.
posted by

SATC

on Dec 08, 2010 06:57:51

I really enojoyed the movie and had so much FUN!!!Don't listen to the critics since they just don't get it.
posted by

Kris

on Jun 30, 2010 08:48:01

Love it! Great clothes and shoes ! Fabulous !
posted by

erich

on Jun 24, 2010 06:49:41

I really enjoyed this movie... a must see...
posted by

Mandip

on Jun 17, 2010 06:46:23

funy and joyfull
posted by

good

on Jun 17, 2010 05:49:14

I love this movie! Very HOT! Can't wait to get this movie on DVD!!!
posted by

Zaara

on Jun 14, 2010 12:32:20

Definitely loved it. Please dont listen to the critics. I think this movie is wayyyyyy more funnier than the first and it is quite entertaining. Definitely a good chick flick...
posted by

KittyK

on Jun 11, 2010 08:39:09

This movie was Fantastic! Dont listen to the critics. A little rounchy in some places but over all a great Ladies Night Out movie. I would not take my significant other to see this movie. (Oh No!!!) Loved it!
posted by

Lover of Sex And The

on Jun 02, 2010 12:25:14

It was so Fabulouse!!!! Liza is Incredable doing All the Single ladies at the fab Gay Wedding and no Sweetie Noone dies in the Movie....Its GREATTTTTTTTTTT
posted by

ANGEL

on May 31, 2010 12:29:10
So Hot movie...
posted by

Young Aljun

on May 30, 2010 09:31:30

Well done, exciting, thumbs up!
posted by

Cranberry Jo

on May 29, 2010 10:05:06
I heard someone dies in the film? is it true? I hope not!!!! I love SATC.
posted by

luc

on May 12, 2010 07:19:15
i love sex and the city i have followed the story since da beginning especially big and carrie and cant wait 2 c da sequel.
posted by

samcam19

on Apr 25, 2010 08:02:50
anybody know where I can find a list of the music score for SATC2?
posted by

Nwad

on Apr 12, 2010 08:49:06
big listener...the song your talking about is Jay-Z & Alicia Keys...on His Blueprint3 cd called "Empire State Of Mind"
posted by

jluv03

on Apr 01, 2010 12:32:38
Please help me...who is the artist for the song in the movie add...the one for New York?
posted by

big listener

on Mar 22, 2010 09:20:59
i love satc cant wait to watch satc2 muaah
posted by

eva

on Feb 23, 2010 08:17:55
I love the Sex and the City and I'm looking forward to the release of the sequel. I like the chemistry of Carrie Bradshaw and Mr. Big and the foursome of Samantha, Carrie, Miranda and Charlotte. I, too, has three great girl friends (Christy, Neneth, and Marypaz) for fifteen years. We saw ourselves in the characters they portray.
posted by

Elvira

on Feb 18, 2010 11:54:52

she is a really great actress
posted by

marco

on Dec 14, 2009 10:58:35
anna vissi will song the soundtrack of sex and the city 2 ! vissi and patricia field are best friends !
posted by

georgio

on Sep 06, 2009 04:23:11

this SEX AND THE CITY tops the first one you get to see them in fashione and action again
posted by

casey

on Aug 07, 2009 04:48:10

EkXqQL
posted by

Odmeflzo

on Jul 15, 2009 08:54:23

Yes I am so very delighted to know that I can look forward to another fabulous movie. I have loved the characters in the series and the movie. I think the first movie was great because it stayed true to the girls and their personalities. Keep the Sex and the CIty coming please.
posted by

g girl

on Apr 10, 2009 12:34:36

I cannot wait to see the sequel. I loved the first film, however, I would like to point out that Samantha (below) seems to contradict herself by rating the movie with two stars yet praising its future achievements. I swear, sometimes people who comment online could really use an online dictionary or rhetorical techniques...
posted by

Intelligent

on Mar 06, 2009 07:02:24

Its going to be much better than the first one 2008
posted by

Samantha

on Jan 30, 2009 08:17:45