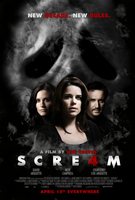 Overview
---
Genre :
Thriller, Mystery
Release Date :
April 15, 2011
MPAA Rating :
R
Director :
Wes Craven
Starring :
Emma Roberts
,
Hayden Panettiere
,
Neve Campbell
,
Courteney Cox
,
David Arquette
,
Rory Culkin
,
Adam Brody
,
Marley Shelton
,
Anna Paquin
,
Kristen Bell
,
Aimee Teegarden
,
Shenae Grimes
,
Brittany Robertson
,
Alison Brie
,
Lucy Hale
,
Mary McDonnell
, Anthony And

REVIEWS RATE: Critics Readers [Rate It]
Reader's Reviews
---

OMG I WAS SOOOOOOO SCARED
posted by

Nora Roberts

on Apr 20, 2011 12:59:54
dwayne bonello this movie its gonna be awsome film scream prequel and i like the cast are back in this movie and this movie i gonna give 10 stars because i like it!
posted by

dwayne bonello

on Apr 13, 2011 07:45:45
Sorry to say but it does look like gale is killed off. I just hope that sidney makes it. But if it truly is the end of the beginning and the beginning of the end all the main characters should be killed and the new younger ones should go on in 5 & 6. The question is whos the killer? Im thinking its a woman. Ciao.
posted by

Keno

on Jan 08, 2011 08:31:35
I cant wait for this to come out!!!!!! All the cast members are awesome! That would be awesome if sydney was the killer. When I heard this was coming i almost had a stroke i was that happy!!!! Hopefully theres hot guys in it! I love Adam brody he's so hot hope he isnt the killer i'd be sad....Anywho Go scream 4!!!!!
posted by

Hannah

on Dec 25, 2010 01:00:11
I hope there will be a few cute guys in this movie. I am tired of watching dumb blonde girls with big boobs running around nude. I hope Craven doesn't dissapoint the gay male demographics. But this movie looks great anyway. I'm pysched.
posted by

JeffreyTG

on Nov 13, 2010 07:10:31
When I heard about the production of Scream 4, I almost went through my chimney. I am looking forward to what I hope will be another series of fun, scary films. Thanks, Mr. Craven, for bringing this series back to life. My only qualm: Do NOT kill off Gale Weathers (Cox). She is my favorite character out of the bunch. But after looking at the still photo of Cox on set, it does not looking promising. EEEEEK!
posted by

Ryan

on Oct 31, 2010 01:03:01
i love screams there is not a better movie i cant wait to see it i am a fan of gale ,sidney and ,dewey if you like scary movies this is one movie you have to see i am screams #1 fan i wrote a book about it it is due to come out the same day as the movie
posted by

taylor

on Sep 13, 2010 03:43:20
scream movies are the best movie around i love them they sould make a 5 but if they dont i know why because you can only make so many of a movie but if they do make more then 5 i would still watch it.
posted by

taylor

on Sep 13, 2010 02:51:29
Thats so awesome! I love the scream movies!!!!
posted by

Jade

on Aug 21, 2010 02:00:00
i im
posted by

dustin frey

on Jul 30, 2010 05:17:28
im
posted by

dustin frey

on Jul 30, 2010 05:16:32
join you
posted by

dustin frey

on Jul 30, 2010 05:14:59
I'm super excited. And for all u dumbasses who cannot read it comes out April 15th,2011. All I want is to make sure they don't kill off Gale Dewey or Sidney. I'd be hurt :(. LOL. So... who's the killer this time??? ***EXCITED!!!***
posted by

Tamara

on Jul 23, 2010 09:53:49
# 1 FAN
posted by

ghostface

on May 18, 2010 07:47:05
Cant wiat for it SCREAMS RULE
posted by

pudding101

on May 18, 2010 07:45:58
yay! i am the scream number 1 FN
posted by

Filiphino 13

on Feb 24, 2010 06:37:46
Icnt waitt!!! n iherd thy start filming in may and coms out in october!
posted by

CHUGS

on Feb 22, 2010 09:49:58
hey neve campbell i'm biggest fan of scream put me in this story i will played jason lewis billy's little brother a perfect bud this movie my real name is glenn gibson from Minnestoa cloquet.
posted by

Jason Lee Lewis

on Feb 14, 2010 03:44:19
wot months it cummin out in?
posted by

!!!

on Jan 26, 2010 01:12:08
gfcbgv
posted by

fdcvfcvcfc

on Jan 26, 2010 01:11:29

the best horror movie ever!
posted by

ghostface

on Dec 30, 2009 07:34:38

yep can't wait! it will rock lol! the main characters ar back!that's cool!
posted by

jesus gomez

on Oct 02, 2009 02:15:38
I luv these freakin movies! I've been waitin way too long for another...so come on with it already..i'm so excited! It is gonna rock!lol
posted by

lisa

on Sep 30, 2009 07:01:02

can i whatch it
posted by

peter

on Aug 26, 2009 10:50:29

its so cool, starring courtney cox, david arquette abd neve campbell are back its going to be awsome
posted by

cool

on Aug 16, 2009 07:06:15

i think its cool having scream 4 but star courtney cox,david arquette, neve campbell,sarah michelle gellar and jamie kennedy (i guess)
posted by

4 fan

on Aug 16, 2009 07:04:33

Uhmm it comes out in and around october .. I THINK ITS GONNA BE AWESOME (:
posted by

ScreamLover

on Jul 11, 2009 11:51:21

I love it
posted by

Scream 4

on Jun 20, 2009 05:29:02

when is the scream 4 coming out i kno its 2010 but what month.
posted by

demario

on May 13, 2009 01:42:12