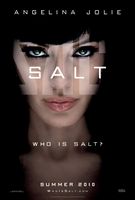 Overview
---
Genre :
Action, Thriller
Release Date :
July 23, 2010
MPAA Rating :
PG-13
Director :
Phillip Noyce
Starring :
Angelina Jolie
,
Liev Schreiber
,
Chiwetel Ejiofor
, Zoe Lister Jones, Yara Shahidi, Victor Slezak, Gaius Charles,
Corey Stoll
, Cassidy Hinkle, Kevin O'Donnell, Tobias Campbell, James Cronin, Ethan Ladd

REVIEWS RATE: Critics Readers [Rate It]
Reader's Reviews
---

If you fall asleep in this one you have a severe case of attention deficit disorder.
posted by

Salt

on Jan 28, 2011 02:27:32

I watch this movie.and this movie is absolutly wonderful.it is full of action.in this movie jolly is looking very beautiful.i need this type of movie.
posted by

Mohammad sohaib

on Oct 05, 2010 11:44:35

LOL! I really love this movie, Angelina Jolie is freaking amazing!!!...!!! LOL...
posted by

Zaara

on Aug 23, 2010 10:09:28

Good movie. Great story line... if there will be a Salt 2, it is gonna be amazing...
posted by

Mandip

on Aug 23, 2010 10:08:31

Angelina Jolie was AMAZING!
posted by

Nick

on Aug 13, 2010 04:12:57

I watch this movie and it's definitely "THE BOMB". AJ portray it very well, I like her hotness, no one can beat ANGELINA JOLIE... She is the most talented and sexy hollywood actress for me! I must say that in this movie it get the highest point this year for action film for doing the great job of director, crew and staffs...most especially ANGELINA JOLIE!
posted by

THEBOMB

on Aug 08, 2010 07:47:32

this movie was really good!! i loved it i would watch it like 10 times. angelina is hotttt!! like she allways is!
posted by

jordan

on Aug 05, 2010 01:35:08

Angelina is hot as always...freakin hot movie...:rxn
posted by

Rayann zargar

on Jul 31, 2010 07:21:57

BEAST MOVIE EVER!!!!!!!!!!!!! PLUS ANGELINA JOLIE IS FREAK'N HOT!!!!!!!;)
posted by

TJ 21

on Jul 29, 2010 09:34:01

even my friend who likes girly movies luved this!
posted by

lalalala148

on Jul 25, 2010 09:36:09
Loved it!!
posted by

LFNFan97

on Jul 23, 2010 03:57:50
Love the movie,i will sure to watch it
posted by

Pallab

on Jun 29, 2010 12:41:35
Anjelina jolie is super in action or drama whatever she did,it amazing
posted by

Pallab,INDIA

on Jun 29, 2010 12:40:47
i watch trailer 2 and it was amazing. i love the film but i live in greece and the movie will come in theatres in 16 seprtember! why??????
posted by

leah

on May 28, 2010 07:46:02
i love angelina! see is such a good actess. i caaaaan't wait to see her in SALT but in my country the premiere of the films is on 16 sertember!!!!!
posted by

leah

on Apr 09, 2010 04:13:51
excellent thumbs up for the unpredictable twists in the movie
posted by

bob d

on Apr 01, 2010 10:09:41
Angelina I love you,but you are too thin and please You have enough children.We need to see you in movies.You are beautiful in your 30'ties, it's time now to do all.I am 40 and you are not the same anymore. The time is now.
posted by

jude

on Mar 23, 2010 03:38:29

I love you Angelina you re perfect
posted by

Mixalis

on Nov 05, 2009 06:32:19

ANGELINA ES LA MAS HERMOSA Y SEXY!!!!!!!!! ES PERFECTA E INIGUALABLE!!!!! ES LA MUJER, ACTRIZ Y MADRE EJEMPLAR!!!!!!!!! ES SUPER SOLIDARIA!!!!! ES LA DIOSA DEL OLIMPO!!!!! AGUANTE ANGELINA JOLIE!!!!!!!!
posted by

LEANDRO

on Oct 12, 2009 07:07:19

Angie is perfect i love her so much i cant wait to see the movie!!!
posted by

cha

on Aug 30, 2009 11:45:23

angie is the best woman and actress of the universe!!!!!!!!!! she is so beoutiful and perfect!!!!!!!! she s so smart!!!!!!!!!! the movie was excelent!!!!!!!!!! ;)
posted by

LEANDRO

on Aug 16, 2009 10:49:00