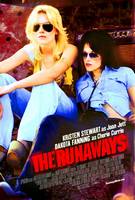 Overview
---
Genre :
Biography, Drama, Music
Release Date :
March 19, 2010 (Limited)
MPAA Rating :
R
Director :
Floria Sigismondi
Starring :
Kristen Stewart
,
Dakota Fanning
,
Michael Shannon
,
Scout Taylor-Compton
,
Alia Shawkat
,
Tatum O'Neal
, Brett Cullen, Stella Maeve, Hannah Marks

REVIEWS RATE: Critics Readers [Rate It]
Reader's Reviews
---

carn wait to see it :D :D ;D xxxxxxxxx
posted by

Chloe belle xx

on Feb 19, 2011 03:25:07

Best Movie I've Seen in a LONG time.... SERIOUSLY!!!! AWESOME!!!!! LOVED IT!!!!!
posted by

MissNava

on Jul 23, 2010 09:37:21

okay , usually i hate every movie kristen is in but this is my altime faveourite movie , every charecter played thier part perfectly and i can't stop listening to the music from it . best movie of 2010 if you ask me . if you haven't seen this yet , go buy it now.
posted by

e.demarco.

on Jun 22, 2010 03:41:28
Kristen has always gotten good movies rolls that kinda showcased her personality... I think the roll of joan jett was a good choice because kristen has a tom boy side to her so i think side of her personality helped her in this movie
posted by

Gabby. S

on Jun 15, 2010 11:52:21
Dakota always was know as the inocent one now she doesnt look so innocent ... I think thats good how she can switch personalities thats wats good actors do....
posted by

Gabby. S

on Jun 15, 2010 11:47:08

Loved this movie!!! Kristen was the PERFECT person to play Joan Jett, and DF as CC, how epic!!! loved loved loved this movie!! will owe the day it comes out on dvd!!!
posted by

JJtilIdie

on May 28, 2010 01:58:46

I wanna buy it already!!!!
posted by

Ash

on May 17, 2010 11:31:25

A better flick would have been Chrissie Hynde, Suzi Quatro and Joan Jett in a battle royale over Rober Pattinson (as a vampire). Joan gets stoned and falls asleep, Chrissie gets really angry and trims her bangs and Suzi Quatro forces Rob to be in her band, circa 1973, and sweat in black leather...all the way through 'til he's drenched while killing some of Suzi's audience members and rolling on to rule the world as the new "Hunger"-like David Bowie while Suzi Quatro prepares to marry Rob and live happily ever after in a little-known town called "Leatherland". Vampires welcome, but only in skin tight skin leather jumpsuits. Now there's a flick for 'ya. Whew!
posted by

war of the leather q

on May 03, 2010 04:49:54
Hardly any mention of Suzi Quatro! She was the inspiration for Jett and co. Suzi expressed Joan's presence in hotels and after gigs unnerved her in the great film "Edgeplay" and Jett must have taken offense. She worshipped Quatro, the leather, the whole Suzi package...and the tune she picked for Suzi, while good, is not Suzi Quatro at her glammy best. Like "Can the Can". The Runaways were like kiddie Quatros. Those were the days...oh, yeah...Suzi, 'ya still rock. HARD.
posted by

quatrophonic

on May 03, 2010 04:34:51

Also: finally Twilight can be hushed down a bit.
posted by

ro

on Apr 22, 2010 09:42:50

Great. Fucking awesome, really. The story, the music, the acting; everything was so well done. It's impact was more than expected for me, but I love it.
posted by

ro

on Apr 22, 2010 09:41:53

hey as usual dakota rocks
posted by

raj

on Apr 10, 2010 12:06:11

This movie was fucking amazing! Kuddos to Stewart and Fanning not only for their acting, but also their singing. Little Dakota is all grown up. And Kristen was just fab as Joan Jett. Oh, and the soundtrack... Damn! So good.
posted by

bloodqueen666

on Mar 30, 2010 09:45:58

Saw the Movie fucking amazing I love my twin Kristen. she always wowed me I swear. and plz dont compare this to twilight Kristen kinda gets annoyed u can see it in her face ha. so woooo rock and roll and great job dakota. and Joan jett fucking amazing music!!
posted by

EdenBella

on Mar 28, 2010 10:27:43

I am a Runaways & Joan Jett fan and this movie took me back to those days. Kristen and Dakota both were amazing as Joan and Cherie. Thanks for making this. Loved it.
posted by

Marissa

on Mar 21, 2010 01:45:10
I can't wait to watch it
posted by

fatii

on Feb 27, 2010 05:27:03
I CAN'T wait for this movie!! SO excited to hear them sing!!
posted by

Stacee

on Feb 26, 2010 07:34:03
nobody could be as cool as Joan Jett - the only REAL rock n roll chick ever! Credit to anyone who can pull it off; this movie could regenerate more interest in Joan, remember she's not a 1 trick pony, there's more to her than just 'I love RnR'; check out her back catalogue...! A must for rock fans
posted by

Aussie rocker

on Feb 14, 2010 06:48:53
Dakota,look for on Shaly94@mail.ru
posted by

Shaly

on Jan 30, 2010 01:14:33
Dakota Fanning the best!!!!!
posted by

Shaly

on Jan 30, 2010 01:11:23
I still can't believe Dakota sang the main part of cherry bomb in the trailer!! (her+ kristen do the chorus together). I always thought it was Kristen Stewart was singing because how much deeper and stronger the voice was. ( I still picture dakota fanning as an innocent little 15 year old). Can't wait to see this movie!!
posted by

lily

on Jan 11, 2010 07:07:05
i CAN'T wait to see this. i'm a fan of twilight but i never thought kristen stewart had much emotion or talent in any of her films, it seems like the same character in every moie i seen with her. THIS looks like its finally her chance to shine and step out of her comfort zone and show her diversity as an actress. and as for dakota fanning, from reading the script, this girl is going to be viewed as ANYTHING but a child actress after this movie. its a great opportnity for the both of them, and SUCH a neat story too. the runaways are the reason we have girl artists in the rock industry today. the trailer looks great, this movie looks AWESOME. i cannot wait to see it.
posted by

tuju12

on Jan 02, 2010 01:20:44
THIS LOOKS AMAZING!!!!
posted by

kyhe

on Dec 24, 2009 06:56:28
kristen stewart is an amazing actrice an she'll be great in this movie coach my joan jett. Can wait to see it... Good luck
posted by

cherrie

on Dec 22, 2009 01:01:37
I love thit pic and the trailer - I know this move´s gonna rock! I mean, Kriz and Dakota as main characters? It can´t be better than this! I am so excited about the move!
posted by

Josefine

on Dec 17, 2009 08:06:54
Luv ya Kristen, TEAM BELLA ALL THE WAY!!!!!!!!!!
posted by

twilightluver

on Dec 16, 2009 11:50:54
Where can I find a trailer for this? My rabid obsession will not go away until I do!
posted by

angry

on Dec 13, 2009 02:15:42
i applaud kristen stewart for cutting her hair for the part. she is going to be great as joan. robert pattinson could never ever be ugly.
posted by

andie

on Dec 11, 2009 12:26:23
I think that no other actor could portray the life of Joan Jett as well as Kristen Stewart, she's the first one I would recommend for this part, and whoever chose her for the part is definitely NOT going to be sorry!!! By the way, I have personally MET Kristen Stewart, and she is NOT AT ALL what some of you people make her out to be, she has a wonderful personality!!! and I think she's a TERRIFIC ACTOR!!!
posted by

twilightluver

on Dec 11, 2009 12:14:27
And by the way, all yall weirdos who think that Robert Pattinson is ugly, have you ever heard the phrase "beauty is in the eye of the beholder" which means even though yall don't think he's hot that don't friekin mean that no one else thinks he's not. So you may think he's ugly but a lot of others DON'T. So I would keep that to myself if I was you because no one gives a damn what you think!!!!!!!!!!!!!!!!!
posted by

twilightluver

on Dec 11, 2009 12:07:58
LUV YA KRISTEN, YOU'RE MY IDOL!!! And all those others who hate ya need to rethink their life and shut their fuckin mouths up!!!
posted by

twilightluver

on Dec 11, 2009 12:00:38
OK, all yall who are shitting out on kristen right now need to get a life, PLEASE!!!! I LOVE Kristen Stewart, and I have also seen every one of her movies and I think she is a great actor!!! And by the way, she is the perfect Bella, I've read all of the books and the character of bella blends perfectly with the way kristen stewart acts and portrays her. NO OTHER PERSON COULD FIT THE ROLE OF BELLA IN MY MIND!!! And stop beatin up on Rob, he's not the ugliest man on earth, and he is only person I could picture playing the role of Edward. Oh, saw New Moon the day it came out and it was AWESOME!!! Just like Twilight!!! And I'm soooo going to watch this movie when it comes out, I am OBSESSED with Joan Jet and the Runaways, especially her song "Bad Reputation" MY FAV!!!!
posted by

twilightluver

on Dec 11, 2009 11:56:18
I love Kristen and Joan, and I think this will be an amazing movie.. i grew up listening to the runaways.. thanks to my mom :) Joan jett is one of the coolest chicks ever!! and Kristen has been my favorite actress since Speak. so everyone that is hating on this movie or the people in it just because of other roles they played.. grow up its a role it's not the persons life!
posted by

HeatherD1991

on Dec 10, 2009 04:02:24
I CANT WAIT TO SEE THIS MOVIE. I GROW up LISTENING TO JOAN JETT. i think kristen stewart will do a great job and obviousily so does does joan.
posted by

ANDIE

on Dec 04, 2009 10:57:01
Kirsten Stewart sucks as an actress and Dakota Fanning is pretty good. I would prefer to see someone else play Bella in New Moon. As for this movie I think that every actress has that one movie they are terrific in. Maybe this movie will the that for K Stewart. Who knows.
posted by

mto

on Nov 21, 2009 10:04:55
I'm excited for this movie, but not for kristen Stewart, I don't like her acting AT ALL she's just so emotionless.. Dakota Fanning, however, I'm excited to see. As for this movie in general, I think it will be interesting.
posted by

meh.

on Oct 19, 2009 03:46:23
i have been a runaways fan since i was born my moms been playing them and j jett since i can remember. i think doing a movie about them is an excellent idea. also for all of you who are saying how horrible kristens hair is for this movie, your dumb. thats what joan looks like its her signature hair cut, and she looks alot like joan so back the fuck off hair grows back. and dekota as cherie is a great match as well shes young but so was cherie when she hit it big.
posted by

spim

on Sep 28, 2009 11:19:12
Kristian is pretty, but that hair fucked her up
posted by

unknown

on Sep 06, 2009 04:42:17
DUDE HOW IS SHE SUPPOESED TO GROW HER HAIR THAT FAST. SHE LOOKS HEDIOUS WITH HER HAIR SHORT AND IT MAKES HER FACE LOOK FAT, SHES STUPID.
posted by

LINDA

on Sep 06, 2009 04:39:30
Okay, well, this is one of my favorite bands, however, I would think Dakota Fanning is WAYY to young to be a good Cheri Currie, though Cheri was about 16 or 17 when the band started, and Dakota is only 15. I'm also not really impressed with their selection for Lita Ford.. And I don't see anyone cast for Jackie Fox.
posted by

LenaDangerously

on Aug 30, 2009 06:23:00
I am not sure on this one...I am anxious. I am actually a runaways fan and not a fuckin bella swan fan. I want to see if they do ok.
posted by

lucky

on Aug 29, 2009 09:19:00
i am your favorite fan
posted by

krist

on Aug 07, 2009 02:44:21
i love you kristen for ever.........
posted by

krist

on Aug 07, 2009 02:43:03
i love you kristen
posted by

krist

on Aug 07, 2009 02:40:59
I am a Kristen Stewart fan. She is so awsomeness. Anyways, I think she is a great Bella Swan in twilight(Love Twilight So Much)But that doesnt mean she cant be a good Joan Jett aswell. Anyways. Kristen is an awsome actress, and she rocks :) Cant wait to see new moon in November, so excited =] x.
posted by

Caity

on Aug 03, 2009 11:53:51
so fuckin good
posted by

1#joey

on Jul 26, 2009 02:08:22
ROBBERT IS A UGLY GUY NOT HOT PLZ SUM ONE TAKE HIZ AWARD BACK
posted by

T

on Jul 24, 2009 02:48:30
ROBBERT IS NOT HT KRISTAN IS A BAD ACTOR THEY PLAYED GOOD ON TWLIGHT BUT OTHER THAN THAT THEY SUCK LOVE THE MOVIE
posted by

train\'s moving

on Jul 24, 2009 02:46:08
i think kristan and a good bella i've seen some of her other work and she acts the same she can not act in some movies theres roles that just dont fit her i think she need acting lessons and that ahe also looks kinda fake rob patterisin is noot the hottest man alive and to be honset hiz kinda ugly and was a nobody till now dnt confuse edward cullen with him sum of you are letting go to your head hiz just not that hot hiz like a 6 i love twlight i love it very much i am i a huge fan of the movie/books there great so i m not a twlight hater also robbert is a player if i was kristan i would keep our relationship on a proffesional level
posted by

train\'s moving

on Jul 24, 2009 02:43:54
muito bom!!
posted by

ph

on Jul 04, 2009 08:36:41
..i just hope to god Dakota's enough to counterbalance kristen's HORRIBLE acting..
posted by

...liz...

on Jun 20, 2009 06:35:59
Wonder why they're filming this-doesnt really sound interesting to me
posted by

K925

on Jun 19, 2009 09:53:49
I just recently discovered The Runaways and I think they're awesome and really talented. Too bad like many talented artists, they are only getting recognized many years later. But better late than never. I'm so glad Kristen Stewert is in it. I think she can play a really cool rocker chick. Can't wait for the movie!
posted by

buffykat

on Jun 18, 2009 06:20:09
I think this movie is gonna be awesome ! I totally idolise joan jett and I think kristen is a totally cool choice to play her. I'm so excited !!!!!!!!!!
posted by

Jed jaymes

on Jun 17, 2009 03:27:59
i still think kirsten's hair looks gay. she has to STILL film the twilight saga too, so what is she gonna do?
posted by

LuverXOXO

on Jun 14, 2009 11:23:02
kristen's hair grows back. She's dedicated to her career. ITS SUPPOSED TO LOOK THAT WAY FOR HER PART!
posted by

bereal

on Jun 14, 2009 09:27:52
It's so hard to find anything on this production.
posted by

Dirk Diggler

on Mar 22, 2009 11:35:47
shit i hate twilight
posted by

bad4u

on Feb 07, 2009 02:29:24
i am excited for the release of this movie, kristen stewart has been my hero since "panic room" and joan jett, well she is amazing and another female hero! im so glad that kristen stewart is playing this role. she is sure to be amazing!!
posted by

kristenismynametoo

on Jan 11, 2009 10:47:54