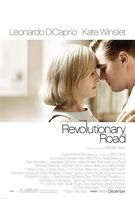 Overview
---
Genre :
Drama, Romance
Release Date :
December 26, 2008
MPAA Rating :
R
Director :
Sam Mendes
Starring :
Leonardo DiCaprio
,
Kate Winslet
,
Michael Shannon
,
Kathy Bates
,
Kathryn Hahn
, David Harbour, Ryan Simpkins,
Ty Simpkins
,
Zoe Kazan
, Kristen Connolly

REVIEWS RATE: Critics Readers [Rate It]
Reader's Reviews
---

it's just as good as the book is!
posted by

movie lover

on Apr 09, 2010 10:00:18

globe adaptation first page countries gun
posted by

pauloccroc

on Jul 30, 2009 04:52:55

To Flaco: I am amazed that you are able to ascertain such information about a movie you claimed to have walked out on.
posted by

jmin

on Jul 20, 2009 02:50:06

Seeing Leo and Kate get back together on the big screen after "Titanic". I saw its special screening here in our country. I am quite impressed with Leo and Kate's performance, they have portrayed their roles very well, despite the simplicity of the film. I highly recommend that couples on this generation to watch this film, they will be enlightened on how much they are going to sacrifice in the name of love even it is worth you greatest dream... Congratulations Leo and Kate.
posted by

Piggy Boink

on Mar 11, 2009 10:45:45

This was a loooong drawn out movie that bored us to pieces
posted by

Revolutionary road

on Feb 20, 2009 02:10:48

Here IS the forceful movie that "Two lovers" was supposed to be.Please watch the acting lesson,Mr Phoenix.
posted by

Mellowdy

on Jan 29, 2009 08:00:54

Wow such a moving movie about the ordinary people and our search to fullfill our potential.
posted by

Camilla

on Jan 26, 2009 10:07:57

I'm not even sure what to say at this moment. I don't know what Flaco missed but this was one of the most incredible movies I have ever seen.
posted by

Catie

on Jan 25, 2009 12:14:37

Every married couple needs to see this movie, Sam Mendes did a near perfect adaptation and the acting was extraordinary. Few people can honestly say they felt "nothing"when walking out of this movie.
posted by

ffar

on Jan 11, 2009 10:18:15

Sam Mendes should feel embarrassed for committing to this horror of a "cinematic masterpiece." (cue in facetious smirk) The screenplay, slovenly written by Justin Haythe, encompassed such unimaginative, cliche-driven, palate drying dialogue pieces I have witnessed in film spectating to date. Within the opening scene of this revolutionary diarrhea, I was inclined to walk out, as my intellect was retiring itself to a hiatus. The most excruciating element of this tasteless flick was the sloppy continuity, and lackadaisical script. The concept that such a film exists, and how receptive critics have received it, is beyond flabbergasting...
posted by

Flaco

on Jan 09, 2009 12:01:38

it have feelings , very good feeling....
posted by

ahmed

on Jan 06, 2009 06:12:11

I can't say much but the movie is the best i've seen.Acting is as always by those actors superb.
posted by

Colcutarain

on Dec 01, 2008 06:43:22