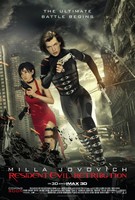 Overview
---
Genre :
Action, Sci-Fi, Thriller
Release Date :
September 14, 2012
MPAA Rating :
R
Director :
Paul W.S. Anderson
Starring :
Milla Jovovich
,
Sienna Guillory
,
Michelle Rodriguez
,
Boris Kodjoe
, Li Bingbing,
Johann Urb
,
Shawn Roberts
, Oded Fehr,
Kevin Durand

REVIEWS RATE: Critics Readers [Rate It]
Reader's Reviews
---

GOOD MUSIC
posted by

himo

on May 03, 2014 03:21:39

Soundtrack was brilliant for this movie and the sets were amazing. Sure it's not Shakespeare but then it was never designed to be. Take out critique-type brain at the cinema door and just enjoy the ride.....
posted by

Spike

on Feb 02, 2014 07:13:26

I love this movie, it does'nt require a lot of concentration, it is just perfect for distracting (+ Milla Jovovich ;) )
posted by

Clement

on Jan 11, 2014 12:13:27

Resident Evil:Retribution is the best of them all so far. I know that they are going to make a sixth Resident Evil movie, it is going to awesome!!!!
posted by

Resident Evil:Restri

on Jan 25, 2013 04:27:32

I love all the films.
posted by

Melissa

on Jan 01, 2013 03:42:54

I love everything about this movie<3 It can't get any better than this<3 Milla Jovovich and Paul W.S. Anderson, Thankyou<3 LOVE IT!(:
posted by

Angelia

on Dec 28, 2012 04:58:18

Some epic fight scenes! Alice kicks ass! Loved the whole thing!!
posted by

poisonluke8

on Oct 07, 2012 09:29:15

I love movi
posted by

Shailesh

on Oct 05, 2012 07:45:35

best
posted by

alice

on Oct 04, 2012 04:11:34

Very good
posted by

ravi

on Oct 01, 2012 03:28:41

More than 5 stars
posted by

Poop

on Sep 19, 2012 06:54:27

perfect
posted by

dnc

on Sep 17, 2012 12:43:47

A really disappointing movie after an incredibly intro. Camera work is random. Story does not make sense. An empty plot and B movie action scenes.
posted by

Umbrella

on Sep 16, 2012 02:35:56

SUPER
posted by

memo

on Sep 15, 2012 11:04:21

As a fan of the RESIDENT EVIL FILMS. Resident Evil Retribution picks up where "Afterlife" concluded. This isn't your regular "girl killing zombies". It's more action packed than "Afterlife". The scenes left me jaw dropping with excitement. With unexpected plot twists , returning enemies and teaming up with new allies. Resident Evil Retribution is one the best action packed RE movie fans have been waiting for!
posted by

ASpencer117

on Sep 14, 2012 05:58:37
xelente soundtrack
posted by

Josue benitexz

on Sep 09, 2012 10:26:14
hi milla jovovich im kimberly im 13 years old im ur bIGGEST fan here in philippines i hope u will visit the philippines very soon !!i know u will like the philippines. its have many beautiful place u can visit ! i hope i can see u in personal !! love u very much !
posted by

kimberly claire dega

on Sep 09, 2012 07:55:51
It's going to be the best movie yet.
posted by

Acacaacacac

on Jan 26, 2012 09:25:09
MILLA JOVOVICH I THINK I M THE BIGGEST FAN OF U IM FROM PAKISTAN AND I HAVE SEEN ALL UR MOVIES AND I WAITING FOR UR NEW MOVIE RESIDENT EVIL RITRIBUTION I JUST LOVE U SOOOOOOOO MUCH KEEP IT UP ............LOVE U
posted by

waleed khan

on Sep 24, 2011 11:32:03