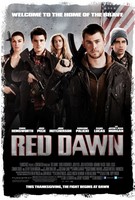 Overview
---
Genre :
Action, Adventure, Drama
Release Date :
November 21, 2012 (Wide)
MPAA Rating :
PG-13
Director :
Dan Bradley
Starring :
Chris Hemsworth
,
Josh Peck
,
Adrianne Palicki
,
Josh Hutcherson
,
Jeffrey Dean Morgan
,
Isabel Lucas
, Connor Cruise, Edwin Hodge, Kenneth Choi, Alyssa Diaz, Brett Cullen,
Will Yun Lee
, Matt Gerald

REVIEWS RATE: Critics Readers [Rate It]
Reader's Reviews
---

It could of had a better ending and less vulgarity.
posted by

Red dawn

on Apr 09, 2014 03:48:15

The villian was suppose to be China, but studio changed it to North Korea so they can distribute the movie in China.(How much do movie tickets go for in China?) Whatever the reason, I don't feel threaten by either country, even with the saber rattling that the North Koreans have been doing recently. Just like the original, fear mongering at its worst.
posted by

John

on Mar 10, 2013 10:28:03

I haven't seen the original, but unlike the people here on aceshowbiz I know when I'm watching a bad movie, and believe me, this was awful. Weak story, weak characters, and am I suppose to believe that North Korea, one of the most poorest countries in the world is able to invade America? Fuck you Hollywood for making this piece of shit!
posted by

Robert W

on Feb 17, 2013 09:45:42
good
posted by

bill

on Nov 02, 2012 11:37:44
Russia is telling world they is NO MORE KGB, but Russian Mob has more Power and Richer then KGB. China is telling UN to Don't ask China about them and North Korea OR they will walk away from UN Peace table. Russia and China right now try to make most money from setting up Nulcear Nations all of the world using 3nd Poor Nations like North Korea. Only America try to STOP every nations to have Nulcear Power, but World War 3 day our KIDs have fight till End Of World. I hope Red Dawn movie tell these two face Chineses and Russians to STOP selling Nuclear Weapons to just make fast profit, they will die first from they Nuclear Weapons.
posted by

OPen Book123

on Feb 11, 2012 04:18:38
love it we win
posted by

pooop

on Aug 15, 2010 11:25:54
WOLVERINES!!!!
posted by

TD

on Mar 09, 2010 08:41:05
WOLVERINES!!!!
posted by

Trey

on Jan 20, 2010 11:42:00

Iknow people who are involved in Red Dawn and from what are understand this movie is going to be AWSOME!
posted by

trekker

on Dec 04, 2009 06:50:35

JfFIVC
posted by

Nhaapnnu

on Jul 15, 2009 10:20:53