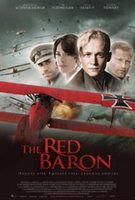 Overview
---
Genre :
Action, Adventure, Drama
Release Date :
February 19, 2010 (Limited)
MPAA Rating :
PG-13
Director :
Nikolai Mullerschon
Starring :
Matthias Schweighofer,
Til Schweiger
,
Lena Headey
,
Joseph Fiennes
, Volker Bruch, Maxim Mehmet, Steffen Schroeder

REVIEWS RATE: Critics Readers [Rate It]
Reader's Reviews
---
Great psychological profile of war, death and it's effects. Beautiful and moving sound track that morphs unto those higher realms. 5 star
posted by

Red Barron

on Feb 17, 2011 09:35:01
I'm looking for the movie soundtrack...can't seem to find it anywhere! Any info would be appreciated.
posted by

Nikki

on Jun 21, 2010 06:03:14

Great story, excellent "kids". The saddest scene is when the Baron hugs his dead friend Sternberg.
posted by

Kay Jay

on Jun 03, 2010 07:36:23

tragic waste of resources
posted by

mike

on Dec 09, 2009 10:34:07

The movie, from my point of view, was very well done. The story was shown in a easy to follow format. As the movie progresses, Manfred's history is opened. The fight scenes are amazing but you never get to see the Red Baron die. The only thing that I didn't like about the movie is the end, the facts that they present to you I find vauge and open ended. All and all, I would suggest it to anyone. Its worth it.
posted by

That one guy

on Jun 17, 2009 05:01:09
Matt Schweiger did a Good Job with what he was given. Nice kid, this is a story about the "German Fly Boys". It really is just that. It is a fairy tale about the Red Barron. It really has nothing to do with the real Red Barron. For one all the pilots are kids, and even the soldiers in the movie are played by men. Having the Jewish pilot in the group as being Richtovens best friends and he cries when he died. I enjoyed the movie the way I would Jurrasic Park. But ti is a far cry from Das Boot, a real war movie. Its made for kids. They could of made a great movie but they made crap. Shouldn't they realize that Holywood makes enough crap for USA and Germany combined. They make Werner Voss into a homo. He says in the movie "I dont want to ket killed because of Lothar's ambition." A guy who died while attacking 5 enemy planes single handedly.
posted by

mandaltby

on Jan 22, 2009 07:17:41