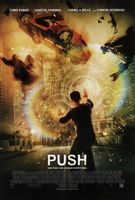 REVIEWS RATE: Critics Readers [Rate It]
Reader's Reviews
---

a good great movies,dakota so cool,I like her acting and her style in this movie :)
posted by

arti

on Feb 20, 2011 10:29:33

eu ameeeeei muito esse , filme , um dos melhores da dakota , muito bom mesmo
posted by

Beea

on Feb 01, 2011 02:17:12

i think chris and camilla are very cute together in this film nd i hope there going to make a second
posted by

push

on Dec 03, 2009 10:23:20

I love this movie because of the action. The music was amazing after the movie i looked up all the music and i have it. I think all the acters did great I like how it has little romance between Nick and Cura. Dakota did great too I liked how she played drunk, that was funny. Hope there's another Push cause one is not enough!!! <3
posted by

Naissa

on Oct 28, 2009 10:26:29

I loved this movie the music in it added to the feel of the movie and the action was great. The storyline was ideal
posted by

jcpenney

on Aug 15, 2009 10:36:24

guys plz i wanna some tracksound of this film
posted by

Ayman

on Aug 03, 2009 08:19:41

e2wAwv
posted by

Ugnksjac

on Jul 15, 2009 12:35:53

An amazing Scifi preformance showing an excellent plot, and amazing preformences by the entire cast.
posted by

StillPhoto3

on Jul 14, 2009 01:35:53

this movie kicked ass
posted by

pie

on Jul 13, 2009 12:23:54

Dakota never takes off her clothes in this movie...what are you talking about? This movie had a good plot and was executed vary well by excellent actors.
posted by

Priscilla

on Jul 09, 2009 11:40:20

Love this Movie, Story, Dakota fanning nr1 talent at her age!
posted by

Push it to the Limit

on Jul 06, 2009 05:54:24

This movie was great, I enjoyed it a lot. It was funny to see Dakota Fanning get drunk. :D
posted by

Hana

on Jun 06, 2009 05:30:46

very great .. all rock *
posted by

lexy

on Mar 10, 2009 04:18:41

lol the only reason i looked at this was to get the soundtrack if anyone finds where to get it put the site down
posted by

noahs ark

on Mar 08, 2009 11:32:51

WHAT!?!!? Nooooo soundtrack, the music was fudgin awesome!!!
posted by

H@m

on Mar 05, 2009 06:16:08

The movie was great, however they're completely missing the boat on the soundtrack... find the moron that decided not to release it and fire him.
posted by

MadViewer

on Mar 02, 2009 01:46:16

wow....
posted by

ast

on Jan 31, 2009 12:03:39

Awesome acting by Dakota!!!
posted by

Dakota Fan

on Jan 30, 2009 04:09:27
i am waiting to see camilla new thrill........
posted by

lover of belle

on Dec 12, 2008 09:25:25

Camilla Belle I think plays a very interesting role in this movie,The character looks angry or depressed,which is the total opposite of Camilla But this shows how talented of an actor Camilla Belle really is.And I'm really excited to see the movie because it is something completely different and new thats why it's so good
posted by

Camilla Belle Fan

on Aug 01, 2008 00:00:00

Dakota is a very cute,beautiful and talented actress, she made a lot of movies and she has enough money so I can´t understand why is playing such scenes in which she plays a nude its unbelievable thats really irresponsible, Dakota is so happy and lucky she should act in other movies in which she doesn´t has to undress her clothes or something like this !!!
posted by

Yannick La Angel

on Jul 12, 2008 00:00:00