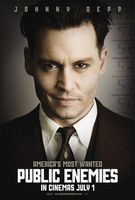 Overview
---
Genre :
Crime, Drama
Release Date :
July 01, 2009
MPAA Rating :
R
Director :
Michael Mann
Starring :
Johnny Depp
,
Christian Bale
,
Marion Cotillard
,
Channing Tatum
,
Giovanni Ribisi
,
Emilie de Ravin
,
Stephen Dorff
,
Jason Clarke
, John Ortiz,
Billy Crudup
,
Stephen Lang
,
David Wenham
,
Leelee Sobieski
,
Stephen Graham

REVIEWS RATE: Critics Readers [Rate It]
Reader's Reviews
---

This movie is a pile of horseshit! Fuck y'all who gave this more than a 2 star rating!
posted by

This Movie Sucks

on Jul 26, 2014 01:47:09

this is one of the best movies and i love johnny depp!!!
posted by

slippybananapee1

on Jul 25, 2010 09:53:22

great!
posted by

rdog

on Mar 10, 2010 08:35:55

i love these sort of films based of true storys reminds me abit of jesse james.johnny has so many different looks pulls them all off
posted by

nottmforest**

on Dec 09, 2009 07:52:11

I think the movie was ok HOWEVER, I say the movie Dillinger was better as Warren Oates plays a much,much,much,better John Dillinger....Oates looks just like em and his acting is A+++++.
posted by

pinger

on Dec 07, 2009 11:59:23
Nov.2nd/2009 i hear is the DVD release.
posted by

Frost

on Oct 17, 2009 02:01:59
When this movie will release on dvd?
posted by

law

on Sep 20, 2009 10:38:40

This is the best crime movie ever
posted by

Andrew

on Aug 26, 2009 10:46:24

i agree with caf1229 tis awsome movieeee :)
posted by

yay!

on Aug 13, 2009 05:46:56

This movie is Aesome Johnny Depp is so Sexy!
posted by

Ilovedepp

on Aug 06, 2009 04:48:39

so good actors great movie IT WAS FUCKIN GREAT
posted by

dillinger-escape-pla

on Jul 31, 2009 07:16:10

i love him! i think is the best looking charater that he had he is always been sooo hot and dreamy,but in this 1 he is just an incredible huge eye candy..such a bad boy... i will give anything to meet him..
posted by

anitalovesdepp

on Jul 31, 2009 04:38:50

seriously awesome film. i cried at the end also lol.
posted by

Tess.

on Jul 27, 2009 04:04:51

i wanna see this it looks good but i watched the hangover instead
posted by

imawsome

on Jul 27, 2009 02:30:25

johnny is the best actor!!!
posted by

misswu

on Jul 26, 2009 10:24:00

loved the movie, cant wait to see it again
posted by

love johnny

on Jul 20, 2009 10:55:19

oh god!!!! That's all I can say.. fantastic movie,and Johnny is so amazing and sexy!!!!:') :')(nothing new). I have already seen it 4 times! I LOVE YOU JOHNNY!!!! world's best actor and most wonderful man on earth! I apologize for my bad English, I hope to understand it anyway (;
posted by

JohnnyDeppsWife

on Jul 20, 2009 02:07:46

I watched this movie and it was great for you who havent watched this movie do it NOW.......
posted by

---

on Jul 16, 2009 04:41:59

Ohqk1P
posted by

Babrtwis

on Jul 15, 2009 10:22:24

w9yAC6
posted by

Fcyiulcu

on Jul 14, 2009 06:22:46

I think johnny depp did an excellent job in this movie and i can honeslty say that i cried when he was killed, hes so talented and im only 14 but I lOVE JOHNNY DEPP!!!!!
posted by

caf1229

on Jul 10, 2009 09:31:20

Absolutly amazing! def have to see
posted by

Billie

on Jul 09, 2009 12:00:57
the movie is absoulutely amazing...depp becomes dillinger from the begining to the end. and Bille (played by Marion Colliard) dang..lucky!!!
posted by

black bird

on Jul 03, 2009 10:38:36

Worst movie I've ever seen.
posted by

This movie is ass

on Jul 02, 2009 09:55:09

its clip 7:)
posted by

megan

on Jul 01, 2009 09:14:43

the cinamotgraphy in this was AMAZING. it added so much to the movie, and theres on fight scene and they used no filters on the camera, it looked so amazing,im in love with it.
posted by

Megan

on Jul 01, 2009 09:12:20

I LUVVV joHnNy DePP!!!! .. In DisS gAnsTa MOVIee He WiLL deFiNEtely TEar IT uPPP>>>
posted by

ooooooooohhhhhh

on Jun 29, 2009 03:48:17

JOHNNY DEPP THE GREATEST
posted by

S

on Jun 28, 2009 03:49:32

...Oh my God, they're are wearing fedoras. Why do gansters have to be so awesome?
posted by

HaLee

on Jun 25, 2009 02:22:54

This could be the surprise hit of the summer!
posted by

dianasparrow

on Jun 23, 2009 05:06:44

AMAZING!!!!!!!!
posted by

Zetto

on Jun 21, 2009 11:05:42

I don't really care for hand held photography within motion pictures. You can tell from the clips that that is how it was filmed. The only decent actor in the movie is Johnny Depp also. I don't care for Christian Bales' acting very much at all. So I hope Johnny Depp can save the movie.
posted by

rene

on May 09, 2009 10:33:52

Chriastian Bale is gonna take the movie away not Johnny Depp
posted by

Luke connor

on May 05, 2009 08:20:23

COULD'NT WAIT TO SEE THE MAGIC OF JOHNNY AS JOHN DILLINGER
posted by

SUDHA

on Apr 16, 2009 10:08:48

omg omg omg omg
posted by

herbert

on Apr 03, 2009 03:01:17
well let me tell you something else, one Mr. Joe Ban is rumored to appear in this film as well and he is AOK with me! GO JOE!
posted by

joefannn

on Mar 04, 2009 03:13:01

let me tell you something,any movie that johnny stars in is A#1 LOVE YA JOHNNY, MOJOLEE XOXO
posted by

mojolee

on Feb 28, 2009 03:33:48