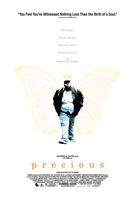 REVIEWS RATE: Critics Readers [Rate It]
Reader's Reviews
---

Gabourey Sidibe was fantastic in her role as Precious. The Casting was great for the entire cast. MoNique, totally transforemed to a person you love to hate.
posted by

Precious

on Mar 03, 2010 09:20:01

The actresses seem so realistic. It made me want to reach into the screen and grab Precious' mother in her lack of support for her daughter. I could not relate/nor accept the mother's attitude. What concerns me is how many other children are living in such conditions today. Hopefully all social workers and teachers can learn and be alert to children that are suffering and be as understanding, supportive and helpful.
posted by

Brenda B.

on Mar 03, 2010 09:16:19

Best ever!!!!!!!!!!!i will watch over and over cuz its the best!!!lol"!!=)
posted by

ladii ???

on Jan 26, 2010 07:19:00

movie of the year!!i've seen this,perhaps my country is so traditional and grounded and this sort of thing are not even close to my life .So i felt Precious' super gross at the beginning,but in the end of it,i felt the pure and innocent she's inside.
posted by

!ris

on Jan 19, 2010 06:00:33

i have seen this film it is great and i has so much meaning to it it made me and my friends cry
posted by

mr j

on Jan 07, 2010 05:25:18

I continue to view this wonderful movie. After, reading the comment submitted by "mad about it with ca" I ask the person that submitted the comment: Do you want Oprah and Tyler to fix the world? Evidently your answer is YES, the issues in the movie are TRUE. Please understand the movie ended as the issues in the world end daily - unsolved. Oprah and Tyler are not governmental officials. They are entertainers. Speak with your governmental official! Enjoy the movie.
posted by

DCB

on Dec 21, 2009 09:39:57

I did not think I would want to watch all that pain, but it was so wonderful. I plan to see it again.
posted by

joneski

on Dec 09, 2009 05:47:20

I saw the movie. Excellent acting by Monique and girl who played precious. Very deep though. Hard to believe Precious was able to endure what she did and get through it. I felt sorry for her. Sometimes sad sometimes uplifting.
posted by

the one

on Dec 05, 2009 09:55:17

It's a really good movie! Well put together and realistic and no extra melo drama added. Just the way it is and straight to the heart. Everyone should see it.
posted by

Ann

on Dec 03, 2009 05:10:49

Great Great Great Movie!! A way of Saying" Never Give Up On Life"
posted by

Ylloyd

on Nov 28, 2009 08:23:13

i loveeeeeeeee it and it was happy and sad at the samr time
posted by

shannon alove

on Nov 25, 2009 05:13:32

i love precious and how she treated her babys at the end
posted by

dell

on Nov 25, 2009 05:10:20

This movie was openended and it does not demonstrate any solutions. It opened up a can of worms but never produced any sound meaning. The movie introduced some strong problems that american face on a daily basis but does not offer any hope or demonstrate how a person can receive services and get the help needed. As a therapist if a person comes to this movie looking for a way out due to having dealt with these types of issues or conditions experienced in this movie they left out worse off then they came. The movie dealt with several major types of child abuse such as physical sexual emotional and mental but does not ever show any one why they should reach out for help or how reaching would be helpful. Every adult failed this child including the grandmother, social worker agents of the state who was obligated to report abuse, teacher, and hospital. The parents should have been arrested. This movie had no purpose or hope to improve the community. I can not believe that Tyler Perry and Oprah both signed off on such a failed solutionless movie. I expected more from both of them. I was highly disappointed and strongly don't recommend this movie to anyone. What waste! This movie could have been used in a very helpful manner. This movie could have help the africian american community individuals currently living in similiar situation offer solutions and hope. The diagnosing of HIV could have been used to educate the community on how to live with the disease through medical treatment support groups and peers groups. HIV is not a death sentence any more. This movie had so much potential to be learning opportunity because the africian american community are going to run out to support this movie because of the two people they admire and respect as a role model for the community. Only to fine that are enforcing the stereotypes that have always been place on us. In closing what was the message that was hope to be gain from producing this movie. One obesity is ok and ugly at the same time. That a skinny white or near white "light skinned" lady is the better person and only white/light skinned people are the only people that can help people of color. Two Dark skinned people are dumb and unhelpful/uncaring. Dark skinned people are animals unworthy and not trustworthy. Three, people who are obese or overweight or struggle with weight issues should abused and its ok. To eat more is better. Only one person who was light skinned mention eating healthy but not offering any reasons why. Four, the name of the down syndrome child a degrading name. Offending the children with developmental disability and having this child be apart of this type of setting that contain so many offensive issues. We want people to respect black communities and support them. This movie offered more reason they people have cosigned on why black people should receive any assistance. This movie was bad timing with poor judgement. Where is the solution to correct these issues?
posted by

Mad about it with ca

on Nov 25, 2009 01:32:24

Oh I forgot to mention...Mo'Nique WILL get an an oscar for this movie. It's her best performance yet!
posted by

Sunshine

on Nov 24, 2009 12:29:56

I saw this movie in NJ 2 days ago. Words can't explain the emotions I went through. It was VERY difficult to watch because I know it's real & it's happening everyday. It happened to my cousin.It hurts because it tells the plight of many people of color-although it happens in all races.
posted by

Sunshine

on Nov 24, 2009 12:26:33
I cannot comment on the movie as I can't find it playing anywhere. The limited release is fine, but at least give some insight of how to locate where it is playing
posted by

Tired

on Nov 12, 2009 11:22:03

This movie was amazing it had me in laughs and in tears its the best movie yet it really tells a story
posted by

Nece

on Nov 12, 2009 08:46:52
Why is this movie in limited release? This is why you have bootleggers.
posted by

precious

on Nov 12, 2009 03:23:55

MY QUESTION IS WHY I THE MOVIE NOT IN NJ , I'VE READ THE BOOK GIVE IT A 4 STAR
posted by

VENIESTA

on Nov 07, 2009 01:17:04

After seeing an advance screening of Daniels' "Precious" two weeks ago, I am still moved. By far, the most outstanding performance is Mo'Nique as Mary, Precious' mother. From her utterance of her first insult to Precious, the audience knows that comedian Mo'Nique has been inhabited by a actress of Meryl Streep caliber. Monique's delivery of Mary is so thoroughly convincing that it is an injustice to call her execution a performance. I'd warn viewer that the movie is difficult to finish. On several occasions, I considered walking out. The cinematic tragedy of Precious' life both beautiful and suffocating. - James Guilford
posted by

James Guilford

on Nov 05, 2009 08:31:42

WTF>>>>>WHY IS THE MOVIE NOT COMING TO NEW JERSEY!!!
posted by

MAD AZZ HELL

on Nov 05, 2009 07:06:03

Look amazing! Totally sad, though! D: Can't wait to see it.
posted by

Movie Buff

on Nov 04, 2009 05:44:26

I was there tonight!!! I got Mariah Carey's autograph!!
posted by

pdeb69

on Nov 02, 2009 02:27:28

I haven't seen the movie, but I am excited about seeing it. From the previews I can tell that it deals with some of America's biggest problems for teenagers and adults (illiteracy). Hopefully, it will inspire others to do seek help. Thanks Oprah and Tyler!
posted by

JDW

on Oct 16, 2009 07:53:31

Saw at The Toronto Film Festival and loved it!! for sure the best bet for the Oscars!!!
posted by

Spider

on Oct 14, 2009 09:05:05

I can't wait for the movie read the book several times.I have my fifteen year old is reading it now.
posted by

Taz

on Oct 01, 2009 11:20:03

well I read the book and loved it! I am soo happy there is going to be a movie.
posted by

trojan

on Sep 28, 2009 11:36:55

Read the book in 1 day could not put it down...although in the beginning it was a little vulgar...I put myself in the reality of life...soooo looking forward to opening night at the movies! I really believe this will be the 1st time I will say the "The movie is far better than the book".
posted by

Bell

on Sep 18, 2009 11:09:21

whats that sonq called?
posted by

mia

on Sep 17, 2009 07:20:56

I read this book back in 1998. If the movie is anything like the book I CANT WAIT!!! I have been waiting on this movie since mo nique bought the rights a few years ago. Go on girl wit your bad self, show the people what your really about!
posted by

mrs.baby

on Sep 11, 2009 09:28:25

Yes! I LOVED the book and I can't wait to see the movie.
posted by

jag373

on Aug 28, 2009 03:59:09

I haven't seen the movie yet but I had the opprotunity to read the book. It was a great yet heartbreaking novel but it depicted actual events & secrets that many teens have to live with. Hopefully the cast will be able to pull it off because I'm looking forward to seeing it the movie.
posted by

keya84

on Jul 23, 2009 12:30:43

6R3GGR
posted by

Xfkgtbhc

on Jul 14, 2009 11:43:39

read the book, moves me to tears, cain't wait to see the movie, great cast of actors, this movie will touch and inspire many young live - Great Tyler and Oprah!
posted by

A Howard

on Jul 05, 2009 09:37:29

I really wanna see this movie the trailer was great
posted by

kiddo_89

on Jun 07, 2009 12:58:22

Can't wait to see this movie! Just ordered the book today!!! Oprah & Tyler Perry....whoa!!! It is destined for greatness!
posted by

Stephie

on Jun 01, 2009 04:39:36

I luvvvvvvvvvvvv this book! I have never been so excited to see a movie.Oprah and Tyler Perry. U can't lose with that combo. Thrilled!
posted by

Celeste

on May 28, 2009 08:11:14

Read the book and LOVED IT!!!! Hope the movie is as wonderful as the book... GREAT CAST!!!
posted by

bluebee

on May 28, 2009 04:40:02

I'm totally agree with you, Dani!!!!
posted by

Pinky

on May 20, 2009 09:19:00

Looks like an great movie. Cant wait to see it.
posted by

Danesgirl

on May 20, 2009 08:37:09

Havent seen the movie yet but i can tell its #1
posted by

Dani Mae

on May 14, 2009 09:42:39