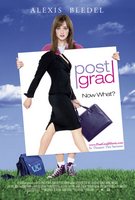 Overview
---
Genre :
Comedy
Release Date :
August 21, 2009
MPAA Rating :
PG-13
Director :
Vicky Jenson
Starring :
Alexis Bledel
,
Zach Gilford
, Bobby Coleman,
Carol Burnett
,
Michael Keaton
,
Rodrigo Santoro
,
Jane Lynch
, Andrew Daly, Catherine Reitman,
Alexandra Holden

REVIEWS RATE: Critics Readers [Rate It]
Reader's Reviews
---

I just graduated and I can relate to this movie. Adam is so adorable and the guy from Brazil is just hot! Love the songs, especially the one Adam sings in the pub. Anybody has the mp3 ?
posted by

Diana

on Jun 01, 2011 09:52:24

I've watched this movie 5 times in the last week. Absolutely love it!!! But What's the title of the song that Adam sings in the club?? Is it even a real song??
posted by

HippieLoveChild

on Dec 15, 2010 07:53:18

I love this movie, Adam is so cute and mediocre he's adorable.
posted by

E.

on Sep 11, 2010 09:00:14

great movie & soundtrack! :)
posted by

Sam

on Aug 27, 2010 03:18:15

Nice movie..:)..
posted by

Eve

on Jun 12, 2010 03:37:18

Just Finnished Watching the Movie and LOVED it!
posted by

@ll!e

on Apr 17, 2010 09:56:05

I just graduated and i could really relate to this movie! Thanks for the list of soundtrack!:-) .. i really can't find these songs though: * I Say I Go – Kevin Drew * Memory – Julie Glase * El Microfono – Mexican Institute of Sound * Sweet – Pacifika * I Can't Do This By Myself – Divine Right * Increase – Louie Schultz * What Happened to It – the bird and the bee * Far Far – Yael Naim * Try It Again – The Hives * Don't Give Me a Hard Time – The Locarnos Can anybody help me find these tracks? It's not in limewire and i really want to listen to these songs:(
posted by

Alena

on Apr 12, 2010 01:35:13

Such an excellent movie, Alexis Bledel is very good! Which movie can't be good when she have a line in it?
posted by

Anonym

on Feb 12, 2010 01:46:46

great movie! simple, but kind of remind me of mine on that day..
posted by

chilicious

on Jan 30, 2010 12:28:22

great movie! watched in on the plane yesterday. alexis is so good in all her movies!
posted by

ing

on Dec 01, 2009 09:15:47

this movie looks great
posted by

sammyboy21

on Sep 22, 2009 07:27:21

BEST MOVIE EVER!
posted by

cal

on Aug 24, 2009 11:25:14

the (other) song is girl on the verge by sarah hudsen
posted by

hi

on Aug 21, 2009 09:17:24

wanna c it
posted by

hi

on Aug 21, 2009 09:16:26

The song on the trailer is called - "Show me what I'm looking for" by Carolina Liar. Can't wait to see the movie! =)
posted by

lalala24

on Aug 19, 2009 06:35:59
do you guys know what the song is in the trailer?
posted by

Jaylyn

on Aug 16, 2009 08:32:20

Can't wait...i loved the song used in the trailer :D
posted by

MinutesAlon

on Jul 24, 2009 08:39:20

9Nt1ZN
posted by

Sfjouhbf

on Jul 16, 2009 04:45:52

ZOsLLB
posted by

Mkjjhotd

on Jul 16, 2009 04:45:52
you guys should get the soundtrack for this movie on here!
posted by

emily

on May 14, 2009 07:16:30
I cant wait to see this movie. It looks so cool and one I would go to the show to see instead of wait for it to come out on dvd
posted by

Jesse

on Apr 29, 2009 04:57:39

tHIS lOOKS rEALLY kOOL! i hAVENT bEEN aBLE tO See The Trailer Yet!!!!!!!!!!!!!!
posted by

Hayley

on Mar 28, 2009 11:48:56