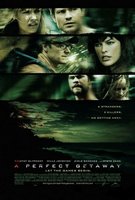 REVIEWS RATE: Critics Readers [Rate It]
Reader's Reviews
---

good flick
posted by

fergs

on Feb 12, 2010 11:10:53

to start off, this movie's trailer is the COOLEST I HAVE EVER SEEN. my favourite trailer of all time. if you haven't seen the trailer, then even if you've seen the movie, watch it! i honestly loved the trailer even more than the actual movie. but, don't get me wron, the real movie was still pretty good itself/ i friggin LOVE steve zahn. i think he is VERY overrated. anyway, yeah, its a good movie.
posted by

rdog

on Jan 31, 2010 04:51:17

It was my husband's turn to pick the movie & I wasn't trilled with his choice. Boy was I wrong...this was an edge of your seat movie, I didn't figure it out until they wanted me to and just plain entertaining. I'll buy the DVD when it comes out too!
posted by

JustMe

on Aug 10, 2009 01:54:38

I went to see this movie with my daughter and it was a great movie. This would be a movie that I would recommend to anyone and I plan to buy it when it comes out on dvd!
posted by

volunteermom0960

on Aug 08, 2009 02:23:37

vX06ZB
posted by

Wmxhmlzw

on Jul 16, 2009 07:41:48