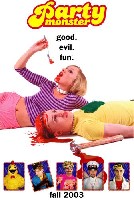 Overview
---
Genre
Drama
Release Date
September 05, 2003
MPAA Rating
R
Duration
98 min.
Production Budget
$5 millions
Studio
ContentFilm
Official Site
click here

REVIEWS RATE: Critics Readers Be the 1st!
Cast and Crew
---
Director
Fenton Bailey, Randy Barbato
Producer
Fenton Bailey, Randy Barbato, Jon Marcus, Bradford Simpson, Christine Vachon
Screenwriter
Fenton Bailey, Randy Barbato
Starring
Story
---
Party Monster the movie, based on the James St. James book [Disco Bloodbath] and the documentary [Party Monster], is a buddy movie with a twist, or a twisted buddy movie. Its focus is the relationship between Michael Alig and James St. James, two kids from the mid-west who come to New York where they re-invent themselves as fabulous people. Although it is not immediately clear to James, Michael instantly recognizes that they are soulmates and immediately latches on to him. Shy outsiders as kids, they both learned to hide their feelings behind witty facades, and their bickering and barbed exchanges reveal a profound bond and budding a co-dependency.
Michael is the quicker study even though James is smarter and more learned. So although it is James who initiates Michael into New York night life, it is Michael who quickly rises to the top.
To get there Michael was equipped with no special skills or qualifications other than his considerable charisma. He was fresh-faced, cute, with a twinkle in his eye. A post-modern Peter Pan. He made no secret of the fact that he never wanted to grow up. The way he gulped his words, the way he gestured, all projected a child-like vulnerability. He coupled this with a child-like fearlessness daring to do what others, who had accepted the boring boundaries of life and drudgery of being adults, would only fantasize about.
Part of the attraction was Michael's impulsive nature as he quickly went from one thing to the next with the abruptness of someone surfing channels or like a kid in a candy store. Unconstrained by checks and balances, Michael instantly seized on new ideas with extreme intensity. He seemed purely spontaneous, with an envious ability to live in the moment. Vehemently opposed to drugs, he tried them one day and over time graduated to becoming an all out drug mess. Nothing with Michael was ever done in moderation.
However child-like or childish Michael could be, he was not stupid. Recognizing that we live in a media age where perception is the reality, he knew that instant and outrageous self-invention was the key. Unfazed by being a misfit from the Midwest, Michael gathered around him similarly like-minded souls -- the kids who had been teased and bullied in school -- and gave them fabulous new Club Kid identities. They were the Lost Boys to his Peter Pan.
James could see that Michael's chaotic and unruly behavior was a kind of genius. It was performance art. Michael's minting of superstars out of those least likely to be stars parodied society's absurd obsession with celebrity. His attention-getting antics parodied the dysfunctional circuses of our talk show times. His surreal infantility parodied our culture's overriding obsession with youth.
The starburst that was Michael inevitably put James somewhat in the shade. But like him or loathe him -- and James did both -- he found it impossible resist Michael's energetic charm or the mischief of his spectacle. And James was not alone in this. Everyone seemed unable to resist The Michael Alig Show. Peter Gatien, the powerful club owner, indulged Michael as though he were his own son. At the other extreme Angel Melendez the club kid neophyte looked up to Michael as though he were a God. So many others like Angel followed in Michael's wake that he was a kind of Pied Piper.
But just as David Bowie became trapped by his Ziggy Stardust creation, so Michael became hostage to his brat-like persona. In reality shy and retiring, Michael's exuberant public front demanded that, to remain ahead of the pack and leader of the parade, he continually had to outdo himself with increasingly outrageous pranks. One day Michael went too far. He murdered Angel.
There was nothing particularly nice about Angel, and Angel had attacked Michael, hadn't he? But then as James realized that perhaps it was not self-defense, that perhaps there was more to it, it started to eat away at him. And even when Angel was reduced to a mere sacrificial symbol, James was forced to recognize that no excuse could justify such a brutal thing. Even the surreal anarchic alternative universe they had created from themselves had to conform.