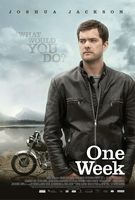 Overview
---
Genre :
Drama
Release Date :
March 06, 2009 (Canada)
Director :
Michael McGowan
Starring :
Joshua Jackson
, Liane Balaban, Campbell Scott

REVIEWS RATE: Critics Readers [Rate It]
Reader's Reviews
---

Just watched it for the first time on Netflix. Very powerful movie for a guy like me who left TO and headed west.
posted by

DPP

on Nov 21, 2012 12:39:43
amanzing movie
posted by

Mae

on Oct 01, 2010 07:49:53
Hey rdog, go back to watching Iron Man.
posted by

JT

on Sep 23, 2010 08:53:43
AWESOME!
posted by

dsnylnd7

on Sep 13, 2010 12:18:13
This movie I was expecting to be utter tripe but was pleasantly surprise. I loved it. well done all around and great cameos
posted by

loki2826

on Jul 19, 2010 08:59:57
This movie was wonderful. Funny. Poignant. Loved the narration. Amazing landscapes. Great composition. The music/soundtrack was great. The best movie I have seen in years. I just watched it last night and I'm ready to watch it again. Also interested in purchasing the soundtrack I enjoyed it that much.
posted by

TxGirlinNOLA

on Jul 07, 2010 04:11:49

It´s a touching and great movie, also a great sense of belonging for Canadians.
posted by

cklapp

on Jan 13, 2010 08:25:28

does anybody know the music track on the dvd startup?
posted by

bjoern

on Dec 04, 2009 08:26:40

this bored me. if you want to see something similar to this, then check out into the wild. its much better.
posted by

rdog

on Oct 17, 2009 09:52:01

Amazing
posted by

Steph

on Oct 14, 2009 02:47:10

Exellent film, loved it. Wish they would have been a bit more accurate with the location of Canada's biggest, like the hockey stick, it's in Duncan. The shot where he is in North Vancouver, all of a sudden he's in Hope? Still what an awesome movie. One of my new favorites. And what about the soundtrack????
posted by

Islander

on Sep 30, 2009 12:18:32

An inspiring movie.
posted by

Pedro

on Sep 17, 2009 03:54:11

Although it seemed a bit like tourism propaganda this was a a movie that makes you think. It stirs up emotions if you or a loved one has had a similar diagnosis. Seems like this movie has not been released in the USA.
posted by

bobadagabin

on Aug 15, 2009 10:12:21

Wonderful movie!
posted by

DramaLuvr

on Jul 24, 2009 09:41:11

BRILLIANT !!!
posted by

Amanda

on Jul 20, 2009 02:05:43

Loved it!!
posted by

Craig

on Jul 16, 2009 04:27:00

this film was amazing
posted by

caz

on Jul 08, 2009 07:29:05
Fabulous movie... laughed and cried... one of my favorites!
posted by

XHayley07

on Jun 15, 2009 01:15:10

It´s sooooo great!!!
posted by

aLex

on May 08, 2009 01:20:46

I thoroughly enjoyed this flick! It was great just to see some of Canada up on the big screen. I too am waiting for a DVD release date!
posted by

Kaijuman

on May 05, 2009 01:50:10

Absolutely amazing. I fell in love.
posted by

Canuck

on Apr 03, 2009 11:14:08

So good I went twice and will buy the DVD. What a great film...being unapologetically Canadian makes it that much better!!
posted by

One Week

on Mar 25, 2009 10:13:57

2 thumbs up... I've gone through a similar experience. Very deep, and emotional.
posted by

One Week

on Mar 15, 2009 12:54:00

It got to the core of my heart
posted by

Maria B.

on Mar 14, 2009 08:07:31