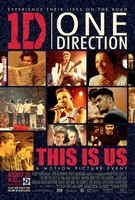 REVIEWS RATE: Critics Readers [Rate It]
Reader's Reviews
---

I am a DIRECTIONER! LOVED IT!!! I LOVE ONE DIRECTION, THEY ARE AWESOME!!! 3,2,1 WE ROCK! Harry, Liam,Niall, Louis and Zayn always gonna support you! Best movie EVER in 3D! With love, GS from Cyprus!
posted by

GS

on Oct 17, 2013 09:02:58

OMG It was amazing
posted by

garden city

on Sep 26, 2013 06:17:58

The best film ever :) <333
posted by

Carrot

on Sep 08, 2013 03:53:26

Ok, this movie made me laugh and cry and scream and ugh it just made me emotional, and even just as a movie it is hilarious and I thought this movie was perfect. Wish it was longer!!!
posted by

iloveu1d

on Sep 04, 2013 03:35:03

Omggggi love u guys
posted by

taylor

on Sep 04, 2013 01:24:38

Best film ever <3333
posted by

Kinia

on Aug 31, 2013 03:06:17
I am looking so forward to this movie. Me and my friends are going to watch this movie every time we have a sleepover!
posted by

HarrysWife98

on Jul 06, 2013 02:49:45
this is soooooooo awesome
posted by

vain hiiim

on Feb 03, 2013 10:07:05