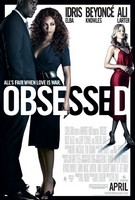 Overview
---
Genre :
Drama, Thriller
Release Date :
April 24, 2009
MPAA Rating :
PG-13
Director :
Steve Shill
Starring :
Idris Elba
,
Beyonce Knowles
,
Ali Larter
,
Scout Taylor-Compton
, Christine Lahti, Bruce McGill, Christine Lahti, Ron Rogge,
Jerry O'Connell
,
Richard Ruccolo

REVIEWS RATE: Critics Readers [Rate It]
Reader's Reviews
---

oh i've love that film and i love beyonce. she's a very good singer and actress also. hope to see her in even more films. YOU ROCK BEYONCE!!!!!!!!!
posted by

cynthia

on Aug 17, 2010 08:44:01

In this movie i thnk beyoncé gives a phenomenoun performance like, omg! Is that realy miss"b".:-)
posted by

Beyoncé\'s number #1

on Jun 15, 2010 08:32:20

I love the O'Connell man and even his acting skills were less than. The sexual scenes were awkward and unexciting to say the least. Glad I got this one free from the library.
posted by

hotlegz

on Oct 09, 2009 11:28:44

beyonce is da best. the movie wouldnt be the same without her.i never thought she would be as good as an actor as she is a singer but she proved me wrong
posted by

movE luvr

on Sep 29, 2009 11:00:46

OBSESSED sucks with a capital S*U*C*K!!!...in ALL catagories, especially BK's acting.
posted by

Guytano Parks

on Aug 30, 2009 10:31:38

I love this movie. I love Beyonce, but I do think she needs to work on acting a little. There were a few scenes in the movie that she did awesome. The scene at the hospital, she did really good. There were a few parts where she could have worked on. Overall it is a great movie. Ali really did an amazing job, as well as Idris. I would recommend it to anyone.
posted by

QueenBitch

on Aug 24, 2009 10:42:33

This actually a good movie to me. Ali Larter really played her part well! I wasn't disappointed at Beyonce's performance, to me she can't act, so it was expected. She's a great singer though.
posted by

Temeasea

on Aug 17, 2009 01:03:08

this was the best movie out this year! i loved it they all did a great job acting. and the people that say beyonce cant act u must be smoking crack! does anyone know when this comes out on dvd?
posted by

nicoleg26

on Aug 09, 2009 12:52:12

kFWNb3
posted by

Gbvxnxdt

on Jul 14, 2009 11:13:14

As a fan of all villain characters i say that Ali Larter is really a bad bad girl.She ever plays the most beatiful-crazy-sick-&-evil characters like Lisa Sheridan,Jessica Sanders etc.Ali is an amazing actress and perfect villain,she's the best!!!
posted by

T1000

on Jun 26, 2009 02:16:26

Great Movie!
posted by

Gemma

on Jun 10, 2009 04:18:05

It is so real,so real,it reflects the reality so perfectly.Great job
posted by

Mark

on Jun 06, 2009 07:55:51

BEYONCE IS GREAT.WONDERFUL MOVIE !!!!!!!!!!!!!!!!
posted by

Dee

on Jun 06, 2009 07:54:26

It is an excelent movie,and what's great about it beside actors,is the fact that this kind of thing happen' in real life too !
posted by

Lee

on Jun 06, 2009 07:52:29

Beyonce is very talented actress!Can`t wait to see the movie!
posted by

Nadia

on Jun 06, 2009 07:24:54

<BIG><BIG><BIG>BEST MOVIE EVERR BEYONCE YOU ROCKK!!!:)
posted by

heatherr

on May 25, 2009 07:08:16

i luved it
posted by

bknowlesFan

on May 24, 2009 12:45:20

I enjoyed the movie and Beyonce did a great job with her role.
posted by

B_Fann

on May 17, 2009 11:33:46
ok this wat i think i thought the movie could have been better the previews looked like it wwas going to be like the best movie ever and the fact beyonce was in it duin her thing it mad the movie way better i thought this movie was a real good movie for her!!she is fine as hell sexy as and can act and sink she has it all.i luv beyonce.all ya haters need to shut up tawkin shit.....
posted by

zach dark

on May 14, 2009 07:31:14
Stupid dummy nigger movie, with white hoe and more dumb nigger acting..why did this movie get made?, go see Star Trek and educated your small pea sized brain.
posted by

Youdummynigga

on May 12, 2009 01:02:59

great movie!!!!
posted by

senka

on May 10, 2009 12:26:17

Um who ever thinks that beyonce is a bad actress needs to be shot lol. um she is really great and this movie was AMAZING!
posted by

Beyonces-best

on May 10, 2009 08:18:58

beyonce u r the boss. that's wat we call ass kickiin. u go girl
posted by

chewee

on May 06, 2009 09:14:53

Beyonce is a good actress.. And I thought this movie was worth watching. I LOVED IT :D
posted by

BEYONCE:)

on May 06, 2009 07:04:36

wow too many hating people, and not to be racist but most of yall thats hating so much is white...[yes im black] and i think that this was the best movie this year; Beyonce aint gotto worry about yall she go plenty of fans that love this movie. And well she getting paid aint she? More than yall hefers lol Peace =]]
posted by

<3candieboo.

on May 05, 2009 06:27:09

so incrediblay good!Beyonce, you were awesome
posted by

fan

on May 05, 2009 04:33:15

Wonderful movie ! Loved it
posted by

dxadfas45

on May 04, 2009 12:01:39

Enjoyed the movie. Nice to see a female fighting another female over her child and not her man!
posted by

Boosie

on May 04, 2009 09:22:45

Beyonce is not an actress mainly because of how over-dramatic she always is, not because she's a "Singer" and "Dancer", but she was convincing when being angry and violent, which makes me skeptical of her true personality, LOL. But, the movie was good...until the ending. Why'd the screen freeze on Beyonce's face and just Idris's chin, as if the movie was all about Beyonce from the start and not the both of them? Other than that, the movie was like sex without orgasm, that's how I felt coming out of the theatre.
posted by

JazzyB

on May 04, 2009 01:50:10

I luv'd this movie and all the actors, it was worth the money, cant wait for my hubby to see it b/c I would luv to see it again..
posted by

dmhudsonluv

on May 02, 2009 07:20:16

i havent even seen the damn movie........but i looks fucken tight! thats the shit right there, u do ur thing bby!
posted by

da shiznit

on May 02, 2009 05:02:54

it was good 8 out of 10!
posted by

K.i.R productions (

on May 02, 2009 01:35:36

Ok I like Beyonce but I have never been a fan of her acting skills. However she actually did good in this movie. The movie kept me interested and I actually stayed to watch it so it had to be descent compared to "cadillac records"... I had apologize to my fiance for dragging him to see it... Obsessed kept me tense, which says alot about a movie .... If a movie makes you have some sort of feeling or physical reaction ...then its good
posted by

Seriously

on May 01, 2009 04:09:01

i was actually laughing at how bad it was. embarrased for everyone whose name is in the credits.
posted by

hateditsomuch

on Apr 30, 2009 11:11:32

vey few movies these days are original screenplays. understood. if you are going to make a movie that, essentially has been done before, it must be done amazingly. not amazingly DRY or UNDERWHELMING. like a remake of famous song, you must use what is already there to INSPIRE something new. no, it does not have to be a oscar caliber shakepearean play. although people argue about what constitutes oscar caliber. this movie seemed to have made a checklist based on a series of " husband has an actual or psuedo affair with another woman and the the wife or girlfriend of said man and other woman and wife comes to blows" type movies and made sure that they had every thing on the list in the movie but thay forgot to do it impeccably. and that is what upsets me. I need the best acting, the best dialogue, the best on camera chemistry. i don't care if i'm watching jackass: the movie. i want to remember the line and say every part of that made sense for what they were trying to do. the character: NO ONE SEEMED UNNECESSARY. i just didn't get the most out of the movie. I think they should have went back to square one with the writing, recasted and rethought the scenes. very unsuccessful
posted by

nyscorp

on Apr 30, 2009 07:52:50

is this movie appropriate for 12 year olds? im thinkin about taking my 12 year old daughter and her 15 year old sister to see this. is there any suggestive material? thanks very much, fire-and-ice-mom99
posted by

fire-and-ice-mom99

on Apr 30, 2009 07:19:43
The movie is great! Everyone always hates on Beyonce but I say she does at great job at everything so...stop giving her a hard time! She has a heart just like you do!
posted by

Meli

on Apr 30, 2009 06:50:02
All three main actor/ actresses did well with their characters.Elba trying to supress his UK accent was perfect for this role. Larter, who wouldn't want her stalking you, showed her versitility as an actress and was indeed the star in this one. Knowles played a believable single secretary turned wife not over acting her particular role and displayed a gorgeous dream-wife for a man who once was a player. The degree of acting from all three was appropriate for this script.
posted by

Reggiebuff

on Apr 30, 2009 06:08:45

I thought it was great Ali was crazy, Beyonce was great.
posted by

obsessed

on Apr 30, 2009 02:19:25

awesome awesome movie!!!
posted by

sydney

on Apr 28, 2009 11:51:31

please don't act beyonce.stick to singing
posted by

007cece

on Apr 27, 2009 10:06:59

The movie has a great plot line, and Beyonce has really improved a lot with her acting she is awesome in everything she does.
posted by

Stassi Greene

on Apr 27, 2009 09:19:11

Beyonce is great. On stage performing and w/her acting. Excellent movie. 5 stars. This really happens. I'm glad Idris was faithful! If not I don't think I would've enjoyed as well. The two were great together in this movie. We need to see more of B on film. The both looked fabulous.
posted by

B Fan

on Apr 27, 2009 09:00:28

I meant to give this movie 2 stars not 3 (as shown in my last post). The 2 stars is for the director fooling the millions of folks that paid to see this movie this weekend. could have rented FATAL ATTRACTION & saved yourself 10 dollars. seriously & thats not hating---its the TRUTH.!
posted by

Butterflies

on Apr 27, 2009 06:24:37

I saw the preview for this movie, and I wouldn't spend a single cent on this movie simply because I saw it already. It was called "FATAL ATTRACTION" & it stared Glen Close & Michael Douglas! OBSESSED is the same exact thing-just a different title, different characters. I can wait for this to hit DVD in 6 months (still may not get it. SAVE YOUR MONEY FOLKS!
posted by

Butterflies

on Apr 27, 2009 06:19:25

awful movie. hated it. sucked
posted by

ck1234

on Apr 27, 2009 03:54:11

I went to see this movie over the weekend and it's an remake of "Fatal Attraction". I couldn't quite "feel" the chemistry between Beyonce & Idra. This is defintely an DVD movie.
posted by

LadyT

on Apr 27, 2009 01:01:18

GO C DA MOVIE ITS DA SHIT AND ITS RAW AND BEYONCE AND IDRIS DID THERE THING
posted by

TRU BEYONCE & IDRIS

on Apr 26, 2009 09:13:42

ACCORD.1 YO FUCK ASS MUST BE POOR OR JUST DUMB ASS FUCK CUZ DIS MOVIE WAS WORTH IT
posted by

TRU BEYONCE & IDRIS

on Apr 26, 2009 09:10:21

The movie was okay. It should have been shown on Lifetime fist. People would have enjoyed catching this movie on Sunday evening on the Lifetime Channel.
posted by

CoCo

on Apr 26, 2009 03:17:13

Worth the money!!
posted by

meh

on Apr 26, 2009 01:04:26
BEST MOVIE EVER!!!!
posted by

tha shit

on Apr 26, 2009 01:03:23

IF YOU HAVE NOT SEEN THIS MOVIE, GO SEE IT!!! HAS TO BE ONE OF THE BEST MOVIES I HAVE EVER SEEN. - DEFFINITELY EXCEEDED MY EXPECTATIONS! BEYONCE PLAYS AN AMAZING PART AS WELL DOES ALI LAUTER.
posted by

LOVEIT

on Apr 25, 2009 12:26:02

Beyonce started off a little rough with her role. However when she finds out about Lisa, she really takes charge of her part. Good movie that i will watch again.
posted by

C-DZ

on Apr 25, 2009 10:25:03

Too many Beyonce haterz on here...Give the girl some credit, she didn't have to go to theater arts schools to become an actress, she has natural talents...besides being a singer, dancer, fashion designer...She was good ass hell in this movie especially at the end when she had to fight her..She seemed more crazy than Ali was...I give this movie 5 stars...B did her thing....And if you don't like Beyonce don't go see the movie or anything with her affliated with...Don't be haters, be APPRECIATORS...
posted by

MN Diva

on Apr 25, 2009 10:12:38

Idris is a great actor hes very good at covering his english accent. they are great together
posted by

Beautiful

on Apr 25, 2009 05:02:45

Idris and beyonce made a good team in this movie... hes great at covering his english accent.
posted by

tameika

on Apr 25, 2009 05:01:19

The movie was great. Idris and beyonce played it perfect
posted by

iamvalsky

on Apr 25, 2009 01:52:36

This was a predictable film but I knew that going into it. From the begining I called how she was going to die because they did the ooh no don't step there thing blah blah but it was entertaining enough that I didn't get to upset with that. The acting with Beyounce was kinda lame though with the way she delivers the lines but not to bad. Wait for the video to come out on DVD
posted by

Natalie

on Apr 24, 2009 12:58:57

wow !!!! beyonce was good!! brought it on like a true texan
posted by

beaumontgirly

on Apr 24, 2009 10:08:57

I gave it 2 stars for the other actors; Beyonce can't act please continue singing. Her part was very small and even that wasn't good. Sorry! I had free preview tickets last night I should have waited until it was on late night.
posted by

newtothis

on Apr 24, 2009 06:23:53

Predictable, predictable, predictable and Beyonce is an aweful actress.
posted by

vargas

on Apr 24, 2009 01:35:49

I am not trying to be mean but this has to be the worst movie I have ever seen. I actually found myself feeling embarrassed for the actors.
posted by

leowrite

on Apr 22, 2009 05:00:37

Beyonce CAN NOT ACT!!!! Ali Larter and Idris Elba are the main focus of this movie. Beyonce is not convincing anything except on stage shaking her booty! She is not a convincing actress, she needs to learn how to speak as well. Stick to singing and shaking your booty Bey!
posted by

NonoB

on Apr 13, 2009 12:05:16

i cant wait
posted by

pootiecutie

on Apr 08, 2009 10:55:41

cant wait to see this
posted by

camilyah

on Mar 28, 2009 08:37:05

Well i think this movie will be such great movie cuz Beyonce Knowles is a great actress since she started so i can't to watch her Beyonce is the greatest
posted by

anthony

on Mar 26, 2009 08:50:36

I THINK BEYONCE SHOULD OF BEEN THE STALKER TO HELP HIGHLIGHT HER ACTING SKILLS, THIS IS SOMETHING DIFFERENT FOR HER. ALI LARTER IS THE MAIN FOCUS OF THIS FLICK
posted by

SP

on Mar 21, 2009 08:30:15

IT'S GOOD TO SEE B IN A CHICK FLICK, BUT HER VOICE IS TO SOFT FOR THIS MOVIE, BUT AM GLAD TO SEE HER DO SOMTHING DIFFERENT, CAN'T WAIT TO SEE IT
posted by

SOPHIA

on Mar 21, 2009 08:27:30

Beyonce is very dry and predictable. Sorry, just can't pay to watch her. This girl is not an actress. The clip shows the real stand out is Ali Larter
posted by

loa

on Feb 26, 2009 08:20:51

This Movie looks like it's gonna be soooo good....Beyonce is such a great actress even though she started 7 years ago...People really just knows her as a singer but this movie is gonna prove to them that she is a GREAT ACTRESS!
posted by

YAY!!

on Feb 20, 2009 10:04:51

BEYONCE' has really stepped up her acting game. Seems like this movie will further proof she is not just a singer trying to act. She was great in Cadillac Records. But it is refreshing to see her in a role with no singing.
posted by

loves1embrace

on Dec 17, 2008 09:14:11

I really think that Beyonce is a good actress. People fail to see her any other way from being on stage, singing, dancing, etc.
posted by

b-fan

on Dec 13, 2008 05:55:58