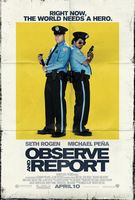 REVIEWS RATE: Critics Readers [Rate It]
Reader's Reviews
---

funny as hell
posted by

Jjohndmp

on Sep 08, 2010 01:34:17

one of seth rogan's better movie. I loved it from the very first few scenes. it truly is a great movie with a good soundtrack too
posted by

NJO

on Jul 31, 2010 12:56:45

This is a crazy sledgehammer of a movie that breaks your nose with funny blackness.
posted by

giddyup

on Feb 08, 2010 06:37:12

I fucking saw this movie.. and it seriously went to funny to bad-assism (which is now a new word) to physcoticlly funny in 3 scences!!!! Bad comedy I seen in a while
posted by

MD2X

on Jan 07, 2010 12:39:39

A 21st century "taxi driver"- plain and simple.The movie's humor is too callous to be comedy, yet too obnoxious to be serious drama.... Still it has impact, and comes across with a message, albeit a mudlled one, of not so much self realization, but acceptance that the Berkhardt character is seriously "f"'ed up....
posted by

The O\' geee

on Oct 19, 2009 06:23:36

Rated R version of Paul Blart: Mall Cop. Freaking hilarious! Love Anna Faris and Seth Rogan movies!!
posted by

blahblah

on Oct 13, 2009 08:40:41

randomly tirific i loved it so much defo getin da dvd
posted by

fintan

on Sep 24, 2009 11:50:07

good movie.....funny! what song is brandy listening too in the car when pulling into the mall?
posted by

AB

on Sep 23, 2009 08:28:08

This movie was the shizz! I loved it! I like when michael pena backs him up on everything he says and does its high-larious!
posted by

*fine1

on Aug 12, 2009 05:09:59

he shoots the flasher.
posted by

awsome

on Jul 21, 2009 06:18:13

2oEpYb
posted by

Rijjoeod

on Jul 15, 2009 01:57:44

A lot of people didn't know what to make of this, but I loved it - keep it up Jody Hill.
posted by

eddie73

on May 22, 2009 04:23:25

This movie is BRILLIANT! Those that don't get it are the retards expecting to see easy laugh and comfortable escape...not so. I KNOW these people but they're not near as funny. Jody Hill is a genius and deserves to make whatever the fuck he wants. LOVED this movie. Too deep for most Rogen fans, I guess, but I'm ecstatic he decided to star in it.
posted by

Sean Dalton

on May 02, 2009 04:47:38

wacky funny. kinda like wtf is going on ? and ur laughing while saying that.
posted by

ryan

on Apr 13, 2009 11:06:08