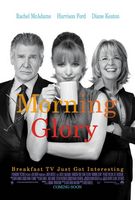 REVIEWS RATE: Critics Readers [Rate It]
Reader's Reviews
---

Really enjoyed the movie. I like smooth jazz. What is the music that plays in the background of the movie in several places and is the smae music that plays while in the main menu of the DVD. It sounds like vibes, bass, piano and percussion. What a sweet piece, but what is it?
posted by

Sabar2

on Apr 02, 2011 11:50:18

Good actors should help this film along, but the frenetic pace of the piece along with some very overwrought music manages to kill whatever good points and actions the script sets forth for Rachel McAdams, Diane Keaton, Harrison Ford, and all.
posted by

ismene

on Mar 15, 2011 12:09:25

A-MAZ-ING!
posted by

Lawyerista

on Nov 22, 2010 12:03:25

Must see. Absoultely loved it!
posted by

kbtwister03

on Nov 22, 2010 01:30:36

was funny
posted by

moonshine96

on Nov 12, 2010 08:24:11
One soundtrack is gone in the morning by Newton Faulkner but I am also still looking for the song playing right at the end.Anybody that knows it?
posted by

sjadlakj

on Nov 11, 2010 12:16:02

The movie at the end is Strip Me by Natasha Bedingfield. GREAT MOVIE!
posted by

woejflkn

on Nov 11, 2010 11:45:17
It's the other way around actually, seasons of change by Sweet Thing (they are playing with us on nov 26th in Ottawa at the live lounge)
posted by

Michael

on Nov 11, 2010 09:35:28

What is the song that is playing in the background when she is running back to the studio (towards the end)??? I couldnt make out what the guy was singing to get lyrics!
posted by

carcol29

on Nov 11, 2010 07:10:00
Sweet thing by seasons of change
posted by

escondido

on Nov 10, 2010 12:49:30
i <3d this moviee! but i want to kno wut the name of song at the end is.... any1 kno?
posted by

i<3you12

on Nov 09, 2010 04:28:15
What are the songs on the soundtrack?
posted by

ash

on Nov 03, 2010 08:52:24
I really enjoyed this movie it gives a bit of hope, keeps you laughing, and its not so predictable, well it is but it has you on your toes.
posted by

Screener 4 Life

on Oct 27, 2010 12:35:15
What's the soundtrack of this movie called?
posted by

MacBeth

on Jun 03, 2010 02:49:41

MPfl5x Perfect site, i like it!
posted by

adipex damages sight

on Aug 02, 2009 03:22:04

R54hd7
posted by

Fhsgyigv

on Jul 14, 2009 11:02:10