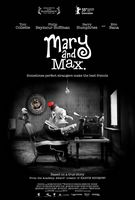 REVIEWS RATE: Critics
N/A

Readers

[Rate It]
Reader's Reviews
---
5
posted by

Reem

on Apr 19, 2012 01:00:30

Fantastic!
posted by

Mary and Max

on Nov 17, 2009 12:49:10
One of the best films which i ever seen! Great music!
posted by

emi

on Nov 14, 2009 03:32:46

increíble, maravillosa! quiero tener un amigo por correspondencia
posted by

coti

on Nov 14, 2009 02:05:45

i cried.. it was so touching. the words were inspiring. i learned a lot. LOVE YOURSELF FIRST.
posted by

max\'s friend

on Nov 13, 2009 02:24:26

It's an amazing movie. I loved it so much! So heart-touching. Superb concept, very well made, and overall, very nice background music. eaduram, the song is "Penguin Café Orchestra - Perpetuum Mobile"
posted by

Mamun

on Nov 07, 2009 10:00:39

I cried with joy!
posted by

mary and max

on Nov 02, 2009 01:29:13

Bande son du tonnerre ! Film exceptionnel plein de sentiments et d'humour ! Vraiment tres drôle !
posted by

Frenchy Stephane

on Oct 31, 2009 02:16:17

I Love it!Love It!!
posted by

Perfect!!

on Oct 27, 2009 05:41:51

The best film ever. It tells a sad but happy story so deliquately but so humerously
posted by

Mary and Max

on Aug 25, 2009 03:54:09

Best movie ever. A must see over and over again.
posted by

Photogfrog

on Aug 18, 2009 05:44:17

This is such a touching, moralistic film. Beautiful! Question -- What is the title of the instrumental tune played. I can't think of it and it's driving me crazy!
posted by

eaduram

on Aug 06, 2009 04:57:00

Fantasic!!! best animated movie I've ever seen
posted by

bridie

on Jun 24, 2009 05:30:24

Amazing and magic, the most affecting and touching feature film I have ever seen...
posted by

kataplonk

on Jun 14, 2009 03:12:13

One of the best films of the year.
posted by

ChI

on Jun 08, 2009 11:08:57

best movie i have ever seen
posted by

woppwo

on Apr 19, 2009 06:45:20

A beautifully written story which lets you into the lives of two people who need someone in their lives. Must see!!
posted by

Mary and Max

on Jan 18, 2009 11:00:06

Brilliant
posted by

Mary and Max

on Jan 07, 2009 11:26:03