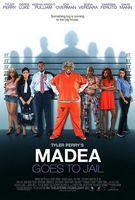 REVIEWS RATE: Critics Readers [Rate It]
Reader's Reviews
---

omg loved this stuff,
posted by

name

on Aug 25, 2010 04:38:58

Write a post about leaving comments,
posted by

name

on Aug 25, 2010 04:38:16

Add New Comment,
posted by

name

on Aug 25, 2010 04:38:00

me and my huband loves this movie top movie of are fav it was awsome make more
posted by

kaykaybug

on Jul 04, 2010 08:40:22

So funny! Best movie everr!
posted by

bradleycooperlover1

on May 31, 2010 07:47:17

very...very funny keep doing movies Tyler Perry
posted by

madea goes to jail

on Jul 18, 2009 10:43:48

funny shieeeeeeeeeeet :L
posted by

jaik

on Jun 25, 2009 05:56:35

I LOVEEEEE THIS MOVE BEST MOVIE IN YEARS!! :O)
posted by

BABYLOVE123

on Jun 17, 2009 01:41:07

Cannot wait for it to be on dvd, Madea is CRAZY. The movie was good, but again, MADEA.....OFF THE HOOK!
posted by

kdmay

on May 26, 2009 08:10:03

the best
posted by

rob

on Apr 20, 2009 12:15:39

i loved this movie! tyler perry is a genious. i DO reccomend everyone to see this movie. madea rocks!!
posted by

tee babyy

on Apr 20, 2009 01:40:57

Da Movie was awesome I've seen it twice. It had me laughin at parts and I cried too I was good can't wait til it come at on DVD TP did his thang wit dis one
posted by

zaebaby14

on Mar 29, 2009 06:17:40

HELLO iTS CALL MEDEA GOES TO JAiL....SO WHERES MEDEA...iT NEEDS MORE MEDEA..THAN SWiTCHiN TO A DRAMATiC STORY ON THE SiDE.....BUT iT WAS ALRITE..BUT MOREE MEDEA
posted by

nena de 305

on Mar 02, 2009 05:14:50

this movie was super entertaining.! it made me tear up a little bit but then allowed me to break out in laughter! amazing movie. its MUST see movie.
posted by

amazing baby

on Feb 28, 2009 12:01:41

I walked the Red Carpet that night at the premier, How do I get my hands on the photos of my wife and I on the Red Carpet? The name is DANZIL MONK I was in Black Tux and purple bow tie and vest and my wife black top under brown fur and lavinder ripple dress if that helps.
posted by

DMonk

on Feb 28, 2009 07:09:21

ITHOUGHTIT WAS GOOD TO A POINT..REALLY DIDNT FOLLOW THE PLAY..WAS VERY SHORT!
posted by

SCORPIODIAMOND

on Feb 28, 2009 02:12:43

Very entertaining but a little to many missed oppertunities for better dialog both on the Comedy and Dromatic sides. But over all well worth the price of the ticket.
posted by

DAN

on Feb 27, 2009 03:46:33

I LOVE ALL TYLER PLAYS, MOVIES AND ETC. I HATE THE FACT THAT HE USED MY LITTLE "RUDY" TO SEND A MESSAGE TO THE AUDIENCE, BUT A VERY GOOD ONE! THANKS AGAIN TYLER KEEP UP THE GREAT WORK
posted by

SHARA

on Feb 25, 2009 10:41:59

I WONT SEE THIS MOVIE
posted by

DONAVAN

on Feb 23, 2009 01:06:22

not enough Madea. Too much unassociated story line. Definately not as good as they play.
posted by

madeafan

on Feb 23, 2009 01:02:38

I love madea, kind of remindes me of my family!
posted by

pink_rissallicious@y

on Feb 22, 2009 07:13:11

Great Movie.
posted by

Mann

on Feb 22, 2009 04:27:09

i love the movie i think that tyler is the best and the lmovie that i went to was sold out all the seats were taking up you go boy please keep writing.
posted by

queznleelnmiyah3@aol

on Feb 21, 2009 09:55:12

All of Tyler Perry's movies have an uplifting message! After working all week and just dealing the upís and downs of just life. We need more movies to just make us laugh-and Madea does that!
posted by

PINKROSES

on Feb 20, 2009 12:15:47

This movie looks funny just because its mostly about Madea im loooking forward to seeing this movie =]]
posted by

yEE bAybEE

on Feb 20, 2009 11:44:54
Thee movie was just wonderful! I always enjoy Tyler Perry's projects.
posted by

Sister Bady

on Feb 20, 2009 08:55:53

Going to be great.
posted by

Madea Goes to Jail

on Feb 11, 2009 02:45:39

the play was very hilarious to me so i am looking forward to the movie
posted by

christian

on Sep 11, 2008 01:50:58