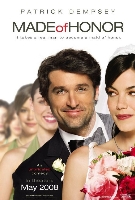 REVIEWS RATE: Critics Readers [Rate It]
Reader's Reviews
---

it's a pleasent love story
posted by

tharika

on Dec 23, 2009 04:38:35

Who dosen't like McDreamy? Funny, cute, and charming. I have to say though wasn't as good as I thought it would be better
posted by

Aymz

on Sep 30, 2009 02:17:22

This is the best movie I've ever seen! I think i've seen it like 10 times, and it still so funny. Maybe it's because I'm a big fan of PD. whatever, I'm in love with the movie anyway!
posted by

Lina

on Mar 21, 2009 06:05:20

GREAT MOVIE
posted by

JENNIFER

on Sep 17, 2008 02:49:41

romantic story + funny scenes + excellent actors = great movie! :)
posted by

BeeSeeBee

on Aug 04, 2008 00:00:00

im in love with this movie...tom truly deserved hannah...;-)
posted by

sumit

on Jul 03, 2008 00:00:00

i love it!... :)... only that it was sad that at the end the other guy stays alone.!
posted by

so romantic

on Jun 30, 2008 00:00:00

I'm not much for romantic comedies usually and I'd have never picked this out on my own, but surprisingly enough this is a very good film. It's classy and the jokes are good and timed properly. Patrick Dempsey is gorgeous and Michelle Monaghan is very talented. I definitely recommend it.
posted by

MissPixie

on Jun 27, 2008 00:00:00

already in the beginning the end is quite obvious. I've seen it yesterday but I would have much rather rented it than pay to see it in the cinema. Just a little too superficial. The only part that is funny is the part of Hannahs grandma at the sextoys party from sharon.
posted by

xxx

on Jun 13, 2008 00:00:00