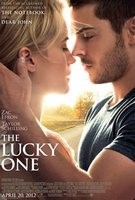 Overview
---
Genre :
Romance, Drama
Release Date :
April 20, 2012
MPAA Rating :
PG-13
Director :
Scott Hicks
Starring :
Zac Efron
,
Taylor Schilling
,
Blythe Danner
, Adam LeFevre, Sharon Morris, Joe Chrest, Riley Thomas Stewart, Courtney J. Clark, Jillian Batherson

REVIEWS RATE: Critics Readers [Rate It]
Reader's Reviews
---

I've been watching The Lucky One with my wife and kids and am struck by the fact that Taylor Schilling is a far superior actor to Zac Efron. I have recently probably seen most or all of the movie 8-10 times, (once was enough for the family). The range of her performance makes me wonder why she isn't getting better movie roles. A lot of the parts she's getting, given her talent and looks don't befit her. The chemistry between the two was amazing and the love scenes were some of the best I've seen in any movie that weren't R rated. Zac Efron's role supported hers more than the other way around, but together they were fantastic. She has a look that is mesmerizing and her beauty is overwhelming. One man's opinion...
posted by

Pdaddy

on Mar 08, 2013 12:54:39
This was a great movie.
posted by

The Lucky One

on Sep 09, 2012 09:05:53

This movie was excellent. My mother-n-law and myself cried like babies. It hits home. My brother-n-law Vic die in Irqa war in 2005, with 4 of his men.
posted by

ladybug 051810

on Jun 15, 2012 04:50:33

Loved this film!! Zac Effron is wonderful and has really grown up
posted by

MrsEffron

on Jun 03, 2012 06:10:49

This movie was the best movie I have ever seen. When I watched it, "The Lucky One" instantly became my favorite movie!
posted by

Silver

on May 06, 2012 10:42:38

This Movie is amazing!!!!
posted by

ILOVEYOUU123

on May 05, 2012 02:38:05

YOUR heart just breaks thats all but you cant judge or point fingers you just have to be the lucky one to find someone who appreciates you.
posted by

novadjo

on May 04, 2012 01:01:49

Who could have guessed formerly mega hot, curvy, reality TV personality Audrina Patridge would take a sassy see-through top and make herself look shapeless, sexless, dull, and old before her time - but she did at "The Lucky One" premiere. Perfect hair, gorgeous smile, great legs, and a cute shorts outfit ruined by a flattening full coverage bra. Someone please get Audrina a good boosting demi push up! With it she'll transform from unflatteringly bland to bombshell. Audrina seems to be afraid to look hot and shapely anymore, something she used to do regularly so well. Whoever the evil publicist is who thinks turning Audrina shapeless is a good idea is dead wrong and needs to be stopped now!
posted by

FrankNPuff

on Apr 29, 2012 12:59:12

Too slow. Needed more drama. Cliché.
posted by

Lagatasexy

on Apr 21, 2012 08:41:43
Hi I Huge fan I love highschool musical it's my favorite movie to watch.
posted by

Lenora

on Mar 14, 2011 11:15:38
i loved the lucky one book well i have all of nicholas sparks books and all the movies hes made out of the books i have a feeling this movie is going to be great!!!so exxxxxited-
posted by

nicholas sparks 411

on Aug 17, 2010 01:13:22