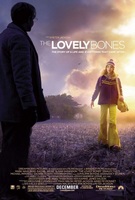 REVIEWS RATE: Critics Readers [Rate It]
Reader's Reviews
---

This is an amazing movie i am 10 years old and i have watched this spectacular movie i love it and hope i watch it again.
posted by

eshaay##<33

on Oct 22, 2011 07:39:20

I love the movie and I was wondering if Saoirse Ronan would star as Sally in my movie 'The Little Orphan' she is supposed to play a 12yr old. I would appreciate it!
posted by

Ashley

on Oct 16, 2011 06:33:57

Very good movie, but very sad. I will always remember it S. Ronan was wonderful in this movie. She is a very talented and pretty young lady.
posted by

swamplizard

on Nov 28, 2010 10:46:29

Best movie ever!But i cried!
posted by

Dare51

on Nov 21, 2010 01:53:08

i watched this with my best friend and we almost cried but over all my favorite movie!! i loved the graphics and the detail i recommend this movie to EVERYONE!!!! :D
posted by

rawr luv u

on Nov 08, 2010 08:51:02

i love this movie really sad but it touched my heart and made me cry alot ..i recommend it to everyone who has lost someone special so they can see hoe our love ones also suffer I LOOVE THIS MOVIE!!!!!!!!!!!!!!!!!!
posted by

student

on Oct 22, 2010 02:21:56

i was agree with u sean. her eyes is so beautiful and her hair, her smile... it makes me feel..... happy! cuz' she's sooooo.... beautiful!
posted by

SaoirseRonan\'sFans

on Sep 11, 2010 08:33:23

i love this lovely movie the >Lovely bones< there have a next part? i just say hello to you again your movie is lovely and amazing!! i love Susie Salamon and Saoirse Ronan and your eyes too. okay
posted by

sean

on Jun 07, 2010 12:29:32

hi! did you want to tell us why your lovely bones did'nt found by your parents? excep that i love "Lovely Bones" also the susie i saw but she's dead right :( but the (saoirse ronan) i saw yep she's beautiful and have a blue ocean eyes that's true right?
posted by

stephen aang

on Jun 07, 2010 12:18:38

i just say okay! this is an most amazing and awesome i have ever seen. I just like to say that susie salmon and soirse ronan i like you your beautiful and gorgeous blue eyes and i hope that you have continue the good career and ilove it and god bless!!
posted by

mygirl

on Jun 07, 2010 09:34:19
Hello thank you, for watching Peter Jackson's The Lovely Bones. I love to film with Stanely Tucci. But when we did the Cornfield scene, I was afraid of him. (Laughs)
posted by

Saoirse Ronan

on Jun 03, 2010 07:49:52

it was okay. just kidding it was AMAZING i was watching it yesterday with my little sis and i was crying and when itwas over i hugged my sis and checked her if anything was scratched.
posted by

shutthefuckup

on Jun 03, 2010 07:44:25

If i could rate it between 1 and 10 it would be 50!!! It is a wonderful oviand an AMAZING, and intersting book. I could just hug the air and say "Susie Salmon I LOVE and MISS YOU!!"
posted by

thelovelybonesSusie

on Jun 03, 2010 07:32:57
whoa the film certainly lived up to the book,although some of it was changed it was still great stanley tucci s a great actor and should be given an oscar for scaring so many people the two younger girls are great actresses,and the film was really emotional and sad but worth it so is the book.
posted by

kkkkkatie!

on Jun 02, 2010 01:52:13

cried twice during the film;and decided to buy the book the book was great and i read it in 2 days,film was also one of the best ive ever seen,mr harvey creeped me out and i cant wait to get the dvd:D:D
posted by

alison

on Jun 02, 2010 01:45:38

it was sad and cool on how she had 2 lives
posted by

daisy

on May 05, 2010 10:54:20

THIS MOVIE WAS AWESOME!
posted by

BEASTMOVIE

on Apr 29, 2010 10:20:58

awesomest movie I have ever seen! I resite the lines from the movie
posted by

Lydia

on Apr 27, 2010 07:31:46

the most awesomest movie I have ever seen! The best ever. Keep wathing the trailer over and over again!
posted by

The Lovely Bones

on Apr 27, 2010 07:29:13

i loved the movie it was amazing!!!!!!
posted by

bobo

on Apr 21, 2010 05:58:00

i haven't seen the movie yet, but i read the book in 2 days & it's 1 of the greatest books i've ever read! i know it's a little different from book but it's worth reading!!
posted by

PRESLEYb

on Apr 18, 2010 08:42:34

saw this last night, mindblowing -gut wrenching stuff and as a father i just wanted to hug my girl and make sure she's ok
posted by

mojo

on Mar 03, 2010 12:38:48

this movie would touch peoples heart and wonder!.. alot...
posted by

Mariah

on Feb 26, 2010 01:38:45

beautiful movie, saw it at watchfullmovienow
posted by

Julia

on Feb 20, 2010 08:13:08

I just saw this movie today and I thought it was a very beautiful,emotional and wonderful.I loved it so much that I really would like to watch it again.I think I am going to read this book ounce I'm done with the one I'm reading now.The end of the movie was so sad and I had to try really hard to keep the tears in.This movie made me really think hard about how people die by murder in real life and it's very sad.All the girls that the horrible man killed were all innocent and so much of a better person than he'll ever be.My heart goes to everyone that has lost someone they love to murder,I'm so sorry.
posted by

Jema

on Feb 20, 2010 04:48:10

Best movie I watched this year, and yes, I did in fact watch Avatar this year.
posted by

wintergrl

on Feb 16, 2010 02:24:22

Excellent.
posted by

TeddY

on Feb 14, 2010 03:43:32

i like this movie a lot it was the best movie i had ever seen yet
posted by

Gabriel Roberts

on Feb 07, 2010 11:29:25

original, beautiful, gets you thinking
posted by

wow

on Feb 05, 2010 03:52:22

its awsome
posted by

luv this movie

on Jan 25, 2010 03:58:52

this is the best movie i have ever managed to witness yet!!!
posted by

lovelybonesgirl

on Jan 24, 2010 03:18:12

Amazing!
posted by

Snuffs.

on Jan 23, 2010 04:44:20

a must watch. excellent.
posted by

sofinu2

on Jan 22, 2010 10:17:27

What a wonderful movie! I love everything about this movie. Worth watching like more than once and also worth buying on DVD!
posted by

Mandip

on Jan 22, 2010 07:52:17

IT WAS AWESOME!!!!!!!!!!! if some body said they didnt like it i would kill them.
posted by

raybla

on Jan 22, 2010 03:35:50

yayaayyay
posted by

raybla

on Jan 22, 2010 03:33:43

love this movie, im watching it again tonight with my sister. i felt this movie comforted me in a way.
posted by

evelynbeth

on Jan 22, 2010 02:09:00

OMG.BEST MOVIE EVER.im kinda like suzie,except the dying part.
posted by

bellapenny

on Jan 20, 2010 08:41:39

The movie is great,i loved it!!!
posted by

Hanna elie

on Jan 18, 2010 10:39:10

I loved it the way Peter Jackson interpreted, the book, had so much meaning and emotions added to the movie.
posted by

Shayan N

on Jan 18, 2010 05:55:21

WOW, I loved it. Stanley Tucci deserves an OSCAR without a doubt. He scared the living hell out of me in every scene he was in!
posted by

Emmysdad

on Jan 18, 2010 04:47:34

LOVED IT!!!!!!
posted by

bookworm0603

on Jan 17, 2010 05:24:18

Great movie, I recommend seeing it. You will fall in love to death, and have no fear of it.
posted by

Justin A.

on Jan 17, 2010 03:38:54

so cool better then twilight I never said new moon
posted by

lovelybonefan

on Jan 17, 2010 03:11:16
Recommend* LOL
posted by

Vanessa25

on Jan 16, 2010 07:58:03

The book was better, as books always are, but the movie was much of what I have anticipated... I reccomend you all see it if you enjoyed the book..
posted by

Vanessa25

on Jan 16, 2010 07:56:24

it was a wonderful movie. sad and at the end- i was crying.i know my daughters will never be allowed to walk home anytime soon.
posted by

Lady Juicy

on Jan 16, 2010 07:55:25

Great movie, but sooo confusing.
posted by

Sparkman*

on Jan 16, 2010 04:49:30
i can't wait to seen the movie. i think it is going to be awsome!
posted by

lily

on Jan 12, 2010 12:46:06
Fantastic! Both Heart wrenching and heart-warming. I was tearing at the end of the movie.
posted by

Nadie

on Jan 09, 2010 02:46:26

Excelent movie.
posted by

MartinezZ

on Jan 07, 2010 05:06:38

There were moments in the theatre where you could have heard a pin drop, nobody dared take a breath. The "Susan Sarandon Scene" was a classice - great taste in music for it and delivered at the perfect time in the movie. Nice to see a thriller can be pulled off without the gore that makes so many movies trashy - reminded me a bit of Alfred Hitchcock style in that respect.
posted by

Kiwivix

on Jan 05, 2010 04:57:58

DAMMIT! I cant wait to see this fucking movieeeee! ughh the anticipation is KILLING ME >_<
posted by

baddfissh

on Jan 04, 2010 12:23:51

If they don't get an Oscar and a Golden Globe, it will be disappointing. This movie took my breath away! Almost as good as the book... of course the book is always better :D
posted by

Scarlet Dawn

on Jan 03, 2010 06:45:37

Good film, the heaven parts were a bit too airy-fairy for my conventional taste, but a very well-pulled-off film from Peter Jackson as always!
posted by

Jerelins

on Dec 30, 2009 12:38:00

Great Flick.
posted by

Eno

on Dec 26, 2009 09:48:12

This was an incredible movie! More than I expected it would be.
posted by

Hoopayz

on Dec 07, 2009 07:45:13

the movie was filmed at my nieces house 2 yrs ago! She was at the premire.Peter jackson looks great! can't wait to see it.It is great!
posted by

Pat

on Dec 03, 2009 06:26:25

I never read the book, but when I saw this trailer, I wanted to see it. The music in this movie is amazing. This movie will be awesome.
posted by

Ashlii

on Dec 02, 2009 06:48:27

OMG! SO PSYCHED TO SEE THIS MOVIE! THE BOOK WAS INCREDIBLE! CANT WAIT!!! :))))))))
posted by

anonamus

on Oct 30, 2009 07:50:08

Loved the book!! Very excited about the movie...have been waiting a long time for it to come out!
posted by

chazzer

on Aug 28, 2009 08:03:25

Loved the book, the movie was filmed at my daughters school. We can't wait for it to come out!!!
posted by

TO

on Jul 17, 2009 02:15:25

BuxW76
posted by

Facsicul

on Jul 14, 2009 09:58:14

When will the trailer come out!!! I'm dying here!
posted by

JacJac

on Jul 07, 2009 11:30:42

My favourite book EVER - I hope the film lives up to the expections. If anyone can do it then Peter Jackson is definately the man!!
posted by

kez

on Apr 27, 2009 06:16:08

Loved the book, cried through the whole book. Can't wait for the movie!
posted by

Debf

on Apr 26, 2009 09:36:38

This is going to be a great movie. I loved the book.
posted by

PuRpLe

on Mar 28, 2009 04:49:14

It was awesome....I loved this book
posted by

Mz.Cutey

on Mar 18, 2009 09:15:13

well,all is about peter jackson.different well.i think, peter wants to show to all the drama directoers that tis is how u must do it. im in ur side peter . the best thing is it will sell in the market,
posted by

fojaax

on Mar 11, 2009 04:30:33

i loved it i cried the whole time
posted by

me me

on Jan 10, 2009 08:21:40
Can't wait to see this movie. :)
posted by

Raee

on Nov 25, 2008 05:42:31