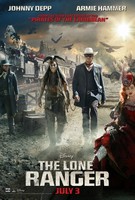 Overview
---
Genre :
Action, Adventure, Comedy
Release Date :
July 03, 2013
MPAA Rating :
PG-13
Director :
Gore Verbinski
Starring :
Johnny Depp
,
Armie Hammer
,
Tom Wilkinson
,
Ruth Wilson
,
Helena Bonham Carter
,
James Frain
,
James Badge Dale
,
William Fichtner

REVIEWS RATE: Critics Readers [Rate It]
Reader's Reviews
---

Balance of nature is disturbing
posted by

Horse drinking wine

on Apr 30, 2014 09:24:45

Loved it great great movie...no language...johnny debt is great as usual
posted by

Lone ranger

on Feb 21, 2014 09:39:56

We thoroughly enjoyed what is a real tongue-in-cheek movie. Lots of fun, plot was literally all over the place, fairly authentic railroad stuff except whoever came up with on of the key items, the couplers between the cars, didn't have a clue as to what they actually are - and that would have been easy to copy.
posted by

steamtrainman

on Dec 18, 2013 11:08:44

@bisjo sebi I can tell that your taste buds and the few brain cells you have are right up where the sun never shines.
posted by

LoneRangerSucks

on Nov 16, 2013 03:08:45

Once again Disney, Bruckheimer and Depp make for an excellent movie experience. Depp and Hammer were fantastic in their roles and the action was over the top, as expected. I like it ....
posted by

bisjo sebi

on Nov 01, 2013 08:49:42

@Lone Ranger Yes the critics did see this piece of shit movie, otherwise the movie wouldn't have gotten so many negative reviews.
posted by

LoneRangerSucks

on Sep 07, 2013 03:19:51

So much fun! a great and refreshing film! Did the critics even see it?
posted by

Lone Ranger

on Aug 26, 2013 05:55:32

loved it as did all my family
posted by

too alone

on Aug 04, 2013 11:29:38

@too alone I doubt that you even have a family, they probably disowned and abandoned you when you were a child. I would too if I were related to you.
posted by

LoneRangerSucks

on Aug 04, 2013 09:13:58

@The Lone Ranger You need to go back to Special Ed if you think this piece of shit movie has any merit.
posted by

LoneRangerSucks

on Jul 31, 2013 09:42:35

Invigorating, well-paced and delightfully quirky, this movie has, sadly, been panned unjustifiably by many who clearly didn't get the inherent satire and the self-deprecatory tone which pervades it. Anyone who thought it 'incoherent at times' needs to spend some time back in Film School 101. It is the most straightforward of narratives and differs little in substance to most of the 'Pirates the Carribean' sagas. Lighten up fellas!
posted by

The Lone Ranger

on Jul 24, 2013 05:54:49

@Joannieee I'll push you and your husband off a bridge and make your kids watch, you cunt.
posted by

LoneRangerSucks

on Jul 15, 2013 09:46:46

My husband and I loved it and also love Johnny Depp. You critics can jump off the nearest bridge.
posted by

Joannieee

on Jul 11, 2013 03:20:30

This movie sucked hard. I can't believe that people actually think that this is a good movie. You people must be retarded. Do the human race a favor, get a gun and shoot yourselves.
posted by

LoneRangerSucks

on Jul 08, 2013 11:39:55

BEST movie of the year. The end of the movie was awesome/exciting! only criticism--leave out the stupid rabbits.
posted by

Rodan

on Jul 07, 2013 05:12:32

The Lone Ranger is a hoot! I loved it! No bad words, no sex, lots of humor and good acting. Our movie theater held lots of kids and you didn't hear a sound during the 2 1/2 hour show. Everybody should see "The Lone Ranger"
posted by

The Lone Ranger

on Jul 06, 2013 10:31:55

WE ENJOYED THE MOVIE, GOOD STORY AND HUMOR. NO SEQUEL, PLEASE, DON'T RUIN A GOOD THING, THANKS - VI
posted by

the lone ranger

on Jul 05, 2013 11:05:00

It's a great movie and Johnny Depp gives another fantastic performance! I'm ready to see it again!
posted by

KKY

on Jul 05, 2013 01:18:11
Good
posted by

Stephen

on May 13, 2013 01:45:37
You suck, I love Zimmerman but Jack would have been better
posted by

Jaun

on Apr 22, 2013 06:51:21
Dyami Thomas is also in this film native American actor model that won Sexiest male native entertainment magazine...centerfold !!
posted by

laindia

on Jul 05, 2012 11:20:54
Please be true to the legend and to Clayton Moore.
posted by

G-MAN

on Jan 16, 2010 05:38:58

AHHHHHHHH!!!!!JOHNNY DEPP!!!!!
posted by

STARWARS11

on Sep 04, 2009 10:34:31
if it has johnny depp in it, its great.
posted by

thntpotc@live.com

on Jun 13, 2009 12:11:57